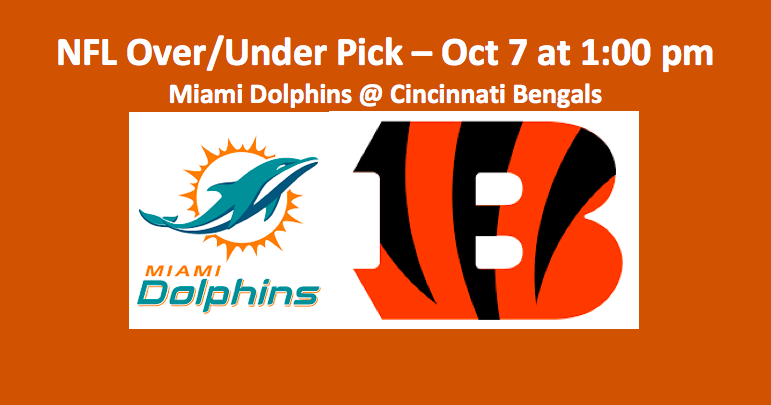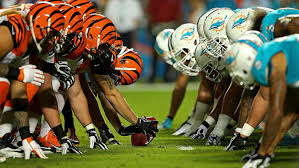 The Miami Dolphins (3-1) visit the Cincinnati Bengals (3-1) today at 1 p.m. E.T. The Dolphins had won their first three games of the season and then ran into the New England Patriots. The Pats beat the Fins last Sunday 38-7. The Bengals only loss came in Week Three after they had scored 34 points in each of their first two wins, taking down both Indianapolis and Baltimore by 11 points. Their loss was 31-21 to Carolina. Last week, the Bengals had a comeback win against Atlanta. In that game, Cincinnati scored nine unanswered points in the fourth quarter, winning 37-36. Our 2018 NFL Dolphins play Bengals pick offers Cincinnati at -6.0 and the over/under at 48.0.
Over/Under – Points Will Be Scored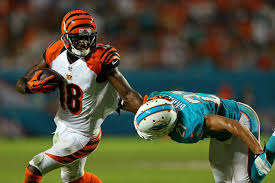 We do think that points will be scored in this game. Both teams offer offenses that can cross the goal line numerous times in each half. The Bengals are averaging 31.5 PPG. The Dolphins have been good for 20.5 PPG. On the other side of the ball, neither team is especially adept at stopping opponents. The Fins are allowing other teams 22.5 PPG. Cincinnati is offering up 28.3 PPG.
Edge: Over 48.0
Over/Under – Offensive Weapon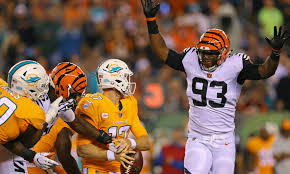 QB Ryan Tannehill (69.1 COMP%, 7 TDs, 3 INTs) has spread the ball across three receivers, Kenny Stills, Albert Wilson and Jakeem Grant. Stills has caught three TD passes while Wilson and Grant have grabber two each. The problem for the Dolphins has been their rush attack. Frank Gore is their primary ball carrier. The Dolphins are averaging 88 YPG on the run. The Bengals are allowing 115.8 YPG on the ground. If the Fins can open up their rush attack, that will help them point-wise.
For the Bengals, Andy Dalton (65.6 COMP%, 11 TDs, 6 INTs) has done a solid job. Five different receivers have caught passes. WR A.J. Green has five TD catches and a total of 20 receptions. He's been targeted 33 times. Tyler Boyd, who's made 26 catches for 349 yards and two touchdowns, has been targeted 36 times. The ground attack includes Joe Mixon (4.7 YPA) and Giovani Bernard (4.6 YPA). Bernard has three rushing TDs. The Bengals should be able to mix it up and get the ball across the goal line many times today.
Offense/Defense O/U Edge: Over 48.0
Over/Under- Yardage and Trends
Both teams are allowing over 400 yards of offense per game, with the Bengals topping out at 431.8 YPG. Of those over 400 yards, 316 are through the air. The Fins are giving up a total of 403.8 YPG with 293.3 being passing yards. The total has gone over in five of the Bengal's last five games and four of their last six games at home. In 10 of Miami's last 15 contests. However, they have been under in four of their last six and in five of their last six when playing the Bengals.
With the Bengals driving the play and two defenses that allow a lot of yards we like the over. Also, what helps in determining our 2018 NFL Dolphins play Bengals pick is the fact that Cincinnati's D has a tough time versus the pass and is allowing close to 30 PPG.
Tending Edge – Over 48.0
Our 2018 NFL Dolphins Play Bengals Pick – Over/Under
Everything in our 2018 NFL Dolphins play Bengals pick of the over/under points to the over. We're going with over 48.0 in this game. We do think the two passing offenses, weaker Bengal D, and various trends make this the best bet.
Summary 2018 NFL Dolphins Play Bengals Pick – Over 48.0