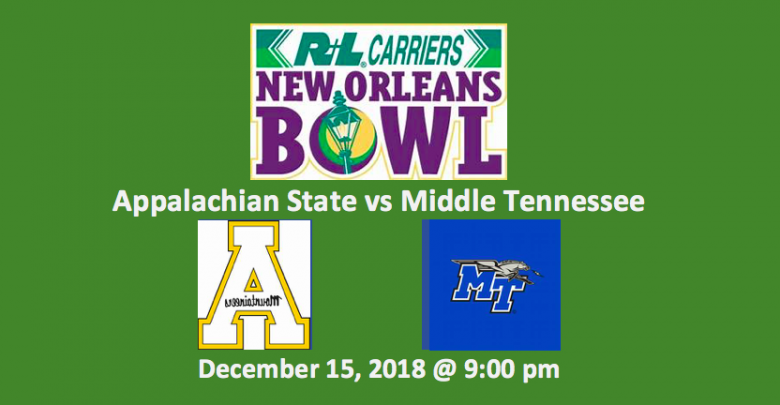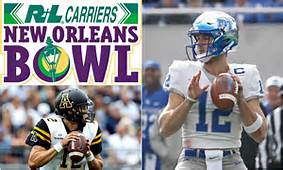 The Middle Tennessee Blue Raiders (8-5, 1st Conf-USA – East) meet the Appalachian State Mountaineers (10-2, 1st Sun Belt – East) tonight at 9:00 p.m. for the sixth and final bowl game of the day. Our 2018 New Orleans Bowl pick has Appalachian State favored by anywhere from 6.0 to 7.5 points. The totals stand at 48.0. At the end of the regular season, both teams played for their respective conference championships. Middle Tennessee met and lost to UAB 27-25, while Appalachian State took down ULL 30-19 on the same date.
In their first game of the 2018 season, the Mountaineers kept up with the Penn State Nittany Lions through four quarters and then lost 45-38 in OT. Appalachian State then rattled nine wins over 10 games before meeting and beating ULL 30-19 for the Sun Belt crown. The Blue Raiders lost two of their first three games, as Vanderbilt and #3 Georgia beat them. They then won eight of their 10 remaining regular-season games. That last win was against UAB 27-3. The following week, Middle Tennessee lost the C-USA championship to UAB 27-25. Here's our 2018 New Orleans Bowl pick.
Middle Tennessee Analysis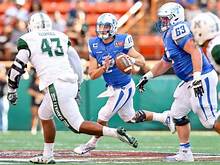 The Blue Raiders have much less wiggle room than the Mountaineers when it comes for PF/PA differential. While Appalachian State is +20, Middle Tennessee is at +4.9. The Raiders are good for 29.2 PPG, while they have been allowing 25.3 PPG. Middle Tennessee's focus is on the pass attack, as they've averaged 255.4 YPG passing yards per game. Ground yards are at 144.1 YPG. Senior QB Brent Stockstill (70.5 COMP%, 28 TDs, 8 INTs) threw for over 3,000 yards this season. His top two pass catchers are junior Ty Lee (67 REC, 12.4 YPC, 7 TDs) and senior Patrick Smith (54 REC, 9.7 YPC, 6 TDs). Freshman RB Chaton Mobley, who did not play in three games this season, averaged 5.0 YPA. He gained a total of 568 yards and crossed the goal line four times.
This season, the Middle Tennessee defense allowed 213.1 YPG passing and 159.8 YPG rushing. For the Blue Raiders, DB Wesley Bush has played exceptionally. Bush has grabbed six interceptions, defended two passes, and scored twice. Senior Darryl Randolph has defended 10 passes. The D has more than 70 TFL and 36 sacks. LB DQ Thomas and Khalil Brooks have notched 8 and 6.5 sacks respectively. Plus, Thomas has 14.5 TFL and Brooks 13.5.
Appalachian State Analysis
The Mountaineers come to this game with a dynamic offense and a stingy defense. Appalachian State is averaging 35.7 PPG, while allowing just 15.7 PPG. Offensively, the team has a decent passing game and a powerful ground game. They're averaging 241.0 rushing yards per game and 188.6 passing yards. QB Zac Thomas (62.6 COMP%, 18 TDs, 4 INTs) has had a solid season. Sophomore WR Corey Sutton (36 REC, 19.3 YPC, 8 TDs) is Thomas' favorite target. There are three other ASU receivers who have 20-plus catches and a total of eight TD catches. The ground game includes Thomas, who's averaged 5.7 YPA and scored 10 times, and sophomore RB Darrynton Evans. Evans gained 1,079 yards this season, scoring seven times while averaging 6.5 YPA.
Appalachian State gave up just 148.1 YPG through the air this year. Their rushing D was also fairly sound, as it allowed 131.3 YPG. The Mountaineers have snagged 15 picks and defended 41 passes while recover six-of-seven FF. They've also posted 20 sacks and over 70 TFL. The secondary is exceptional and includes DB Desmond Franklin. Franklin has four picks while two other Mountaineers have secured three interceptions each. LB Noel Cook comes to this game with 9.5 TFL, and LB Jordan Fehr brings 5.5 sacks.
Five Keys to the Game
Appalachian State defense is exceptional and can be a real difference-maker
Mountaineers numerous scoring weapons should dominate offensively
Middle Tennessee has to crank up D to a high level
Blue Raider pass attack must come through
Appalachian State has more depth, which should pay off
Our 2018 New Orleans Bowl Pick
Our 2018 New Orleans Bowl pick is the Mountaineers at -6.0. We feel their aggressive offense and tough defense will control the game. We're also going with the over at 48.0. Although we do believe that most of the points will be scored by the Mountaineers, we can see Middle Tennessee State pushing the total over the top. To get more pick, go to our college football hub.
Summary Middle Tennessee Blue Raiders vs Appalachian State Mountaineers Picks – Appalachian State at -6.0 and over 48.0