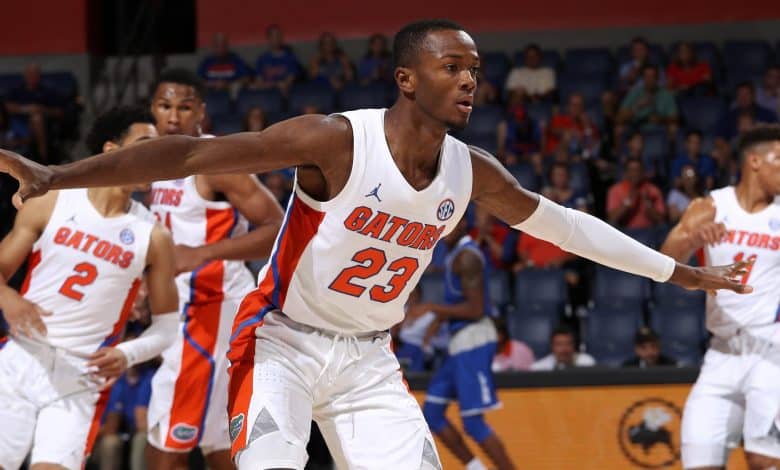 A couple of teams in desperate need of a win meet up in the NCAAB Mississippi at Florida pick. The Gators have been punched in the mouth in two straight, losing by 15 at Alabama and 18 at home to Kentucky on Saturday. Those are the top two teams in the SEC though, and Ole Miss just lost by 14 at home to LSU last time out.
Mississippi also goes on the road for the first time since December 29th, and they are just 1-2 this year away from Oxford. The Rebels aren't going to score a ton, but they've got a very swarming defense against a Gators team that has struggled shooting lately. UF is a -3 favorite, and the home team has won six straight in the series.
Can Rebels Win This One with Defense?
Ole Miss has a top 10 team in defensive efficiency this season, and they'll look to win the NCAAB Mississippi at Florida pick at that end of the court. That looks good on paper, but the numbers are also inflated by being at least a -14 favorite in five of their first six games this season.
The Rebels gave up 75 points to LSU on Saturday even though SEC leading scorer Cam Thomas injured his ankle four minutes into the game. The Tigers shot nearly 50% from the field. Ole Miss also gave up 83 points to Wichita State on January 2nd when the Shockers hit 52% from the floor. The Gators have the #5 scoring offense in the SEC.
Ole Miss needs their defense to step up on Tuesday, because their offense isn't cutting it. The Rebels' top three scorers shot just 2-13 against LSU, accounting for 9 total points. Devontae Shuler (12.6 ppg) has been held to single digits in four of the last five, and KJ Buffen (10.1) has just 10 points total the last two games. The only real scoring threat vs. Florida is Romello White, who went for 20 in the Rebels' last road tilt at Alabama.
Gators Offense Struggling Too
While Ole Miss doesn't put up many points, the Gators haven't exactly been torching the nets lately either. Florida was held to 58 points in Saturday's loss to Kentucky, and the Gators scoring total has gone down in four straight games since a 91-72 victory over Vanderbilt on December 30th.
Scottie Lewis (11ppg) has scored just 4 total points in the Gators last two losses. Tre Mann leads the team in scoring after the injury to Keyontae Johnson, but he was just 2-9 vs. UK. 6'11" Colin Castleton also tries to get back on track, as he put up 20+ vs. Vanderbilt and LSU, but has been held to 13 and 6 the last two. Things get tougher for the Florida offense if Noah Locke (9.3) suffered a head injury vs. Kentucky, but he was replaced in the starting lineup by Tyree Appleby last game anyways.
Free NCAAB Mississippi at Florida Pick
So what gives in this matchup of two struggling offenses? The Gators do have more depth, and will get a slight home court advantage with 2,200 fans in attendance the last game. The home team has won six straight in this head to head series.
Florida 69 – Mississippi 64
Pick: Florida Gators -3