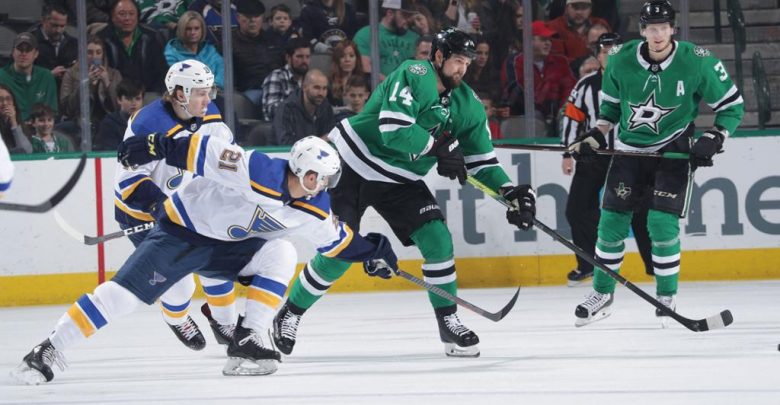 There have been some up and downs for Dallas in their 2nd round series vs. the Blues, but the Stars find themselves on the brink of a series win heading into the May 5th NHL playoffs free pick. Jim Montgomery's team is sporting a 3 games to 2 lead before Sunday afternoon's tilt at the American Airlines Center. The Stars are -124 favorites on their home ice, but St. Louis is deadly at +103 with their season on the line.
Blues Need to Find Their Offense on the Road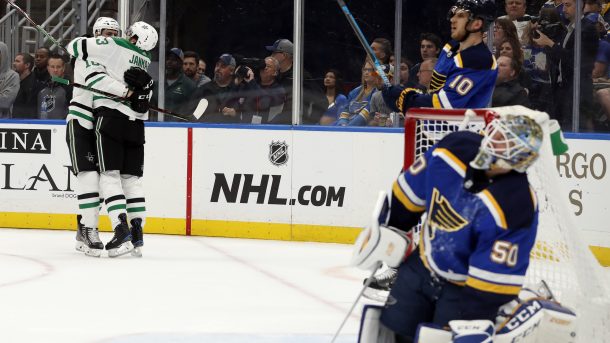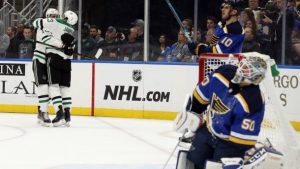 St. Louis got the series off on the right foot, splitting Games 1 and 2 at home but then recapturing home ice with a 4-3 win in Dallas. Games 3 and 4 have been all Stars – mostly all Dallas defense – as the Blues find themselves in a 3-2 hole. The NHL loves a Game 7, especially for the right to go to the Western Conference Finals, but first things first, the Blues have to get a W today. That means slipping a puck or four past the Stars defense which has held St. Louis to 3 total scores in the last 2 games. Vladimir Tarasenko has just 1 point in the last four games. Jaden Schwartz has been a bright spot however with 3 goals the last 4.
St. Louis can take some solace in the fact that they were able to already get a win in front of the hostile Dallas crowd in this series, scoring a 4-3 victory at the American Airlines Center last Monday. The Blues also have a goaltender good enough to navigate an upset win in the May 5th NHL playoffs free pick. Jordan Binnington has been pretty solid in this series, allowing 2 goals on 27 shots on Friday night but getting no offensive support in a 1-2 loss. It's just that Dallas' defense has been so good that makes Binnington have to be even that much better in Game 6.
Dallas Hopes to Continue to Ride Versatility – and Bishop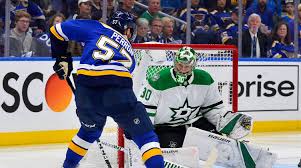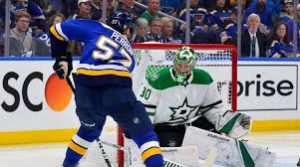 The Stars have taken control of the series with back-to-back wins. What makes Dallas so potent is that 8 different players have scored their last 9 goals. Jason Spezza is the only player that has scored multiple times in the last three games giving Dallas versatility across multiple lines. The Stars had the 29th ranked scoring offense during the regular season in goals per game, but have notched 7 in the two games at home this series. They also had a 5 goal output in Dallas vs. Nashville in Round 1.
Dallas was able to score a Game 5 win while only scoring 2 goals. That's an example of the prowess that Ben Bishop has shown in net vs. St. Louis this series. The Dallas netminder has held the Blues offense to 2 goals or less in 3 of the last 4 in this 2nd round. That includes stopping a whopping 38 of 39 shots on Friday night at the Enterprise Center. Bishop did allow 4 goals on 34 shots in Game 3 at the American Airlines Center, but he should be zeroed in with a chance at the Conference Finals on the line.
May 5th NHL Playoffs Free Pick Betting
It's been a pretty back-and-forth series but Dallas looks to be exerting their will with two straight wins. St. Louis is dangerous as they fight for their season, but putting too much pressure on themselves is detrimental to the cause. The Dallas crowd is not going to be too forgiving in this one, and, as much as the league (and NBC Sports) loves a Game 7, it's looking like the Stars punch their ticket onward here:
NHL Playoffs Free Pick: Dallas Stars -124