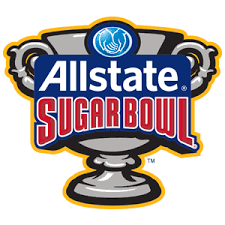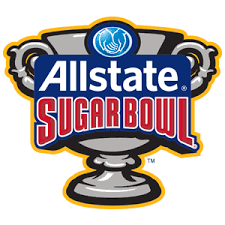 The final of 42 college football bowl games will be played on Monday, Jan. 2 with kickoff slated for 8:30 p.m. It is the Allstate Sugar Bowl, featuring the #14 Auburn Tigers vs. the #7 Oklahoma Sooners. Here is our analysis of that contest and our 2017 Sugar Bowl free pick.
The #14 Auburn Tigers (8-4 Overall, 5-3 Southeastern Conference) major highlight of the season was beating #19 LSU 19-13. They started and ended their season by losing to the two teams that will battle for the national title on Jan 9, 2017. In their first game, the Auburn Tigers fought the #3 Clemson Tigers, losing 19-13. On Dec. 26 they played their final game of the season against #1 Alabama and lost 30-12. Like their opponents in this year's Sugar Bowl, Auburn played and beat the Louisiana-Monroe Warhawks. Their score was 58-7.
The #7 Oklahoma Sooners (10-2 Overall, 9-0 Big 12 Conference) won the Big 12 top spot by beating rival #13 Oklahoma State 38-20 on the final day of the season. The Sooner season started with an upset loss to Houston 33-23 and then a 59-17 win against the Louisiana-Monroe Warhawks (a team that Auburn also played). Oklahoma met #2 Ohio State for its final nonconference game and lost 45-24. Nine straight wins followed, including a 56-28 pounding of #14 West Virginia.
The #14 Auburn Tigers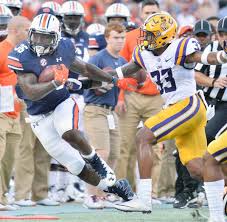 The Auburn Tigers have a dynamic rush attack that's supported by their air game. The Tigers, who are averaging 32.3 PPG, have 32 rushing TDs and 11 passing. Senior QB Jeremy Johnson (57.9 COMP%, 1 TD, 1 INT) should get the nod after missing most of the season due to injury.
Auburn will run the ball, and it will run it a lot. The team's two top rushers are Kamryn Pettway (185 ATT, 1,123 YDs, 6.1 AVG, 7 TDs) and Kerryon Johnson (173 ATT, 862 YDs, 5.0 AVG, 11 TDs). WR Tony Stevens (29 REC, 466 YDs, 16.1 AVG, 3 TDs) will be the go-to receiver.
The Tigers are allowing opponents only 15.6 PPG. Their red zone mark at 71.055 is very strong. Top stats include 25 sacks, 81 TFL, and 86 QB hurries. Plus, they have accumulated 67 passes defended, which is impressive. In addition, Auburn has 11 interceptions, eight forced fumbles, and a turnover margin of plus four. They have only been penalized 55 times.
#7 Oklahoma Sooners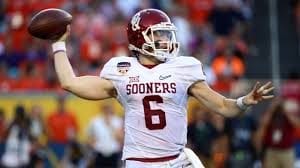 The Sooners have a prolific offense that is scoring 44.7 PPG. Of their 68 TDs, 41 have been passing. These guys can put points on the board quickly. QB Baker Mayfield (71.2 COMP%, 38 TDs, 8 INTs) has an accurate and strong arm. Oklahoma has a full unit of accomplished receivers. WR Dede Westbrook (74 REC, 1,465 YDs, 19.8 AVG, 16 TDs) is the team's top pass catcher. Joe Mixon, whose primary duties are as running back, has 32 catches for 449 yards and five touchdowns. His rushing stats include 168 carries for 1,183 yards and eight TDs. He's averaging 7.0 YPA. RB Samaje Perine, who is averaging 5.4 YPA, has 11 rushing touchdowns.
The Oklahoma defense is not as stout as Auburn's. They are allowing 29.7 PPG and have a red zone rate of 79.07%. Their turnover margin is minus one. The Sooners have managed to record 25 sacks, eight interceptions, and nine forced fumbles. They do have a solid 63 TFL, 32 QB hurries, and 52 PD. Oklahoma, like Auburn, commits very few penalties. Their total akso stands at 55.
2017 Sugar Bowl Free Pick
The Sooners are favored slightly by 1.5. The 2017 Sugar Bowl free pick is a tough one to make, but we think that the Oklahoma pass attack will come through. We're going with the Sooners at -1.5.
The 2017 Allstate Sugar Bowl will be played on Monday, Jan. 2 at 8:30 p.m. ET at the Mercedes-Benz Superdome in New Orleans, Louisiana. The game can be seen on ESPN.
2017 Sugar Bowl Free Pick: Oklahoma at -1.5