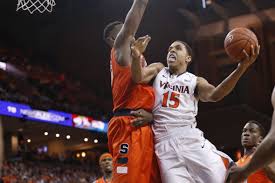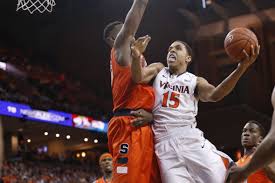 We've got Saturday's 2017 March Madness second round East free picks right here. The first game in the East Region has #8 Wisconsin at #1 Villanova. That game starts at 2:40 p.m. ET. The second contest being played today offers #5 Virginia at #4 Florida at 8:40 p.m. ET.
Two more East Region games will be played on Sunday as #11 USC meets #3 Baylor at 7:45 p.m. ET and #7 South Carolina plays #2 Duke at 8:40 p.m. ET. Of course, we are picking the totals and spreads for every March Madness game. That includes the eight contests being played today and the eight tomorrow.
#8 Wisconsin at #1 Villanova
2:40 PM CBS
KeyBank Center, Buffalo, New York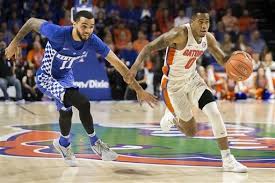 Eighth seed Wisconsin took down ninth seed Virginia Tech on Bronson Koenig's eight three-pointers, as the Badger set a school record for threes in a game. The final in that game was 84-74. In their first round game, Villanova started out slowly against 16th seed Mount St. Mary's, but then gained momentum in the second-half. They went into the locker room at the half ahead by one, 30-29. They outscored the Mountaineers 46-27 in the final 20 minutes.
Wisconsin
If the Badgers' top scorer Koenig, who normally hits 39% of his threes, can go 8-17 from downtown in this game, Nova may be in trouble. Also, forwards Ethan Happ and Nigel Hayes can be pesky. Both are averaging 14 PPG while Happ is taking down 9.1 RPG and Hayes 6.6. Zak Showalter, averaging 8.3 PPG, has a 50% success rate.
Villanova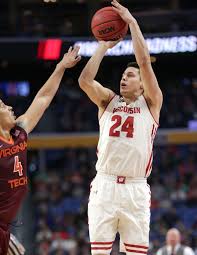 The Wildcats are the top team in the nation and they have three guys who can pop threes in at a rate between 38 and 41-percent. Two others are good 35% of the time. Josh Hart, who's tops in scoring averaging 18.7 PPG, can hit from just about anywhere. He's also pulling in 6.5 RPG. Jalen Brunson, a 55% shooter, is averaging 14.8 PPG and 4.2 APG. Kris Jenkins and Mikal Bridges are also dead-on shots. Bridges, a guard, is also a solid defender.
The Cats are a much better shooting team. That's the major difference here. In addition, they've got experience and depth. Villanova is favored by 5.5. They should be able to win this one by about eight. We're taking Nova at -5.5 as well as the over at 129.0.
2017 March Madness 2nd Round East Free Pick: Villanova at -5.5 and over 129.0
#5 Virginia at #4 Florida
8:40 PM TNT
Amway Center, Orlando, Florida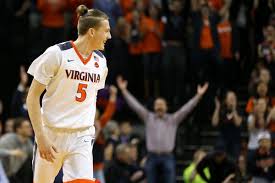 It was a little scary for the Virginia Cavaliers on Thursday as at one point they trailed UNC Wilmington by 15 points. But two Cavaliers, London Perrantes and Marial Shayok, came through. Perrantes scored 24 points and Shayok had a career-high 23, as the Virginia Cavaliers beat UNC Wilmington 76-71. As has been the case in many of this year's first round games, the top team, the fourth-seed Florida Gators, allowed the lower team, the 13th-seed East Tennessee State Buccaneers to stay in the game. When they first-half ended, the Gators were up by one point, 33-32. But that all changed in the second-half as Devin Robinson scored a total of 24 points and teammate Kasey Hill put in 14 to push the Gators to a convincing 80-65 win.
Virginia
If Virginia's Perrantes, who's averaging 12.9 PPG, 3.8 APG, and 3.1 RPG, catches fire, the Gators could be in trouble. Perrantes is a solid 40% shooter from just about anywhere, and he has an 81% free throw mark. The Cavaliers are averaging just 67 PPG. Their shooting percentages are sound, as they're good 47% of the time from the floor, 39% from downtown and 71% from the free throw line. To beat the Gators, Virginia will need at least two guys to pour in the points. Shayok tossed in 14 more points on Thursday than he normally averages. Can he do that again?
Florida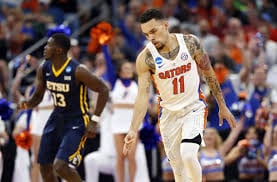 Although averaging 11 more points per game than the Cavaliers, the Gators are not quite as accurate as their opponents. Still, in shooting Florida has four players averaging double-digits, including leading scorer KeVaughn Allen at 13.7 PPG. Other guys who can drain multiple shoots are Canyon Barry, Devin Robinson, and Kasey Hill, as each is averaging from 10 to 12 PPG. John Egbunu is averaging 6.6 RPG while Robinson is taking down 6.2.
The Gators are favored by 2.0 and the over/under is at 125.0. We like Florida at -2.0 and the over at 125.0.
2017 March Madness 2nd Round East Free Pick: Florida at -2.0 and over 125.0
2017 March Madness Second Round East Free Picks
That is for today with our 2017 March Madness second round East free picks. We'll have two more games tomorrow. Make sure you check out all of our NCAA Men's Tournament free picks. We've picked the spread and totals for each game.