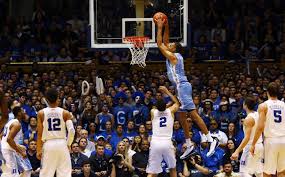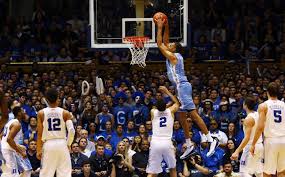 Our Sunday 2017 March Madness Second Round East free picks offer two games. Yesterday in the NCAA Tournament's Second Round there were two contests in the East Region. In a stunning development, #8 Wisconsin beat #1 Villanova by a score of 65-62. In the second game, #4 Florida took down #5 Virginia 65-39.
Today's games feature #11 USC playing #3 Baylor. That contest starts at 7:45 p.m. ET. The second game has #7 South Carolina at #2 Duke. That game has an 8:40 p.m. ET tipoff.
#11 USC at #3 Baylor
7:45 PM truTV
Bank of Oklahoma Center, Tulsa, Oklahoma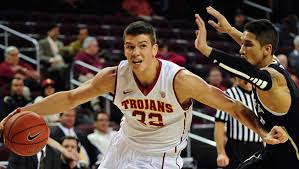 #11 USC beat #11 Providence in their First Four contest and then in round one the Trojans were victorious over #6 SMU, beating them 66-65. Elijah Stewart hit a late three-point shot to give USC the one-point win. The #3 Baylor Bears beat the #14 New Mexico State Aggies 91-73 in a game that saw the Bears trailing the Aggies at the half 38-40. Al Freeman came into the game from the bench to score 21 points and lead Baylor to victory.
USC
For USC, guards Jordan McLaughlin and Elijah Stewart will be asked to provide points from the outside. McLaughlin is averaging 13.0 PPG and Stewart 12.3 PPG. McLaughlin, with an average of 5.5 APG, will be called upon to setup plays. In the paint, Bennie Boatwright and Chimezie Metu offer top scoring chops, with each averaging 15 PPG. Metu is averaging 7.9 RPG and Boatwright 4.5 RPG. Guard De'Anthony Melton offers diverse skills. He's averaging 3.4 APG, 4.7 RPG, and 8.4 PPG.
Baylor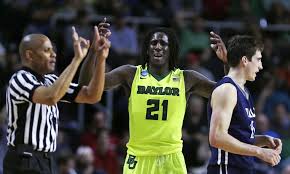 Against the Trojans, the Bears will need solid games from front man Johnathan Motley and guard Manu Lecomte. Motley, who is averaging 9.9 RPG, will be asked to control the boards while also contributing points. He is the primary point scorer on the team, averaging 17.3 PPG. Lecomte, a 42% three-point shooter, is averaging 12.3 PPG. Jo Lual-Acuil Jr., who's grabbing 6.9 RPG, will also battle in the paint.
The Trojans are averaging 78 PPG, while the Bears are good for 73. USC is on a roll and they could use that to jump off to a quick lead. We like USC at +5.5 and thover at 141.0.
2017 March Madness Second Round East Free Pick: USC at +5.5 and over 141.0
#7 South Carolina at #2 Duke
8:40 PM TNT
Bon Secours Wellness Arena, Greenville, South Carolina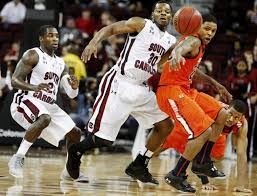 The #7 South Carolina Gamecocks poured it on in the second-half of their round one game to beat the #10 Marquette Golden Eagles 93-73. Sindarius Thornwell had 29 points and 11 rebounds to help the team win what was their first NCAA Tournament appearance in 44 years. #2 Duke easily beat #15 Troy 87-65. Grayson Allen helped the Blue Devils by notching 21 points, including five 3-pointers, and Jayson Tatum aided the cause with 18 points and 12 rebounds.
South Carolina
In the front, Sindarius Thornwell will be the man to watch. He leads all South Carolina players with 21.3 PPG and 7.3 RPG. Also in the paint are Chris Silva and Maik Kotsar. Silva is grabbing 5.6 RPG while scoring 9.8 PPG. Forward Kotsar is averaging 6.0 PPG and 5.0 RPG. He'll need to contribute for the Gamecocks to stay in the game. Guards Duane Notice and P.J. Dozier offer 24 PPG.
Duke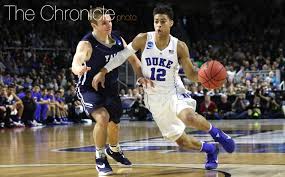 Duke brings a lot of firepower to this game. Five players are scoring in double-digits. Luke Kennard is the team's big point scorer, averaging 19.8 PPG. He's a 49% shooter from the field and 44% from downtown. Jason Tatum, who's grabbing 7.5 RPG, is also hitting for 16.9 PPG. Grayson Allen, Frank Jackson, and Amile Jefferson are all important contributors. Between them they are averaging 36 point and 14 rebounds per game.
Duke is outscoring South Carolina 81-73. They are also outperforming the Gamecock in field goals and foul shots by six percentage points. If South Carolina is going to win this game, they are going to have to perform at a very high level. We're taking Duke at -6.5. We like the over in this game.
2017 March Madness Second Round East Free Pick: Duke at -6.5 and over 144.5
2017 March Madness Second Round East Free Picks
That's it for our 2017 March Madness Second Round East free picks. The East has been full of surprises and we may see a few more before the NCAA Men's Tournament is over. Make sure you check out our pages a few days before the Sweet 16 tipoff. We'll have out picks posted.