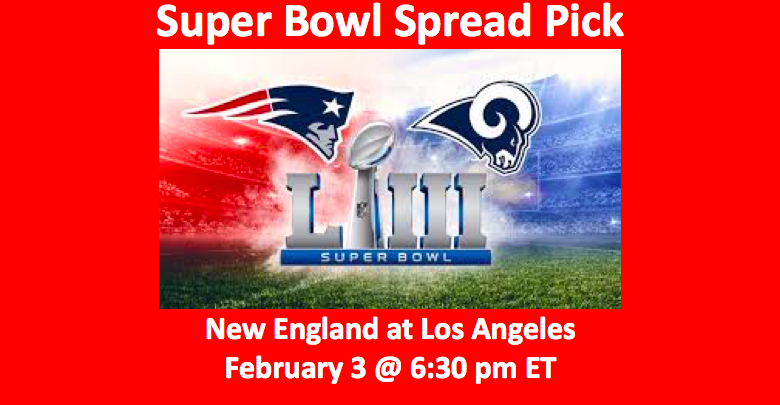 It is Sunday, February 3, 2019, and that means it's time for our Super Bowl LIII pick. The game features the NFC Champions, the Los Angles Rams, vs the AFL Champions, the New England Patriots. Our Super Bowl LIII pick has the Pats favored by 2.5 points. The game, which will feature hundreds of prop bets, entertainment by Maroon 5, the National anthem sung by Gladys Knight, and the finest talent in the NFL, will kick off at 6:30 pm ET from Atlanta's Mercedes-Benz Stadium. After more than 260 regular-season and playoff games, here's how we see the final contest of the 2018-19 NFL season playing out.
Brady vs Goff
One QB has been here before, and in fact the last time he was here he lost, and the other signal caller has never been to the big game. Our Super Bowl LIII pick has a very young Jared Goff going up against an aging Tom Brady. But here's the thing. Don't think of this matchup as the battle between young and old, but, rather, as a contest that features experience against inexperience.
Brady has rings; Goff does not. Brady has traversed the minefield that is the Super Bowl and Goff has not. And, not only has Brady won the Super Bowl numerous times, but he has also lost it numerous times. The losing that Tom Brady has endured, including the defeat by the Eagles last year, is much more important in terms of performing well in this game than the winning. Brady has been back and around and back again. His experience will pay off in this game.
Brady has the edge due to his vast experience and football smarts. Goff may be younger and able to sling the ball better, but no QB in the NFL knows how to win this game better than Brady.
Edge: New England
There's Winning and There's Winning
It is true that the LA Rams had a stellar season, and their coach Sean McVay, who is more than 30 years younger than Patriots' coach Bill Belichick, has done an amazing job with his players. However, these two teams got to this game under very different circumstances. The Patriots beat the Kansas City Chiefs fair and square in a game where the calls by the referees were overall correct.
How did the Rams get to Super Bowl LIII? It was on a pass interference non-call against a Rams defender with time running out that would have set up the winning field goal for the New Orleans Saints. The ref in the NFC Championship game missed what was blatant pass interference on LA, which would have set up the Saints for the winning score in the waning seconds of the game. Instead, the contest went into OT and Los Angeles won.
We're giving the Patriots the advantage in this section because they really do deserve to be here. They should be playing the New Orleans Saints.
Edge: New England
Super Bowl LIII Pick – Keys to the Game
In rushing Rams have Gurley and Anderson and Pats Michel and Burkhead – edge to NE who are relentless
Offensive frontline – we're taking the Pats
On receiving, it's Cooks vs Edelman – we love Cooks' big playmaking potential, but Edelman's grit supersedes that
Defense- fairly even but NE has better sack potential and Rams are better on TFL
Goff & McVay vs Brady and Belichick – take B&B and not G&Mc
Edge: New England
Our Super Bowl III Pick
In our Super Bowl LIII pick, we are taking New England at -2.5. We think they will win by seven or more points. Along with everything else we've touched on in this Super Bowl LIII preview, we just don't think that Brady will lose a second Super Bowl in a row. Take New England at -2.5. We've also posted our Super Bowl LIII totals pick. Make sure you check it out.
Summary Super Bowl LIII Pick: New England Patriots at -2.5