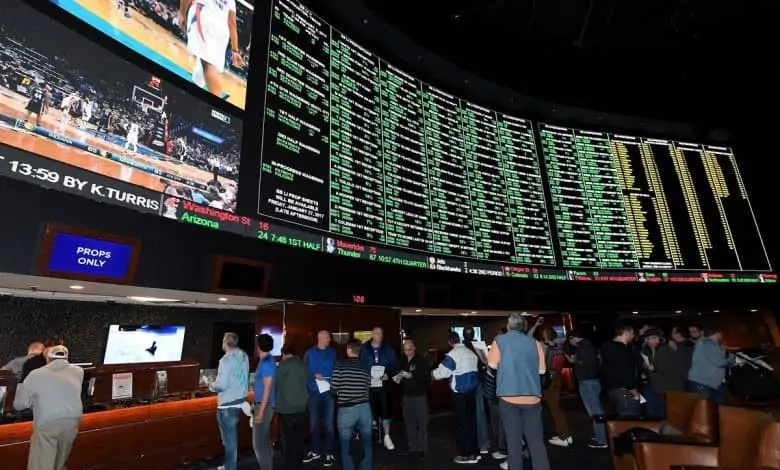 Super Bowl LV was a historic night in the legal sports betting market. There has never been more money legally bet in the United States on a single event than Super Bowl LV. In last year's Super Bowl, the legal betting handle was around $290 million.
The 2021 Handle 
The full numbers from Super Bowl LV are not complete, but the estimated handle is much larger than the 2020 game. Some states haven't reported their respective data, but the figures thus far have caused the market to think that the handle could exceed $500 million.
The full number may never be truly known because it will require states to separate Super Bowl bets from their monthly handles. However, the handle will definitely break $400 million. 
Sports betting was legal in 20 states as well as the District of Columbia on Super Bowl Sunday. Not all states offered online betting for Super Bowl LV and their handles reflected this law. It appears that Nevada will have the largest handle for Super Bowl LV.
The handle could've been even larger, but many of the top legal sportsbooks in the United States had technological issues. Outages occurred right before the game started, which is a prime time for people to fill out their betting slips. 
Increase in Gambling Traffic
Betting website traffic increased 254% from last year to this year. This data was shared by Morgan Stanley, who was using GeoComply technology to determine this information. New Jersey and Pennsylvania saw a 70% increase in traffic on their legal online sportsbooks. 
This is remarkable considering how developed these two betting markets are compared to the rest of the nation. The Super Bowl wasn't the only event that occurred this weekend, and the technology was unable to differentiate the reasons why people were viewing sportsbooks. 
Football was the weekend's signature event, so it's assumed that most people were going on sportsbooks for the Super Bowl LV betting markets. There were 32 million online bets placed this weekend on legal sportsbooks in the United States. 
Numbers from Nevada and New Jersey 
Nevada and New Jersey had the most people in their respective markets place wagers for Super Bowl LV. New Jersey dethroned Nevada for the largest US sports betting market in 2020. However, Nevada won when it came to Super Bowl LV betting numbers.
Nevada has 184 sportsbooks, which accounted for a handle of $136.1 million. This resulted in $12.6 million in revenue. Nevada's largest Super Bowl handle occurred in 2018 when the total was $158.6 million. 
Nevada is one state that relies on in-person betting more than other areas of the country. The Las Vegas strip is a tourism mecca in the United States, so countless bets are placed from area visitors. COVID-19 has caused the tourism sector of the economy to falter relative to years past. 
New Jersey's handle was $117.4 million. According to the NJ Division of Gaming Enforcement, this caused a win of $11.3 million for the sportsbooks.