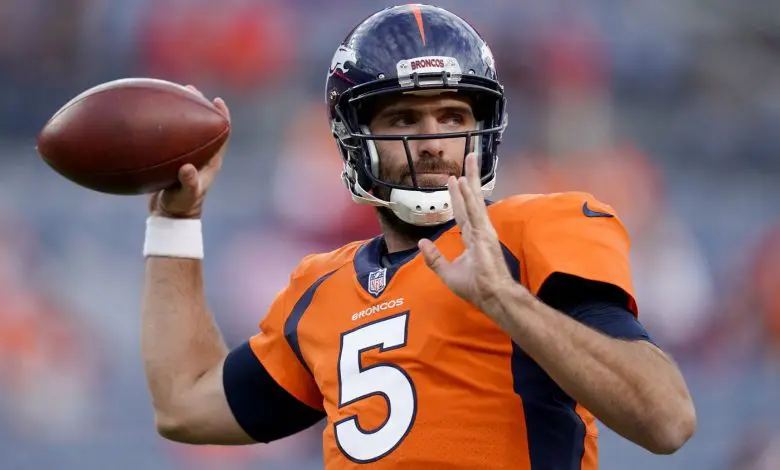 The NFL continues to evaluate its possibilities as the season quickly approaches, but as of right now, the belief is that the season will start as normal (although it may start without fans). With that in mind, teams are still filling out rosters and trying to finalize their squads leading into training camps.
Let's take a look at some of the news from the last week in the world of the NFL.
Jets Sign Flacco
Sam Darnold remains the starter in New York, but the Jets decided to bring in a veteran backup for the young quarterback. After missing out on Andy Dalton, the Jets pivoted and have signed Joe Flacco to a one-year deal. The deal, with incentives, could push to approximately $4.5 million according to Adam Schefter of ESPN.com.
While Flacco is still recovering from neck surgery, he is expected to be able to return to throwing soon. The expectation is that he should be ready by the beginning of the season or shortly after that.
Last season, with the Denver Broncos, Flacco played in just eight games. In that time, the team went 2-6 while Flacco threw for 1,822 yards, six touchdowns, and five interceptions. While his best days are clearly behind him, the Jets are hoping that he can provide veteran leadership from the backup position and help Darnold in the quarterbacks room.
Seahawks Officially Bring In Hyde
After having been tied to Devonta Freeman (including giving a formal offer), the Seattle Seahawks shifted gears and signed another veteran running back in Carlos Hyde this week. According to Tom Pelissero and Ian Rapoport of NFL.com, the agreement was consummated on Friday. The deal could pay upwards of $4 million for the 29-year-old.
Hyde comes in to provide some insurance for Seattle. Chris Carson had some troubles last season with ball security, and Rashaad Penny remains injured. After having to bring in Marshawn Lynch for the playoffs last year in a bind, the Seahawks seem to want to have a little more insurance coming into this season.
Last year, with the Houston Texans, Hyde had a pretty nice season. He rushed 245 times for 1,070 yards and six touchdowns. He also had 10 receptions for 42 yards.
Only A Matter Of Time
There is no doubt that the Kansas City Chiefs will eventually pony up the money to not only keep Patrick Mahomes in Kansas City but likely make him the highest-paid player in the history of the game when he does sign. Despite the mutual expectations towards a long-term deal, the two sides have not begun negotiations as of yet.
According to Chiefs CEO Clark Hunt, the two sides have not begun discussions as of yet, mostly due to the shutdown amidst the coronavirus pandemic. Hunt indicated that those discussions would likely begin later in the summer.
Currently, the highest-paid player in the NFL is Russell Wilson, who back in 2019 agreed to a four-year, $140 million deal with the Seahawks (including a whopping $107 million in guarantees).
As good as Wilson is, Mahomes has shown he is even better. Last season, on the way to an NFL Super Bowl title, Patrick Mahomes went 11-3 in 14 regular-season games, going 319 for 484 (65.9% completion rate) for 4,031 yards, 26 touchdowns, and just five interceptions.
He also rushed 43 times for 218 yards and another two scores. Not too bad when you take into account he also suffered a leg injury during the season.