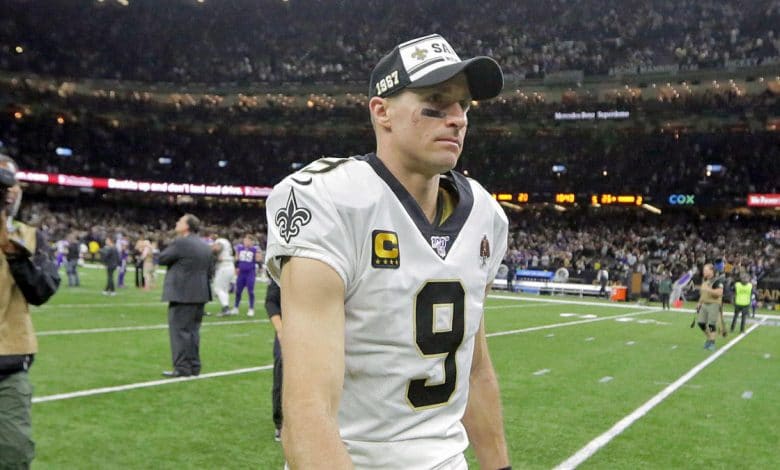 This continues to be a rough year as most sports are still on hiatus, the pandemic persists, and protests over the George Floyd murder and racial inequality continue to engulf our nation. With so much turmoil, the NFL continues to hope to start on time and resume at least one aspect of normalcy in our nation (even if normalcy looks different).
With that in mind, the NFL came to the forefront of the racial protests this week as one of the leagues' premier quarterbacks made some strong comments that have been seen as insensitive and misguided by many around the league. Let's take a look at that and other stories from around the league this week.
Brees Disappoints With Comments
In a time where most are reflecting on the concerns and injustices that African Americans in the United States deal with on a daily basis, some people around the country remain ignorant to the trepidations and struggles that black Americans face.
As sports leagues, teams, and players around the nations reflect and examine their own views during this tumultuous time in our nation, one player's views were not particularly received well by his teammates nor others around the league and country.
When asked about the idea of taking a knee or any other form of silent protest during the national anthem, Drew Brees told Yahoo Finance that he feels that this act is disrespectful to the flag and would not agree with this act.
He focused on the military and made connections between the flag, national anthem, and the armed forces.
Obviously, these silent protests were made famous by Colin Kaepernick, the since ostracized quarterback who knelt silently during national anthems to draw attention to the injustices that black Americans deal with daily. Kaepernick, who had several successful seasons with the 49ers, struggled to find work after he started his protests.
This was something that the Chicago Bears' Akiem Hicks made clear this week discussing how his team went as far as signing an inferior quarterback in Mike Glennon when Kaepernick was available.
Brees drew the ire from his own teammates and others around the league. Everyone from Alvin Kamara to Michael Thomas, both of the Saints, had harsh words for the quarterback.
None were more outspoken than Malcolm Jenkins, who posted a video using strong language to tell him to shut up.
Others around the league and sports world, from Julius Peppers to LeBron James to Stephen Jackson, were quick to criticize Brees.
Brees issued a long apology on Thursday morning, but some were not moved by his quick retraction.
In this day and age, words matter, and sadly Brees' words may have fractured a locker room. It will be interesting to see how Brees and the New Orleans Saints can rectify this moving forward.
Top Prospect Will Miss 2020 Season
Justyn Ross, the standout Clemson wide receiver, is widely believed to be one of the top players in college football and seems destined for a pick early in the first round of next year's draft. Unfortunately for Ross, his stock may fall a bit as he will not be able to play this season (assuming there is a season) for Clemson.
Ross will be having surgery later this week due to a birth condition where a couple of the bones in his neck are fused. While this is something that he was born with, it came to light after being injured in March during spring workouts.
It is worth noting that the expectations are that he will be able to return to football, but his doctors could not guarantee it.
Last season, the 6-4 wide receiver caught 66 passes for 865 yards and eight touchdowns for the Tigers. This came after a rookie season in 2018 where he caught 46 passes for 1,000 yards and nine touchdowns.
While Clemson will miss him this season, here is hoping for a safe and successful surgery and recovery, one that can hopefully allow him to fulfill his potential in the NFL.