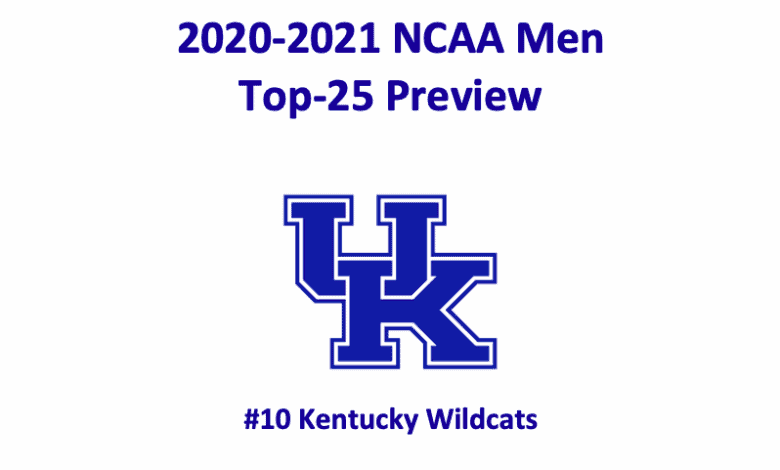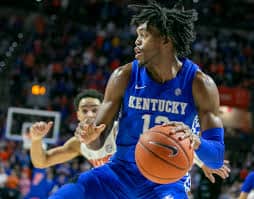 Our Kentucky basketball preview 2020 – 2021 notes that last season the Wildcats topped the SEC at 15-3. That was three games ahead of two second-place teams, the Auburn Tigers and LSU Tigers. Kentucky finished 25-6 overall. The Cats started the 2019 -2020 season at 8-1 with their one loss being a 67-64 upset by the Evansville Purple Aces. It was Kentucky's third game of the season. In their next 10 games, the Cats went 7-3. In the homestretch, Kentucky was 10-2. Although there were some bumps in the road, coach John Calipari's team proved that they were certainly one of the top teams in the nation.
Stats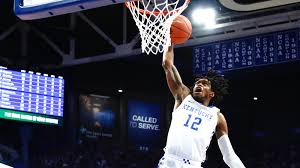 On their way to overwhelming the SEC, Kentucky hit 79.7% of their free throws, which ranked them first in the conference and second in the nation. When the ball was in play, the Cats were good for 74.4 PPG (91st Nationally, 6th SEC), while they held opponents to 66.1 PPG (80th Nationally, 5th SEC). Their 46.1% field-goal success rate ranked third in the SEC and their 39.4% field-goal defense put them second. Interesting to note that although Kentucky averaged just 5.1 three-point shots per game, which ranked them 336th nationally and 14th in the conference, they complete 34.3% of those threes. In that category, they were 122nd nationally and third in the SEC. That means the Wildcats made the most of their three-point opportunities. Finally, the team averaged 12.4 turnovers per game, which was 114th in the nation and third in the SEC.
Kentucky Basketball Preview 2020 – 2021 – Players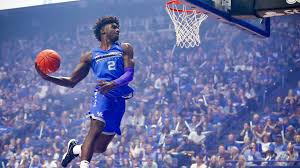 Kentucky lost their top six point-makers from last season. That includes guards Immanuel Quickley (16.1 PPG), who was SEC Player of the Year, Ashton Maxey (14.0 PPG), and Tyrese Maxey (14.0 PPG), a projected first-round NBA pick. However, it's doubtful that Calipari is concerned as the Wildcats welcome the nation's top-ranked recruiting class. That class includes five-star guards Terrence Clarke, BJ Boston, and Devin Askew. Senior grad transfer Davion Mintz comes to Kentucky from Creighton.
Also gone are the team's three most prolific forwards, Nick Richards (14.0 PPG), EJ Montgomery (6.2 PPG), and Nate Sestine (5,8 PPG). Sophomore forward Keion Brooks Jr. is back. New players coming into the backcourt include senior transfer from Wake Forest Olivier Sarr. The two most promising freshman forwards are Lance Ware and Isaiah Jackson. Ware is a top-40 recruit, while Jackson is top-30.
Frontcourt
For the Wildcats, the frontcourt is a bit thinner than the backcourt. Brooks, who averaged 4.5 PPG and 3.2 RPG as a freshman, will have competition from Jackson, Ware, and Sarr. Of the three, Sarr arrives with college basketball experience. With wake Forest, he averaged 13.7 PPG and 9.0 RPG. Jackson, who is 6-9, comes to the team with a huge reach and wingspan that will give him a major advantage on defense. Plus, his offensive skills around the basket allow him to control the paint, while his dunking chops produce points. Ware, who's also 6-9, is certainly talented but his skills are not as advanced as Jackson or Brooks. He's shown good mobility and has great potential as a shot blocker. Ware is likely to see some playing time this season.
Backcourt
Our Kentucky basketball preview 2020 – 2021 is certain about one thing when it comes to the team's backcourt – the starters will all be freshmen. Clarke and Boston, two MacDonald's All-Americans, will have to be ready to go immediately. Clarke, a wing, gives the team versatility.
Calpari likes to play aggressive basketball, which means driving to the basket, penetrating, cutting, and dishing off. Kentucky likes to get in the paint, take the optimum shot, and draw the foul. As noted earlier, they take very few three-point shots. How few? The fourth fewest in the nation. Thus, having the 6-7 Clarke play at wing is an ideal situation for coach Calipari. Clarke also possesses fine defensive skills.
Boston will be the other wing. His talent is shooting and hitting from virtually anywhere. He has the stuff to lead the Wildcats in scoring. Askew steps up as point guard. His dribbling skills are advanced, and he has a take control attitude. Askew can drive the basket, pass off, or hold back and shoot. Mintz, who in his final season at Creighton averaged 9.7 PPG, 3.0 APG, and 3.0 RPG, is a solid combo guard who knows how to score and ably handles the ball. He'll be a solid and active backup for Askew.
Wildcats- Make or Break for 2020-2021
Calipari's system is fairly basic and easy to learn, which makes it perfect for a program like Kentucky that can only hold onto premium players for a year or two. The young backcourt might be a concern if Calipari had never been down this road before, but it is a road he knowns quite well. To be successful, the Wildcats will need to be relentless in taking the ball to the basket and quick on their transitions to D. This is a squad capable of doing everything that must be done to win.
The major concern for this team is the thin frontcourt. However, it's expected that the guards, especially the wings, can help make up for that. At the same time, it's not as if Kentucky is lacking in the paint. There's very fine talent around the rim, and with Brooks and Sarr, there's some solid experience. Our Kentucky basketball preview 2020 – 2021 finds that, if anything, the freshman forwards have a bit more time to develop than those in the backcourt.
Kentucky Basketball Preview 2020 – 2021- Final Word
How good is Kentucky? Despite the fact that there's little college experience on this young team, we expect them to go far. Our Kentucky basketball preview 2020 – 2021 determines that they will win the SEC easily and go all the way to the NCAA Tournament Finals. A major reason for this optimism is the fact that coach Calipari has the top-ranked freshman class in the nation. The other reason we think this Wildcat team will excel is the coach himself.
Kentucky Wildcats – 2020-2021 NCAA Projection
SEC Finish – First
NCAA Tournament Result – Final Four