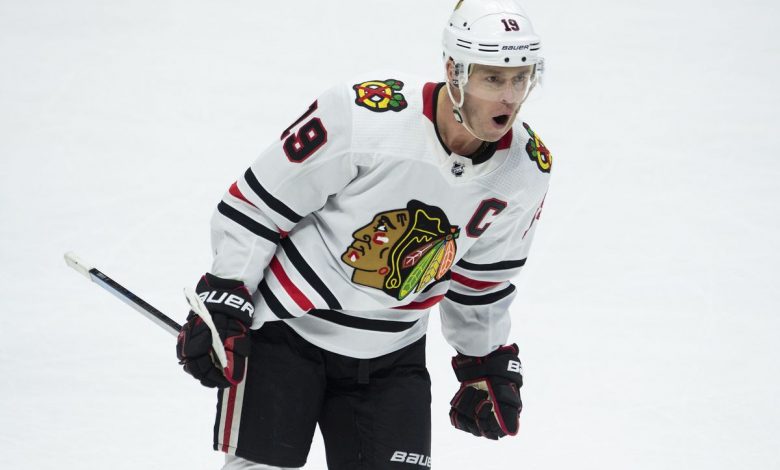 The race for the Western Conference playoffs is a good one, and two teams on the cusp of a playoff spot will battle it out Sunday night in Chicago. The Winnipeg Jets (25-19-4) visit the Chicago Blackhawks (23-20-6) in the fourth and final game of Sunday's NHL schedule.
Here is a preview for Sunday's showdown, along with odds and a free pick.
By The Numbers
The Jets would like to forget their last game, a 7-1 clobbering at the hands of the Lightning on Friday. Winnipeg has actually dropped three of its last four contests and six of its last 10 and is currently three points behind the Coyotes (57 points) for the second Wild Card spot.
This season, Winnipeg ranks 18th in goals with 2.98, while averaging 30.7 shots per game. The Jets' power play sits just outside the top 10, coming in with the 11th-best percentage of 20.9.
Defensively, it's surprising that the Jets are only 15th in goals allowed with 3.04, considering they're 28th in both shots allowed (33.1) and penalty-kill percentage (74.4).
For the Blackhawks, a 6-2 win Saturday versus the Maple Leafs gives them four straight wins and seven in their last 10. Thanks to their hot play, they have a chance to tie Winnipeg with a regulation win Sunday night, inching them closer to a playoff spot that they have failed to get for the last two seasons.
So far, Chicago is 19th in both goals per game with 2.96 and shots with 30.9. The Blackhawks' work on the power play leaves a lot to be desired, ranking just 27th at 15.5 percent.
The Blackhawks have improved on defense compared to last season, now ranking 17th in goals allowed with 3.08 and an 82.5 percent penalty-kill rate, which ranks sixth. However, Chicago's 35.3 shots allowed per game are the most in hockey.
Who To Watch
Winnipeg is getting a big year from forward Kyle Connor. The talented left wing scored two goals and added an assist on Tuesday against the Canucks, and had another goal and assist against the Bruins last week. Overall, Connor is up to 24 goals and 23 assists on the year, making him the biggest threat for Chicago Sunday night.
Along with Connor, veterans Blake Wheeler and Patrik Laine are ones to keep an eye on. Wheeler scored against Vancouver, giving him 15 goals along with 26 assists, while the sharpshooter Laine is also at 15 goals with 28 assists.
No one on Chicago is hotter right now than Jonathan Toews. The captain is fresh off a two-goal, two-assist outburst Saturday versus Toronto, the latest in a stretch in which he has 12 points over his last five games and 15 points over his last eight. Overall, Toews is now up to 14 goals and 29 assists as a result of this hot streak, making him target number one for Winnipeg.
Of course, with Toews comes Patrick Kane, who is putting together another impressive season, with 24 goals and 37 assists, including a current eight-game point streak. Along with Kane is the youngster Dominik Kubalik, who has two goals in three of the last four games, giving him 20 on the season.
Goalies
Expect the Jets to roll with their number one option, Connor Hellebuyck, who is having a strong campaign, going 21-14-4 with a 2.67 GAA and a .920 save percentage.
With Corey Crawford starting Saturday, the Blackhawks will likely go with Robin Lehner, who has been very good in his first season in Chicago, going 14-7-4 with a 2.85 GAA and a .923 save percentage.
Odds and Pick
Despite just playing Saturday, oddsmakers like the Blackhawks in this one, listing them at -115. However, I'm siding with the road team. The Jets have a slight advantage in all three areas, particularly in goal, and have held Toews without a point in their first two meetings.
Winnipeg has also shown the ability to succeed at the United Center, winning the last three contests played in Chicago. This has the potential to be a very good game, but I'm siding with the Jets -105 to pull off the upset Sunday night.