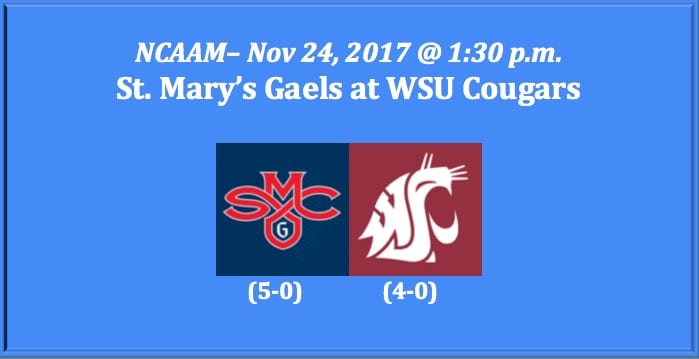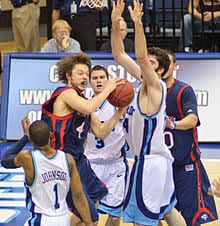 The #21 St. Mary's Gaels (5-0) play the Washington State Cougars (4-0) today in an early afternoon game. The Gaels last game was against Harvard, who they beat 89-71 on Nov 23. The Cougars last met St. Joseph's, beating them 75-71. That game was also played on Nov 23.
Our St. Mary's plays Washington State 2017 college basketball pick has the Gaels favored by 17.5. Here's how this matchup looks to us.
St. Mary's Overview
The Gaels are putting up 84.2 PPG, while allowing opponents 66.2 PPG. They're hitting 52.3% of their shots from the floor. That's 11 percentage-points better than Washington State. St. Mary's 84.4% success-rate from the charity stripe will be a major benefit in this game.
At 6' 11" junior center Jock Landale is force with which to be reckoned. He's averaging 19.2 PPG and 7.8 RPG. Forward Calvin Hermanson is a fine inside/out player, knocking in 16.6 PPG while hitting 50% of his shots from downtown. Junior guard Emmett Naar is the ultimate setup man. He's averaging 9.4 APG and 12.4 PPG. This trio is hitting more than 60% of their shots from the field and about 85% of their free throws.
Gaels Summary
No one on Cougars matches up vs. Landale
Cougar free throw and field goal percentages out-pace WSU
Naar will be tough to contain
Washington State Overview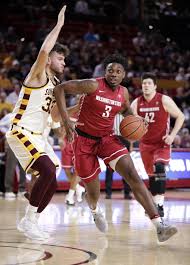 The Cougars have been good for 79.8 PPG and have been good on 43.2% of their shots. They're averaging 40 RPG, which is seven more per game than the Gaels. WSU is making 6.3 SPG, two more per game than St. Mary's. Their free throw percentage is low at 69.2%.
Four Cougar players are in double digits in scoring. Forward Robert Franks leads the team, averaging 18.5 PPG. He's a 54.2% shooter from downtown and is hitting 50% from the field and 86.7% from the charity stripe. Guard Malachi Flynn is averaging 4.5 APG and offering 14.0 PPG. Carter Skaggs, who's averaging 12.4 PPG, is seven-of-seven on frees while completing 59.1% of his threes and 53.6% from the field. Guard Viont'e Daniels, who's putting in 11.3 PPG, is also a strong shooter from every part of the court. Watch freshman forward Arinze Chidom. He, along with senior forward Drick Bernstine, will be major factors in the paint and on the boards.
Cougars Summary
Franks is key to WSU success
Cougar's D can sneak up on teams
Solid three-point game can keep them in it
Three Major Takeaways
Here are our three primary takeaways for our St. Mary's plays Washington State 2017 college basketball pick-
Free throws could give St. Mary's the win
If WSU has a hot hand, they'll keep it close
The battle on the boards can tip this game
Our St. Mary's at Washington State Pick
Our St. Mary's plays Washington State 2017 college basketball pick see the Gaels as winning this contest outright. But we are doubtful that they will cover at -17.5. It may just be closer than that. we are taking the Cougars at +17.5.
College Basketball Gaels at Cougars Spread Pick: WSU Cougars at +17.5