Free Expert Sports Picks
Wednesday July 15th UFC Fight Night 172 Prelim Betting
Six Bouts on the Undercard From "Fight Island"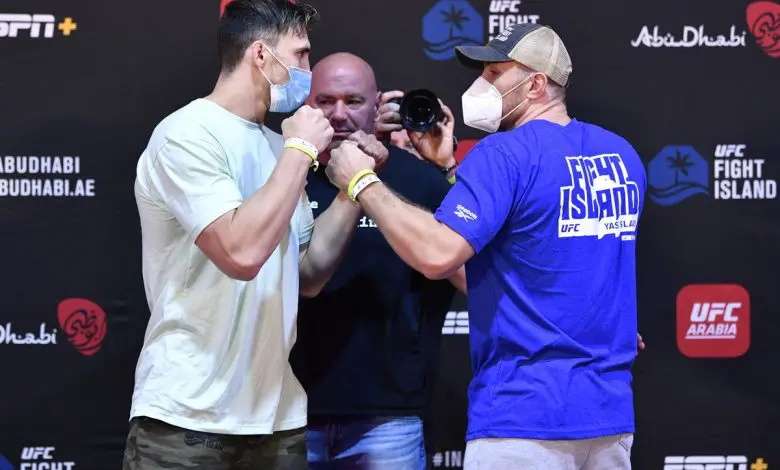 It's a mid-week fight bonus with UFC fight night 172 prelim betting taking place on ESPN starting at 6:30. This event will once again take place from the Flash Forum in Abu Dhabi as part of UFC's "Fight Island." There's a little bit of everything on this undercard so let's get to the breakdown:
Jack Shore (-850) vs. Aaron Phillips (+525)
Bantamweight
Jack Shore (12-0) might not be leading off prelim cards much longer after getting a submission win in his UFC debut last September. Shore is a huge favorite in UFC fight night 172 prelim betting as his opponent Aaron Phillips (12-3) hasn't fought in the UFC since 2014. Phillips is taking the place of Anderson dos Santos who pulled after a positive Covid test last Friday.
The -850 price tag is too much risk for the reward for a fighter who has to adjust training to a new opponent. Phillips lost via decision in his only two UFC fights but oddsmakers are expecting an early finish Wednesday night (fight does not complete 2 full rounds -150). Phillips has won six straight though and should be conservative fighting on late notice. Even though 11 of 12 Shore's wins have come via stoppage, it's a lot to ask to end this one early.
Pick: Fight lasts two full rounds +120
Diana Belbita (-190) vs. Liana Jojua (+155)
Women flyweight
Two fighters who lost in their UFC debuts meet up when Diana Belbita (13-5) gets set to square off with Liana Jojua (7-3). The positive thing for Belbita's loss was at least it went to the judges as Jojua was stopped in the 3rd round in September by a flurry of Sarah Moras' elbows.
Oddsmakers aren't expecting a finish as this fight to go the distance is listed at -185. Belbita has 6 KO's and 4 SUBs as part of her 13 career wins though. 5 of Jojua's 7 wins have also come early, albeit all by SUB.
Pick: Fight does not go the distance +150
Jared Gordon (-155) vs. Chris Fishgold (+125)
Featherweight
All three of Chris Fishgold's (18-3-1) UFC fights have ended early – but he was only on the right side of one of them in a submission win last February. Fishgold was KO'd by Wednesday's main-eventer Calvin Kattar in his octagon debut and tapped out in his last fight over a year ago.
Jared Gordon (15-4) has six UFC fights under his belt posting a 3-3 record so far. Gordon has been KO'd in three of his last four though including in 1:26 in the 1st last November. Fishgold couldn't make weight for this fight which may be a clue to his preparation leading into UFC fight night 172 prelim betting. The good thing for Gordon is that Fishgold is a submission specialist meaning his chances at another KO should be slimmer.
Pick: Gordon inside distance +220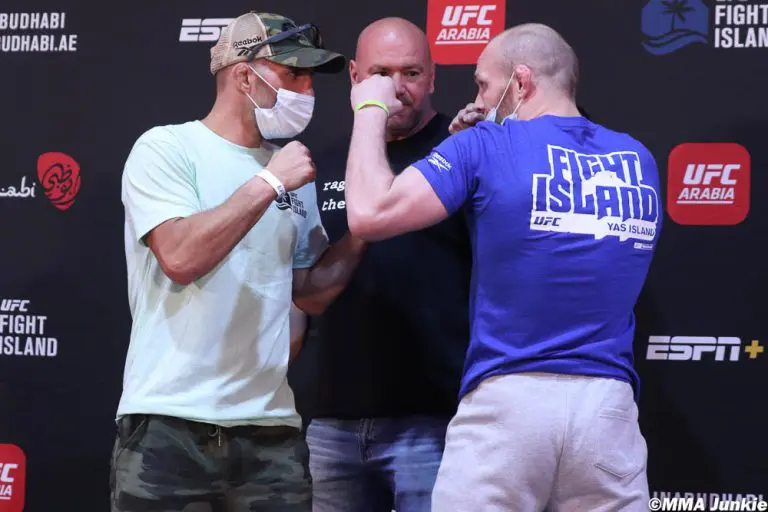 Modestas Bukauskas (-170) vs. Andreas Michailidis (+140)
Light heavyweight
Modestas Bukauskas (10-2) will be making his UFC debut on Wednesday as will Andreas Michailidis (12-3). Bukauskas is the favorite in this battle of relatively unknowns due to his six fight win streak in Cage Warriors including 4 straight via KO. This fight to complete even 2 rounds is +120.
Andreas Michailidis has 5 straight wins via KO however and seems to have some value as the 'dog in this bout. Bukauskas does have a 3″ height advantage and gets 2″ in arm reach (and is also 5 years younger) giving him a slight edge. Both combatants are going to be swinging for the fences to impress in their light heavyweight debut:
Pick: Bukauskas inside distance +110
Ricardo Ramos (-160) vs. Lerone Murphy (+130)
Featherweight
Ricardo Ramos (14-2) is on a roll as he heads to Fight Island after posting a 5-1 record so far in the UFC. As you rise the rank the challenges get harder though and Wednesday's opponent Lerone Murphy has boasted an 8-0-1 record in his MMA career.
The bad thing for Murphy is that his one draw came in his UFC debut last September at UFC 242. Ramos definitely has the experience factor on his side even though the 24-year old is 4-years younger than his opponent. Murphy's resume is impressive, but this is a much bigger stage.
Pick: Ramos by decision +150
Khamzat Chimaev (-380) vs. John Phillips (+290)
Middleweight
The headliner of the prelim bouts looks a bit underwhelming with Khamzat Chimaev (6-0) being a huge favorite despite a very slim resume. Chimaev will be making his UFC debut against John Phillips (22-9) who lost his first three UFC fights before scoring a 0:17 KO of Alen Amedovski back in September.
Chimaev is fighting on short notice after replacing Dusko Todorovic who bowed out for medical concerns. That's not ideal vs. Phillips who has won 20 of his 22 fights via the KO. The line on Chimaev almost seems like a typo considering this is his UFC debut and he only has 6 fights compared to 31 for Phillips. Got to take the odds in that regard.
Pick: Phillips +290