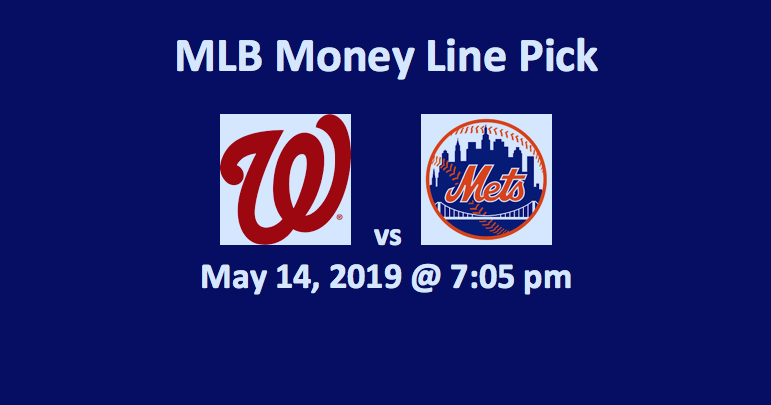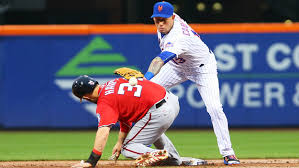 This Washington Nationals vs NY Mets pick features two sub-500 teams. Also, our Washington Nationals vs NY Mets pick notes that over the six times these two teams have faced each other in the 2019 MLB season, each club has won three times. By the end of this three-game series, one team will take the league in their NL East series.
The New York Mets (19-20 Overall, 10-12 Away) have won three of their last five games, including beating the Miami Marlins two straight. The Mets are third in the NL East, 4.5 games behind the division-leading Philadelphia Phillies. The Washington Nationals (18-24 Overall, 7-1 Home), who are fourth in the East and eight games out of first, have won just two of their last three.
Washington Nationals vs NY Mets Pick – Pitching


The New York Mets send Noah Syndergaard (2-3 W/L, 5.14 ERA, 1.33 WHIP) to the mound as the Nats start Jeremy Hellickson (2-1 W/L, 5.52 ERA, 1.61 WHIP). Syndergaard's last win was against Cincinnati on May 2. In that game, he pitched nine innings allowing no runs on four hits. He struck out 10 and walked one. In his last start, which was on May 7 against San Diego, he threw six innings, allowing five runs on nine hits. He got no decision in that contest. In six starts at Nationals Park, Syndergaard is 0-3 with a 5.83 ERA. In 14 appearances against Washington, he is 3-6 with a 3.60 ERA.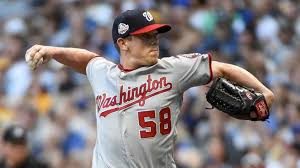 Hellickson has not won a game since April 17 when he pitched six innings against San Francisco. In that game, he pitched 5.2 innings, allowing two runs on six hits. He walked four and had no Ks. Since that game, he's gone 0-1-3. In those four games, he allowed 19 runs on 26 hits with six homeruns. Against the Mets in 2018, Hellickson has two starts and was 1-0 with a 2.53 ERA. In his career, he made 10 starts against NY. Over those starts, he's gone 3-4-4 with a 6.71 ERA.
Nationals vs Mets Offense
Washington will be without some important offensive weapons tonight as shortstop Trea Turner, second baseman Howie Kendrick, and first baseman Ryan Zimmerman are all out. Third baseman Anthony Rendon is an important part of the Nationals' offense. He hitting .308 with six round trippers and 19 RBI. Leadoff man Adam Eaton, who's hitting .280, has stolen five bases this season while smacking five doubles and two triples. He's also driven in 11 runs and hit three homers.
For the Mets, second baseman Jeff McNeil leads off. McNeil is hitting .360 and has knocked in 14 runs while hitting 11 doubles. First baseman Pete Alonso, who's hitting .271, has driven in 32 runs and put a dozen balls over the fence. Also dangerous with the long ball is right fielder Michael Conforto. He has eight homers and 18 RBI. Conforto is batting .274.
Our Washington Nationals vs NY Mets Pick
In making our Washington Nationals vs NY Mets pick, we like the Mets as they seem to be on the upswing. Plus, they've got more offense and are healthier. Starter Syndergaard has been on his game as of late and Hellickson has not. We're taking the NY Mets at -146.
Summary Washington vs New York Prediction
Mets with the money line at -146