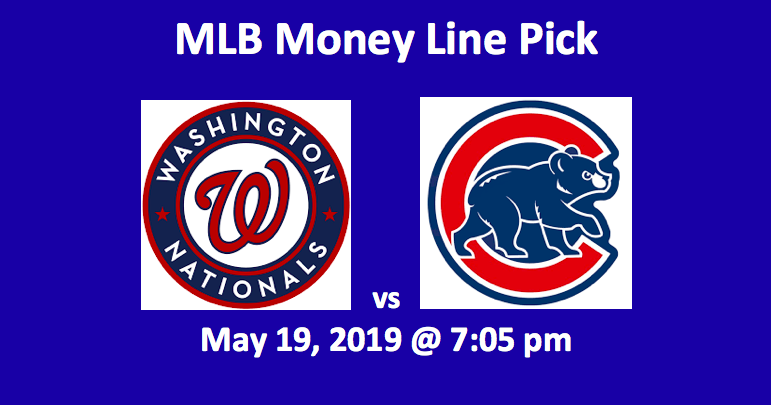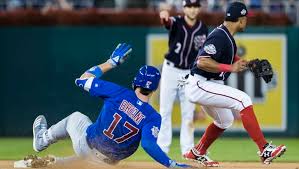 Our Washington Nationals vs Chicago Cubs pick has the Cubbies favored. This Washington Nationals vs Chicago Cubs pick offers a money line of -133 on the team from the Windy City and +123 on the club residing in our nation's capital. The run line with the Cubs at -1.5 is +115 and with the Nats at +1.5, it's at -125. The game is slated to start at 7:05 pm ET and will be played at Nationals Park in Washington, D.C.
The Chicago Cubs (26-17 Overall, 11-11 Away), who are first in the NL Central, have won six of their last 10 games. Chicago is 1.5 games ahead of the second-place Milwaukee Brewers. In Friday night's contest, they took down the Nationals 14-6. On Saturday, the Cubs lost to Washington 2-5. Thus far this season, the Cubs have been competitive. On the other hand, the Washington Nationals (19-26 Overall, 10-13 Home) have struggled this season. The Nats are fourth in the NL East, seven games behind the Philadelphia Phillies. Over their last 10 games, they've have gone five and five.
Washington Nationals vs Chicago Cubs Pick – Pitchers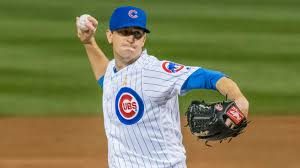 Righty Kyle Hendricks (3-4 W/L, 2.86 ERA, 1.15 WHIP) starts for the Cubs. In his last three starts, he gone a minimum of eight innings. In those three games, he is 2-0-1 and has allowed one earned run on 12 hits over 25 innings. In that time, he's struck out 13 and walked one. He uses an 87mph sinker, which is so slow that it's gravity influenced. The result is more ground balls than usual. Along with his sinker, he likes to utilize his 79mph change, which offers a lot of backspin. His four-seam fastball is slow, 87 mph, and ends up in a lot of swings and misses. Both his sinker and fastball are below hitting speed.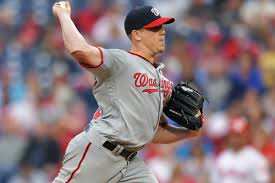 Washington righty Jeremy Hellickson (2-2 W/L, 6.00 ERA, 6.67 WHIP) last won on April 17 when he pitched 5.2 innings against the San Francisco Giants. In that game, he allowed two runs on five hits, while walking four and striking out none. Since then, he has gone 0-2-3. His last two starts resulted in losses. In those games, he lasted a total of nine innings allowing 11 runs on 13 hits. In those two games, he struck out seven, walked seven, and allowed three homeruns. Hellickson uses an 89mph sinker and 80 mph changeup. He'll also mix in a 74mph knuckle curve and an 89 mpg four-seam fastball. He tends to be a fly ball pitcher.
Nationals vs Cubs Offense
The Cubs are batting .254, while opponents are hitting .237. Chicago is +31 in RS/RA. The Cubs come to tonight's game in good shape, as no one is on the DL. The two top hitters on the team are shortstop Javier Baez and catcher Willson Contreras. Baez is batting .324 with 30 RBI and 11 homers, while Contreras has a batting average of .321 with 29 RBI and 11 round trippers. Third baseman Kris Bryant, who's hitting .270, has also smacked 11 homers. He has driven in 31 runs. Bryant has hit a dozen doubles, while Baez has notched 16 two-baggers. Finally, Anthony Rizzo, who plays first, has 29 RBI and 10 four-baggers while batting .245. There's a lot of offense on this team.
The Nationals are hitting .243. Opponents are batting .254 against them. Washington comes with a RS/RA differential of -29. For the Nats, centerfielder Victor Robles is listed as day-to-day and Andrew Stevenson, who also plays center, is on the 10-day IL. The top hitters for Washington are third baseman Anthony Rendon and second baseman Howie Kendrick. Rendon is batting .330 and has launched seven round trippers while driving in 23 runs and hitting 16 doubles. Kendrick has a total of 24 RBI and six homers. He's hitting .311. Juan Soto comes to the plate batting .246 while driving in 27 runs and hitting six homeruns.
Our Washington Nationals vs Chicago Cubs Pick
We do like the Chicago Cubs in this contest. They are healthier, have more offense, and their starter looks ready to win again. The Nationals have struggled to score and tonight's starter, Hellickson, is on a downward trend. Our Washington Nationals vs Chicago Cubs pick is the Cubs at -133.
Summary of Money Line Pick – Nationals vs Cubs
Chicago Cubs money line at -133