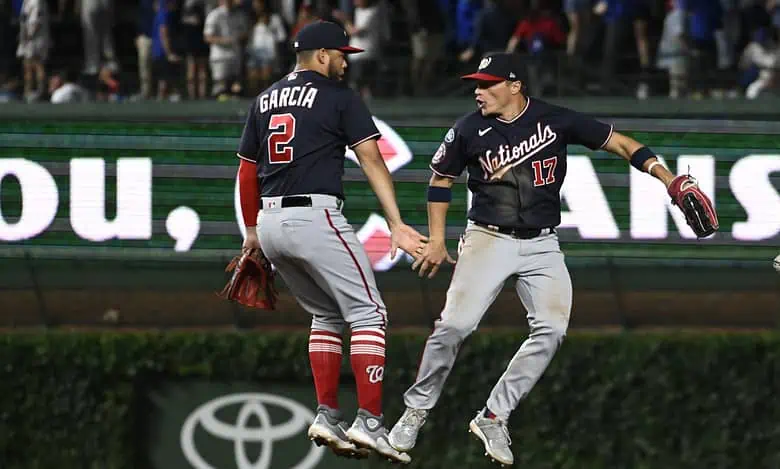 The Washington Nationals and Chicago Cubs are set to wrap up a three-game series at Wrigley Field on Wednesday night. Both teams have won a game in this series, but the game on Tuesday night turned into a complete rout by the Cubs.
Washington comes into this game with an overall record of 38-57 on the season, and they have now lost three of their last four games. The Nationals are going to be in sell mode before the Trade Deadline, but they don't have a ton of valuable pieces. 
Chicago is hoping to get back into contention in the NL Central Division, but they are just 44-50 on the year. The Cubs have gone just 2-3 since the All Star Break and they have to find a way to get things going in a big way. 
The Chicago Cubs are moneyline betting favorites at -160 for the series finale in this matchup.
Nationals Need Some Pitching
Pitching has been a big problem for the Nationals all season long, and they allowed 17 runs on Tuesday night. The team has an ERA of 4.99 this season, and that's just not good enough to win games with any consistency. 
Trevor Williams will be on the mound on Wednesday night and he is 5-5 with a 4.42 ERA this season. Williams is a proven winner at the MLB level, but he is struggling this season. 
Lane Thomas has been the best hitter for Washington this season, as he leads the team with 15 home runs and a .293 batting average. Washington has shown the ability to do some hitting, but it won't matter if they can't get outs. 
Cubs Have Powerful Lineup
The Chicago Cubs are not always consistent at the plate, but they are a team that has a ton of power in that lineup. Patrick Wisdom leads the team with 17 home runs this season, and he has been red-hot of late.
Chicago just scored 17 runs on Tuesday night, and they tend to get extremely hot at the plate at times. The Cubs should be able to take advantage of some bad pitching on Wednesday night to have another big game. 
Kyle Hendricks will start for the Cubs on Wednesday night, and he is 3-4 with a 3.57 ERA this season. Hendricks had a bad start the last time out, but he always tends to bounce back in a big way.  
Cubs Cruise to Big Win
Washington was able to win the series opener on Monday night, but the Cubs absolutely dominated the game on Tuesday. It should be more of the same in this matchup as the Cubs now have some momentum at the plate. 
Kyle Hendricks is going to bounce back from a bad start to begin the second half of the season, and he will keep the young Nationals lineup off-balance. It should be a great night for hitting at Wrigley Field, and the Cubs are going to have a big night in the power department. 
Bet the Chicago Cubs at -165 as they win the game on Wednesday night and also win the series.