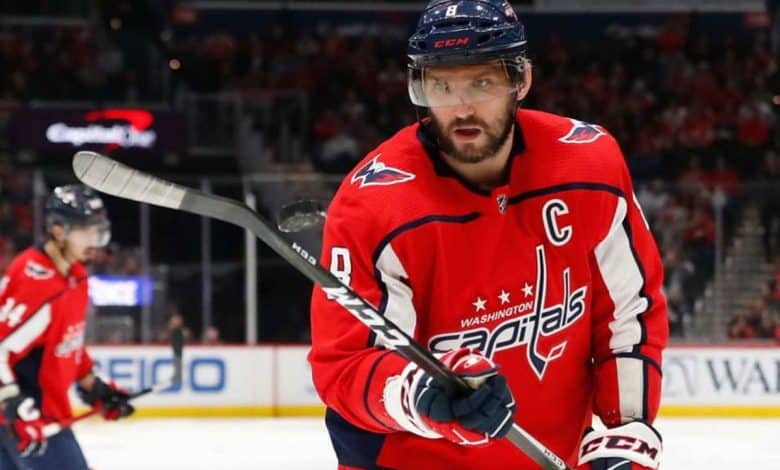 The top two teams in the East Division are set to face off in Long Island on Thursday night. The Washington Capitals (23-8-4) are coming off a loss to snap their three-game win streak, while the New York Islanders (22-10-4) have dropped the last two games of their road trip before returning home.
Here are some key stats to look at for Thursday's matchup, along with some players to watch and a free pick. The Islanders, just two points behind Washington in the division, are -125 favorites, while the Capitals are +108 underdogs on the road.
By the Numbers
The Caps have a knack for scoring and do so more efficiently than anyone. Washington averages 3.4 goals per game, third-most in hockey, despite having the third-fewest shots per game with 27.8. 
This is in part due to a league-best 12.2 shooting percentage and a top-10 power play rate. On the other hand, New York is average across the board, ranking 15th with 2.89 goals per game on just over 29 shots while also sitting 20th in power-play percentage.
However, the Islanders more than make up for their offense with their defensive play. New York is allowing 2.31 goals per game, the third-fewest in the NHL, while also ranking fifth with an average of 27.4 shots allowed. Their penalty kill is only 12th in hockey, though, but they are one of five teams who spends seven minutes or fewer in the penalty box on average. 
As for Washington, the Caps are just 17th in the league with 2.91 goals allowed and sit just outside the top-10 with 28.7 shots allowed. But while they're penalized a little bit more than New York, their penalty kill ranks 10th, about a percentage point ahead of the Isles.
Players to Watch
For the first-place Capitals, eyes will always be on Alex Ovechkin. The legendary goal-scorer is once again leading the team with 18 goals, four of them scored over the last four games. However, Ovechkin is second on the team in points to center Nicklas Backstrom, who after a three-game point streak is up to 37 points on the season.
Others on Washington worth mentioning include defenseman John Carlson, an offensive blue-liner who snapped his two-game point drought on Tuesday to give him 22 helpers, second to Backstrom's 24. 
Despite missing ten games, center Evgeny Kuznetsov is bouncing back in a big way as well, earning two multi-point efforts in the past week. Additionally, right-wing T.J. Oshie has goals in back-to-back games, while right-wing Tom Wilson is four days removed from a two-goal night.
Shifting to the Islanders, center Matthew Barzal is once again proving to be the team's biggest offensive threat. The 23-year old Barzal has a team-leading 28 points and enters Thursday with points in back-to-back games. 
However, not far behind him is defenseman Nick Leddy. Leddy has 25 points, with all but one of those coming via assists. The blue-liner also has a point streak intact, dishing out an assist in the past three contests.
New York also sees some production from center Jean-Gabriel Pageau. In his first full season with the Islanders, Pageau has broken through lately, upping his totals to 11 goals and 12 assists after a recent three-game, six-point streak. 
Left-wing Anthony Beauvillier has been perhaps New York's best scorer of late, as the 23-year old scored in four straight games before being shut out on Monday. Others of note to keep an eye on include veterans Jordan Eberle and Brock Nelson. 
The right-wing Eberle netted his 11th goal of the season on Saturday, while the center has assists in three of the last five games along with a team-high 12 goals this year, tying him with the injured Anders Lee.
Goalies
After turning to backup Vitek Vanecek on Tuesday, look for the Capitals to hand the reigns to starter Ilya Samsonov once again. Samsonov, who missed a great deal of the season due to being placed on the COVID list, is 8-1-1 with a 2.39 GAA and .908 save percentage.
Meanwhile, New York has a true timeshare going between the veteran Semyon Varlamov and the rookie Ilya Sorokin. Varlamov, who started on Monday and all three games they've played against Washington, is 14-7-3 with a 2.19 GAA and .922 save percentage. Sorokin is 8-3-1 with a 2.24 GAA and .911 save percentage.
Betting Pick
This is truly a great clash of strengths in the Big Apple. The Capitals will bring a high-powered, efficient offense, while the Islanders will try to slam and slug their way to victory thanks to their elite defense. So far, though, the Caps have prevailed, winning all three previous meetings this season.
In their first meeting in Long Island of the year, the Capitals do present excellent value at plus money. Washington has done a great job overcoming their midseason slump and enter the game with 14 wins in their last 17 games overall. 
With Samsonov looking sharp in net and the team as healthy as they've been all year, take the Caps to keep rolling against their division rivals and maintain their first-place lead.
Pick: Capitals +108