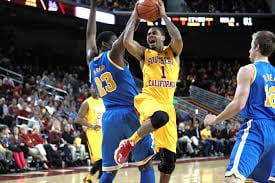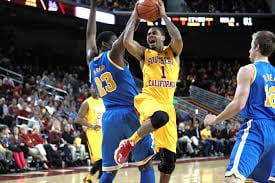 It's a crosstown, rival matchup as the #9 UCLA Bruins (19-2 Overall, 6-2 Pac-12) visit the unranked USC Trojans (17-4 Overall, 4-4 Pac-12). The Bruins now hold third place in the conference, while their opponents are in sixth. At this point, our UCLA plays USC college basketball free pick offers the Bruins at -7.0 and the over/under at 170.0.
The Bruins had won six straight and then, in their last game against #14 Arizona on Jan. 21, they lost 96-85. Their last loss prior to Arizona was to #21 Oregon 89-87. Their last four wins were against Stanford 89-75, Colorado 104-89, Utah 83-82, and Arizona State 102-80.
USC is 3-2 for their last five. They are coming off a Jan. 22 win against Arizona State. The final score was 82-79. They also beat Colorado 71-68 on Jan. 15. Losses were to California 74-73, Utah 86-64, and #14 Arizona 73-66. They've played one other ranked team, Oregon, and lost to them 84-61.
UCLA Bruins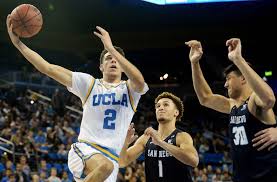 There are six players on the Bruins scoring in double-digits per game. Four of those guys are in the backcourt. Guards Bryce Alford (17.2 PPG, 47 FG%, 46 3PT%) and Isaac Hamilton (15.0 PPG, 3.0 APG, 45 FG%) offer solid point production, while Lonzo Ball (14.9 PPG, 5.6 RPG, 8.2 APG) is a fine playmaker and outside/in player. In the frontcourt, TJ Leaf (16.7 PPG, 8.7 RPG, 64 FG%) and Thomas Welsh (10.2 PPG, 8.5 RPG, 53 FG%) are extremely accurate shooters.
USC Trojans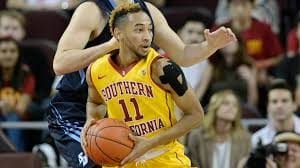 For the Trojans, guard Jordan McLaughlin (14.1 PPG, 5.1 APG, 48 FG%) is accurate on 41% of his threes, while across from him Elijah Stewart (14.1 PPG, 5.1 RPG, 43 FG%) is knocking down 40% of his threes. The major frontcourt presence is Chimezie Metu (13.6 PPG. 7.5 RPG, 53 FG%). He's an accurate shooter and solid defender blocking 1.7 SPG and making one steal per game. The Trojans have been without forward Bennie Boatwright (10.8 PPG, 4.0 RPG, 35 FG%) and miss his contributions. Freshman guard De'Anthony Melton (9.2 PPG, 5.6 RPG, 3.5 APG) is an important contributor, hitting 44% of his field goals.
UCLA Plays USC College Basketball Free Pick
When it comes to shooting percentages and ball movement UCLA is superior to USC. They're also deeper. Our UCLA plays USC college basketball free pick is the Bruins at -7.0 and over 169.5. Tipoff is at 11 p.m. ET.
UCLA Plays USC College Basketball Free Pick: UCLA -7.0 and over 169.5