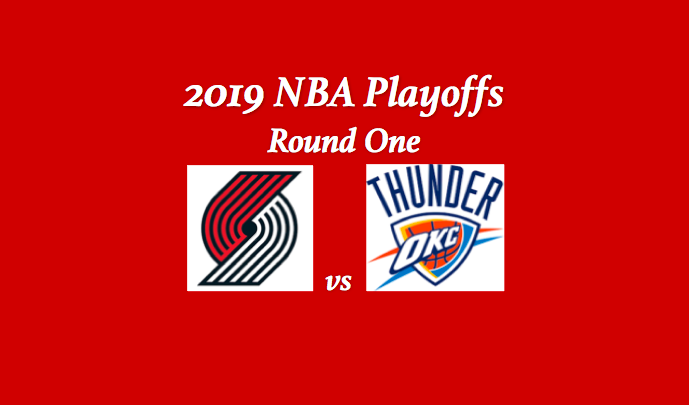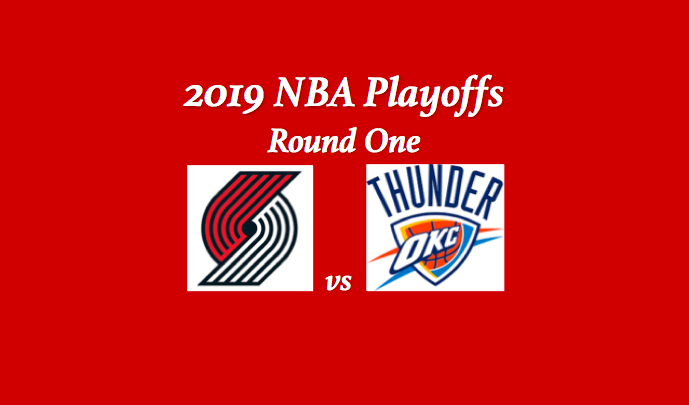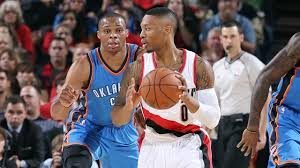 Our 2019 Trail Blazers vs Thunder preview notes that the OKC comes to this series riding a five-game winning streak. Also, this Portland Trail Blazers vs Oklahoma City Thunder preview observes that this season Portland is 0-4 against the Thunder. The Portland Trail Blazers (53-29) were third in the West and second in the Northwest Division, one game behind Denver. The Oklahoma City Thunder (49-33) finished sixth in the Western Conference and fourth in the Northwest. The series starts in Portland, OR at the Moda Center. The first game will be played on Sunday, April 14 at 3:30 pm ET. The series will shift after two games to the Chesapeake Energy Arena in Oklahoma City, OK.
Trail Blazers vs Thunder Playoff Preview – Stats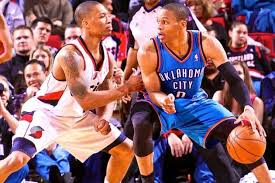 The Trail Blazers and Thunder are about as close as two teams can get when it comes to scoring and allowing points. Our Trail Blazers vs Thunder preview notes that Portland is averaging 114.7 PPG, while Oklahoma City has been good for 114.5 PPG. In terms of points allowed, the third-seed Blazers are a bit better than their opponents in this series. Portland is allowing 110.5 PPG. The Thunder are giving up 111.1 PPG. That means that Portland is +4.2 PPG and OKC +3.4 PPG, giving the Trail Blazers an exceptionally slight advantage of +0.8 PPG.
These two teams are close statistically in just about every category. In the areas of rebounding and assists, Oklahoma City is a bit better. When it comes to field goal, three-point, and two-point conversions, Portland has a small edge. However, in free throws, the Trail Blazers are just over 10 percentage points better (81.4% to 71.3%) than the Thunder. But that difference is not as big as you might think due to the fact that the Blazers go to the foul line less than the Thunder. In terms of actual points, Portland is +1.2 PPG over Oklahoma City when it comes to frees. The Thunder do have an edge in steals, averaging 9.3 to 6.7 per game.
Portland vs Oklahoma City – Players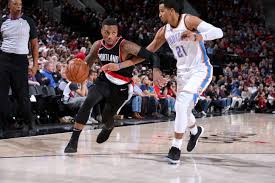 Our Trail Blazers vs Thunder preview notes that Portland generates a lot of their points from outside. PG Damian Lillard (25.8 PPG, 6.9 APG, 44.4 FG%) and SG CJ McCollum (21.0 PPG, 3.0 APG, 45.9 FG%) are combining for over 55 PPG. Both are shooting 37% from downtown. Lillard is Portland's top setup man. Inside, centers Jusuf Nurkic (15.6 PPG, 10.4 RPG, 50.8 FG%) and Enes Kanter (13.1 PPG, 8.6 RPG, 57.7 FG%) offer premium close-range shooting skills and top rebounding chops. Both are good for about 3.5 ORB per game. PF Al-Faroug Aminu (9.4 PPG, 7.5 RPG, 43.3 FG%) has been a stabilizing force in the paint. SF Maurice Harkless (7.7 PPG, 4.5 RPG, 48.7 FG%) rounds out the group in front.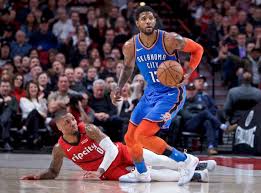 Thunder SF Paul George (28.0 PPG, 8.2 RPG, 43.8 FG%) is listed as day-to-day. It is essential that Oklahoma City's top scorer play in this series. George is an all-around force on the court, ably scoring, rebounding, assisting, and defending. He's got one of the best three-point shots on the team. The Thunder do possess an imposing group of front men. Center Steven Adams (13.9 PPG, 9.5 RPG, 59.5 FG%) is a very fine two-way player. PF Markieff Morris (6.5 PPG, 3.8 RPG, 39.1 FG%) rounds out the group in the paint. Also ready to go is quality SF Jerami Grant (13.6 PPG, 5.2 RPG, 49.7 FG%).
At the point is one of the best playmakers in the game, Russell Westbrook (22.9 PPG, 10.7 APG, 42.8 FG%). Westbrook, who's averaging 11.1 RPG, is always a triple-double threat. Also in the backcourt is point-maker Dennis Schroder (15.5 PPG, 4.1 APG, 41.4 FG%).
Keys to the Blazers vs Thunder Series
Portland has not been able to beat the Thunder this season
Disciplined play will be key
If George is healthy, OKC gets the edge
Portland's outside game can kill opponents, but it can also kill Portland
Thunder's Westbrook is a level above everyone else
Trail Blazers vs Thunder Preview – Our Pick
There is one player who could decide this series, and it is not Paul George. It is Russell Westbrook. Westbrook is the engine driving the Thunder, and he could easily drive each game and the series. We think that Oklahoma City comes to this game with a lot of weapons. Plus, the Blazers need that outside game to be efficient and on target all of the time. Our Trail Blazers vs Thunder preview is going with Oklahoma in six games.
Summary – Portland Trail Blazers vs Oklahoma City Thunder Pick
Oklahoma City Thunder in 6 games