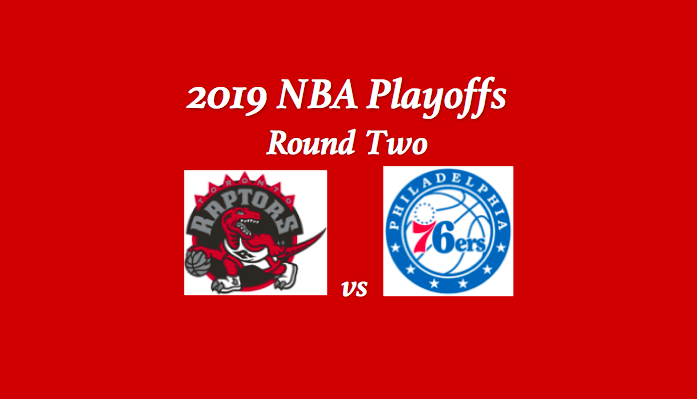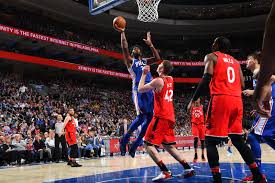 This Toronto Raptors vs Philadelphia 76ers pick features the Atlantic's first- and second-place teams. Our Toronto Raptors vs Philadelphia 76ers playoff preview notes that the basketball team from Canada dominated the regular-season series three games to one. In the Atlantic Division, the Raptors finished seven games ahead of Philly. Toronto comes to the court tonight in this Eastern Conference Semifinal series having taken down the Orlando Magic in round one four games to one. In their round-one NBA playoff series, the 76ers beat the Brooklyn Nets. They got to the semis by also going four-and-one. Both the Sixers and Raptors lost the first game in their initial series, going on to then take the next four. The first game of this 2019 NBA playoff series will tip off at 7:30 pm ET on Saturday, April 27 at the Scotiabank Arena in Ontario. The 76ers have lost 13-straight games on that court.
Toronto Raptors vs Philadelphia 76ers Pick – Stats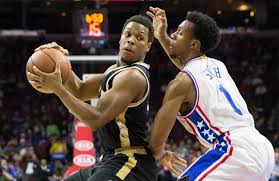 The Raptors bring a very tough defense to the court. In the regular season, Toronto was +6.1 in PF/PA differential. They scored 114.4 PPG while allowing just 108.4 PPG. The 76ers scored a bit more, 115.2 PPG, but they allowed 112.5, giving them a differential of +2.7. Defense could be a difference-maker in this series.
However, we expect the Toronto defense to be challenged by a Philly offense that averaged 122.4 PPG in their first playoff series. However, in the first series, the Raptors did hold the Magic to 92 PPG, a good 15 PPG less than Orlando averaged in the regular season. In the post-season, Toronto has averaged 106.4 PPG. That's eight points less than they averaged in the regular season. On another note, in their first playoff series, the Philly defense gave up 111.4 PPG to Brooklyn.
We like the Raptor defense a lot and expect them to keep the Sixers in check. At the same time, we think that Philadelphia will have a tough time containing Orlando's offense.
Toronto vs Philadelphia – Players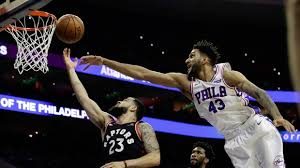 Key players for the Raptors include three dynamic front men, small forward Kawhi Leonard, power forward Pascal Siakam, and center Serge Ibaka. In the first series, Leonard topped the team with 27.8 PPG, while Siakam, who scored 22.6 PPG, was first on the Raptors in rebounds with 8.4 per game. Ibaka was good for 9.4 PPG and 7.2 RPG. Kyle Lowry proved to be a premium point guard, as he averaged 8.6 PPG, 11.4 PPG, and 2.0 STPG. The shooting guard spot is not as strong as one would like, while there is some good depth in the frontcourt.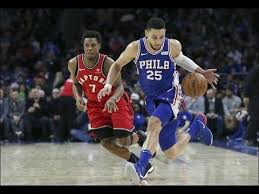 Our Toronto Raptors vs Philadelphia 76ers Pick finds that you've got to like the Sixer frontcourt duo of center Joel Embiid and small forward Tobias Harris. In the playoffs, Embiid is averaging a double-double of 24.8 PPG and 13.5 RPG. Plus, he's had 2.8 BPG. Against Orlando, Harris was close to scoring a double-double, averaging 17.6 PPG and 9.0 RPG. The guard situation is solid for the Sixers, with three backcourt men good for 13 or more points per game. PG Ben Simmons 7.6 APG and 17.2 PPG while grabbing 6.6 RPG. SGs Jimmy Butler and JJ Redick are averaging 15.8 and 13.6 respectively. Butler has been good for 4.6 APG and 4.8 RPG.
Keys to Raptors vs 76ers
Backcourt scoring and ball movement goes to Philly
Toronto tops in depth in front and paint point production
Toronto holds defensive edge
Sixers can score points in bundles
Who wins the paint wins the series
Our Toronto Raptors vs Philadelphia 76ers Pick
Our Toronto Raptors vs Philadelphia 76ers pick thinks that the home team will take the first two games each. Then, with the series tied, the Raptors will take over, winning in six games. The Sixers will give Toronto a battle in the paint, but, ultimately, the Raptor D will prevail.
Summary – Toronto Raptors vs Philadelphia 76ers Pick
Toronto Raptors in 6 games