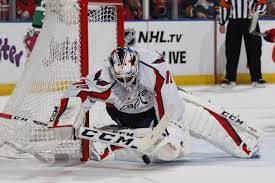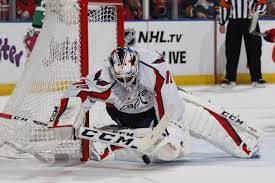 Thursday night there are three Stanley Cup games on the schedule. The games start at 7 p.m. with the Toronto Maple Leafs (40-27-15), the second wild card team in the East with 85 points, playing the Washington Capitals (55-19-8), the winner of the Metropolitan Division and at 118 points the team with the most points this season. The game starts at 7 p.m. and will be played in Washington, D.C. These two teams were well matched this season with Washington winning the three-game series 2-1. Note that one of the Cap victories was in OT. Our Toronto plays Washington Stanley Cup free pick considers if this series will be tighter than one might expect.
Toronto Maple Leafs Keys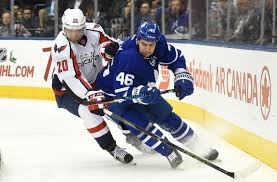 The Leafs can score. They are averaging 3.0 points per game, ranking them fifth. The club is stellar on the power play, scoring 23.8% of the time, which puts them second in the league. They struggle on defense, allowing 2.9 PPG, which is 22nd in the NHL. At 82.5%, they are 10th on the PK.
Rookie center Auston Matthews leads the team with 40 goals and 69 points. He's made eight power play goals and has 13 PPA. Center Mitch Marner leads Toronto in assists with 42. On a team that struggles getting on the plus side of the plus/minus mark, Jake Gardiner is the leader at +24. Center Nazem Kadri leads the team in poer play goals with 12. Five players have 60 of more points.
Washington Capitals Keys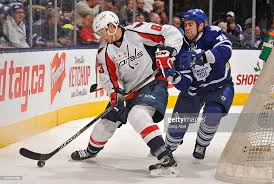 Here are the stats and the facts on Washington. They are third in average goals scored at 3.2 and first in goals allowed per game and 2.2. That one goal differential is huge. They also have great special teams. Their third-ranked power play scores 23.1% of the time. The team's penalty kill is at 83.8%, which is seventh in the league.
LW Alex Ovechkin is tied with teammate T.J. Oshie for most goals with 33 and Ovechkin leads the team in power play goals with 17. Oshie, on wing, has an impressive plus/minus of +28, while defenseman Dmitry Orlov leads the team at +30. Center Nicklas Backstrom leads the team with 63 assists and 86 points. He also has 27 PP assists. This is a dynamic opponent.
Goaltending Edge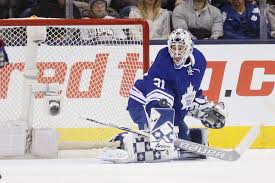 Toronto goalie Frederik Andersen (33-16-14) had a good season, but he was injured the other day. Andersen is expected to play, but there is concern about how close he'll be to being 100%. His save percentage is .918 and goals against are at 2.67. Cap goalie Braden Holtby (42-13-6) has put in his third straight season with 40-plus wins. The Vezina Trophy winner has a save percentage of .925 and a goals against average of 2.07. His is Washington's major weapon in this game and offers them a huge advantage.
Toronto Plays Washington Stanley Cup Free Pick
Our Toronto plays Washington Stanley Cup free pick likes the Caps. They hold massive edges on on D and in goal. Still, the Leafs will battle and should win a few games in this series. This should take six games.
Toronto Plays Washington Stanley Cup Free Pick: Washington in six games