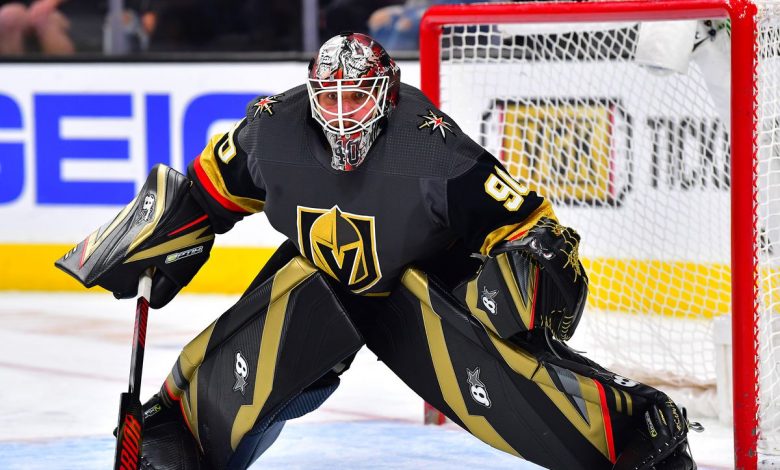 As expected, Vegas is a huge -210 favorite coming into August 13th Blackhawks vs Golden Knights betting. Peter DeBoer's team took a 1-0 series lead after dominating in a 4-1 win in Edmonton on Tuesday. As a result, Vegas has come out as a -210 favorite with Chicago at +175 and a total of 6.
The Golden Knights took the opener 4-1, but these teams played to a scoreless 1st period and Vegas held just a 2-1 lead going into the 3rd period. Can Chicago steal one after their impressive play-in series win over Edmonton? Then again, Vegas is now 4-0 since the restart and are adding to their already impressive depth.
How Does Chicago Regroup?
'Hawks management may be rethinking sending Robin Lehner packing in a mid-season trade with Vegas. The 'new' Golden Knights goaltender only spent a couple months in the Windy City and should've relished the chance to go to a legit title-contender in Vegas. Lehner had some choice words for Chicago GM Stan Bowman and backed it up by stopping 19 of 20 SOG in game one.
Is the Chicago offense intimidated coming into August 13th Blackhawks vs Golden Knights betting? The 'Hawks were solid in the opening series, scoring 16 goals in the four game series with Edmonton. Vegas boasts the #3 defense in SOG however and didn't allow Chicago to create traffic near Lehner.
The one goa scored in game onel is disheartening for Chicago fans but so is the four scores allowed by goaltender Corey Crawford. To be fair, Crawford had to face 34 shots – his 3rd time in the last four facing 34+ pucks. That's going to be the norm in this series though as the Golden Knights are tops in the NHL at 34.5 SOG/game.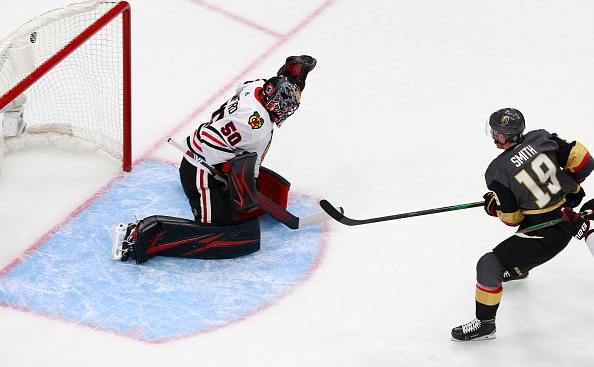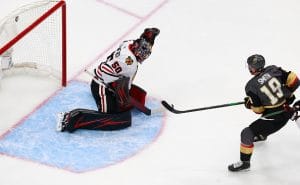 Vegas Cruising, Why Stop Now?
The Golden Knights are +120 on the -1.5 puck line wager which does look enticing. Vegas was already looking pretty dominant, but then got even better with Max Pacioretty rejoining the team in game one.
Pacioretty didn't do much of anything in his return, but it was also his first hockey since March 9th. Plus, Reilly Smith took care of things with two goals and an assist.
Things look good for Vegas on Thursday with Lehner in net. Can Chicago exploit a goaltender in Lehner that had allowed six goals in two starts prior for the restart and has now scored 3+ goals in nine straight games? The Blackhawks could be getting a complex here as they have dropped 9 of the last 10 to Vegas.
August 13th Blackhawks vs Golden Knights Betting Pick
Vegas traditionally owns this series but Chicago has the offensive talent to compete with anybody. Lehner was dazzling last game for Vegas, but the Blackhawks have seen the approach and can make their adjustments.
There's little value in Vegas pulling out the outright win at -210. With the way the Golden Kngihts offense looked combined with the strong performance from Lehner and it's looking like a puck line win from the Knights.
Pick: Vegas Golden Knights -1.5, +120