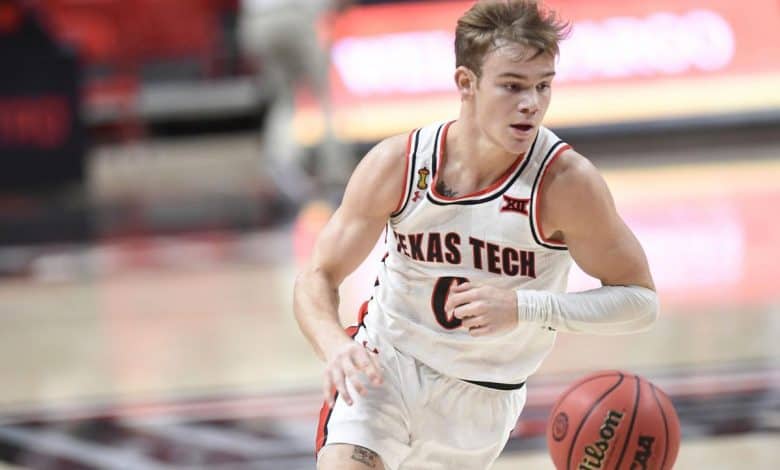 The No. 12 Texas Tech Red Raiders (11-4, 4-3 Big 12) take on the No. 14 West Virginia Mountaineers in a Big 12 Conference matchup of two top-ranked teams. These two teams will play again just over two weeks from now in a rematch in Lubbock, Texas. 
Monday night's tipoff is set for 9 pm ET inside WVU Coliseum in Morgantown, West Virginia. The Mountaineers are a two-point favorite against the Red Raiders in the bout, according to oddsmakers.
What to Know – Texas Tech Red Raiders
The Red Raiders enter the week after extended time off following their postponed contests against Texas Christian and Iowa State last week due to COVID-19 protocols. 
Texas Tech is fourth in the Big 12, a half-game in front of West Virginia. They fell 68-60 to an undefeated Baylor Bears team their last time on the floor.
Texas Tech averages 74.7 points and surrenders 59.9 points per game defensively. Junior guard Mac McClung, a transfer from Georgetown, is the Red Raiders' leading scorer, averaging 16.3 points per game. McClung scored a game-high 24 in the loss to the Bears behind 8-of-18 shooting from the floor.
Starting guards Kevin McCullar (11.2 ppg) and Kyler Edwards (10.1 ppg), as well as reserve guard Terrance Shannon Jr. (12.8 ppg), all average in double figures to aid the Red Raiders offense.
Texas Tech is 6-9 against the spread this season, including a 2-8 trend over their last ten games. The Red Raiders are also just 2-6 ATS in their last eight contests against WVU.
What to Know – West Virginia Mountaineers
West Virginia has only played four games in January due to three postponements due to COVID-19 protocols. The Mountaineers got back to action on Saturday, blowing out the Kansas State Wildcats, 69-47, on the road. 
West Virginia scores 72 points and allowed opponents to average 70.3 points per game through the first half of the season. Sophomore guard Miles McBride averages 15.3 points per game this year to lead the Mountaineers. McBride led all scorers in the victory over the Wildcats, scoring 18 points and adding five assists.
If it isn't McBride doing the scoring, look for fellow guard Taz Sherman (13 ppg) or forward Derek Culver (12 ppg) to get the touches as the second and third-leading scorers on the roster.
The Mountaineers are an even 7-7 against the spread this season, but just 2-4 ATS in conference play. West Virginia is 2-3 ATS on their home floor this year, including an 0-2 mark at home against conference opponents. 
The Pick is In
West Virginia is 7-1 against the Red Raiders in conference play and 14-6 all-time, while Texas Tech is a perfect 3-0 on the season in true road games this season. The Mountaineers have not faced a Top 15 team yet this season, while the Red Raiders have fared better against a more challenging strength of schedule. 
Expect Texas Tech to remain perfect on the road and leave Morgantown with a close victory.
The Pick: Texas Tech +2