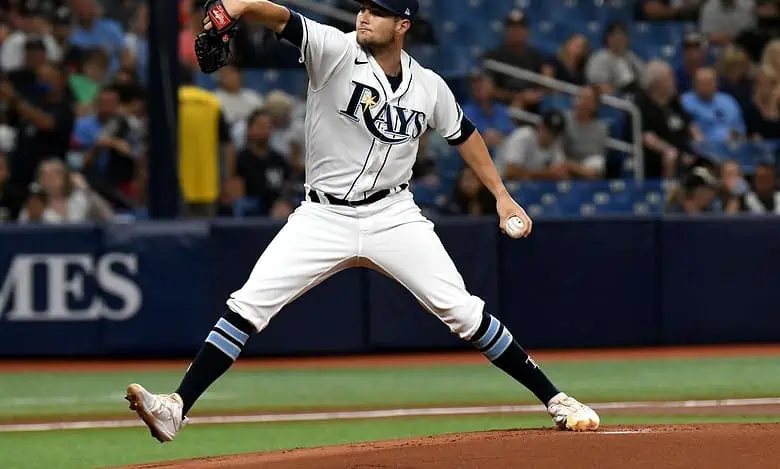 The calendar has flipped to August, and that means that MLB Playoff races are going to really heat up over the final two months. The Tampa Bay Rays are in New York to play the Yankees this week, and that is a big matchup in the AL East Division.
Tampa Bay has won the first two games of this series, and they have also rattled off three straight wins overall. The Rays are trying to track down the Baltimore Orioles for the division lead, and they remain within striking distance.
The New York Yankees are currently in last place in the AL East Division, and they have really been struggling. New York has now lost three straight games, and they are in serious danger of falling out of the race.
It is the New York Yankees that are the moneyline betting favorites at -115 over the Tampa Bay Rays in this matchup.
Pitching Powering the Rays
Tampa Bay has one of the best pitching staffs in baseball this season, and that group has been carrying the load for them during this run. The Rays now have a team ERA of just 3.77, and they have allowed just five total runs during this three-game winning streak.
It will be Shane McClanahan that will be on the mound in this game, and he is 11-1 with a 3.00 ERA on the year. McClanahan has been getting hit around a bit of late, but he is usually giving his team a chance to win the game.
Isaac Paredes is having a huge season for the Rays as he leads the team with 21 home runs from the third base position. Tampa Bay has been slumping a bit at the plate, but they are getting enough production to win games.
Yankees Need to Score
If the New York Yankees are going to get back in the playoff race, then this team has to find some offense. New York is hitting just .229 as a team this season, and they continue to be too reliant on the home run ball.
Aaron Judge has made his return to the Yankees lineup, but he has struggled to find his power stroke since coming back. New York has been completely shut down on offense in this series, and they have to get back on track.
Gerrit Cole will start this game for the Yankees, and that's usually a good thing for this team. Cole has gone 9-2 with a 2.64 ERA this season, and he always seems to step up when his team needs it the most.
Cole Carries Yankees to Win
Tampa Bay has been getting some great pitching of late, but they haven't been putting up a ton of runs on offense. You shouldn't expect the offense to do much damage in this game, as they are facing one of the best pitchers in all of baseball.
Things look pretty bleak for the Yankees at this point of this season, but Gerrit Cole will do what he can to get things turned back around. A dominant performance from Cole will set the tone, and then the Yankees will be able to find some offense in this one.
Bet the New York Yankees -115 over the Tampa Bay Rays as they are finally able to snap this losing streak and pick up an impressive win.