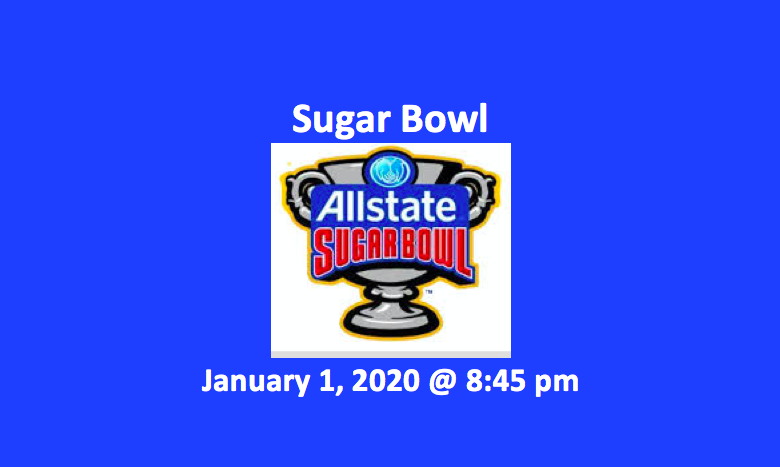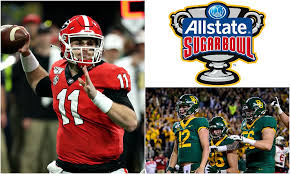 Our 2020 Sugar Bowl pick is the final bowl game of the first day of 2020. This Sugar Bowl pick ends a day that features eight top-25 football teams playing in a quartet of games. The Citrus Bowl, which kicks off at 1 pm ET featuring Michigan and Alabama, starts the day. You can access our Citrus Bowl pick here, as well as all of our 2019-2020 college football bowl predictions through our hub page. The Allstate Sugar Bowl, which offers the Georgia Bulldogs at -4.5 and an over/under of 41.5, will be played at the Mercedes-Benz Superdome in New Orleans, LA on January 1, 2020. The game begins at 8:45 pm ET.
In the SEC, the Georgia Bulldogs (11-2) recorded seven wins and one loss. That record put them one game up on the #9 Florida Gators and earned them first place in the East. The Bulldogs played the #1 LSU Tigers for the SEC title. The Tigers beat the Bulldogs 37-10. In the Big 12, the Baylor Bears (11-2) recorded an 8-1 conference mark. That tied the Bears with the #4 Oklahoma Sooners. The Sooners beat Baylor 30-23 for the Big 12 crown.
2020 Sugar Bowl Pick – Regular Season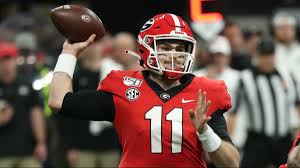 Georgia won their first five games of the season. A 23-17 victory over #7 Notre Dame was included in that string. The Bulldogs suffered their first and only regular-season loss when they met South Carolina on October 12. The Gamecocks beat the Bulldogs 20-17 in overtime. After that loss, Georgia went on to beat #6 Florida 24-17 and #12 Auburn 21-14. As noted, after winning the SEC East, Georgia lost to LSU in the championship game.
Like the Bulldogs, Baylor started the season with a winning streak. However, their string of wins lasted nine games. Over those nine games, the Bears beat Iowa State, Kansas State, and Texas Tech. Their tenth game was on November 16 against the Sooners. In that contest, Oklahoma snuck by Baylor 34-31. Our 2020 Rose Bowl pick notes that the Bears ended the regular season with wins against Texas and Kansas before losing, once again, to Oklahoma in the championship game.
Georgia Bulldogs vs Baylor Bears – Stats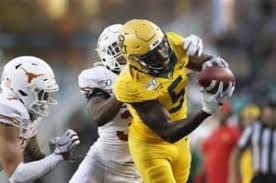 Both Georgia and Baylor come to this contest with productive offenses and sound defenses. Georgia is averaging 31.2 PPG and allowing 12.5 PPG. Baylor is scoring 35.2 PPG and giving up 19.3 PPG. Total offensive yards for the Bulldogs come to 410.2, while the Bears are compiling 431.2 YPG.
However, it is in defensive yards are where these two teams diverge. Georgia is permitting opponents 274.2 YPG. Consequently, they're giving up just 198.5 passing YPG and 75.7 rushing YPG. Conversely, Baylor has allowed 357.2 defensive YPG. Passing yards allowed were fairly low coming in at 214.8 YPG. However, rushing yards given up were a less than desirable 142.4 YPG.
Georgia at Baylor – Players
Georgia Bulldogs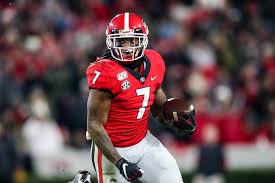 QB Jake Fromm leads the Georgia offense. Fromm completed 60.3% of his passes for 2,610 yards. He's passed for 22 TDs and offered up five INTs while being sacked 12 times. Three receivers come to this game with each having 30 or more catches. Freshman WR George Pickens leads the team with 37 receptions, 552 yards, and seven touchdown catches. RB De'Andre Swift leads a productive rushing game. Swift has accumulated 1,216 yards and seven TDs while averaging 6.2 YPA.
The Georgia defense has made 28 sacks, defended 58 passes, and grabbed six interceptions. Our 2020 Sugar Bowl pick notes that they have forced eight fumbles and recovered seven. Top performers include LB Azeez Ojulari with 4.5 sacks, DB Richard LeCounte with two INTs, two FF, and three FR, and LB Monty Rice with 45 solo tackles and 84 total tackles.
Baylor Bears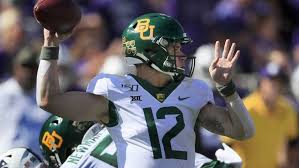 Baylor QB Charlie Brewer completed 65.2% of his passing and notched 20 TD passes. He tossed for 2,950 yards. Brewer threw a half-dozen picks and was sacked 29 times. He's has scored 10 rushing touchdowns. It was uncertain if Brewer could play in this game due to a concussion. But it was announced on December 27 that Brewer was cleared to play. The rush attack features the tandem of John Lovett and Jamycal Hasty. Each has run for just over 600 yards and each is averaging more than five yards per attempt. Lovett has scored seven times and Hasty five. The Baylor receiving unit features a trio of pass catchers who each have 30-plus receptions. WR Denzel Mims comes to this game with 61 catches, 645 yards, and 11 TDs.
The Baylor defense brings some very impressive stats to the Sugar Bowl. The Bears have recorded 43 sacks, 17 picks, and 15 forced fumbles. Top performers include DT James Lynch with 12.5 sacks, three FF, and two FR, CB Grayland Arnold with six interceptions, and LB Jordan Williams with three picks, seven PD, and 81 tackles. LB Terrel Bernard tops the Bears with 50 solo tackles and 107 total tackles. He's also recorded 4.5 sacks and three fumble recoveries.
Five Keys to the Game
In developing our 2020 Sugar Bowl pick, we note the following keys:
Georgia D can shut down opponent offenses
Baylor defense has some fine, premium performers
Bear QB Brewer posts better passing percentage
Bulldog QB sacked less
Big battle – Baylor's productive rush attack vs Georgia's stingy ground D
Our 2020 Sugar Bowl Pick
Both teams can score, and, yet each team puts stalwart defenses on the field. Will either offense penetrate either defense? We do think each side will score at least 25 points. Those points are below each club's offensive average, yet quite possible considering how productive each team can be when they have the ball. Thus, our 2020 Sugar Bowl pick for totals is over 41.5. Also, for some reason, we like the Baylor Bears at +4.5 in this contest
Sugar Bowl Pick – Summary
Baylor Bears at +4.5 and over 41.5