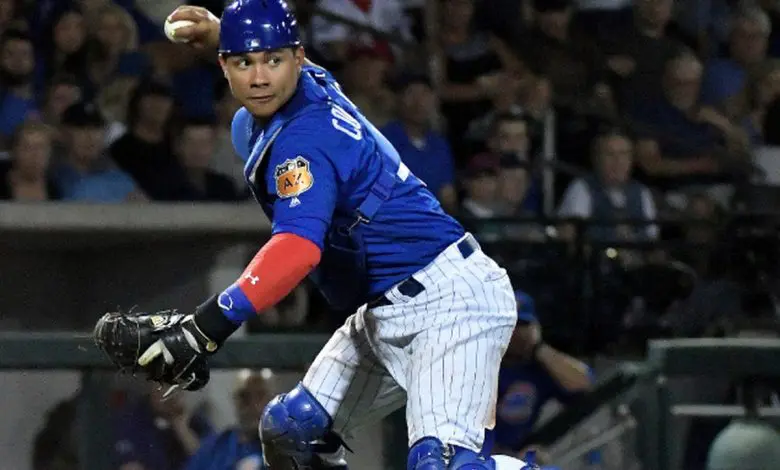 Saturday September 5th Cardinals at Cubs betting is the first game of a doubleheader starting at 5:15 PM ET. Old rivals St. Louis and Chicago are going to get very familiar with each other over this Labor Day weekend as they'll play five games in four days.
Chicago got off on the right foot in this series taking a 4-1 win on Friday behind another impressive performance by Yu Darvish. The Cy Young candidate held St. Louis to 1 hit over 7.0 IP while striking out 11. The Cardinals would seem to have the pitching edge on Saturday though with Adam Wainwright (3-0, 2.65 ERA) going against Adbert Adzolay (0-0, 0.00 ERA). Oddsmakers have set this one a toss-up with both teams at -110 with a betting total of just 6.
Cardinals Glad to Have Darvish in the Rear View
St. Louis had to face Friday's series opener as a throwaway game considering Darvish is now 7-1 with a 1.44 ERA. That's how the Redbirds played, being no-hit until a Matt Carpenter home run in the 6th. With Friday's loss St. Louis drops to 4.5 GB of the Cubs in the Central but still with a 66.1% probability of making the postseason.
Oddsmakers had St. Louis just a +127 underdog Friday vs. Darvish which does give them some credit. St. Louis came into the series opener with wins in three of their four prior games and put up 30 runs in the three victories. The Cards' faced Chicago starter Adzolay on August 19th and had just 2 hits over 5.0 IP. That's got to be one of the reasons the September 5th Cardinals at Cubs betting total is just 6.
Another reason oddsmakers are expecting a low scoring game is because Adam Wainwright is on a nice run allowing 2ER or less in three of four starts since August 15th. Wainwright pitches deep too, going at least 7.0 the last three including a complete game 4-hitter vs. Cleveland last time out. Wainwright threw 122 pitches in that game though.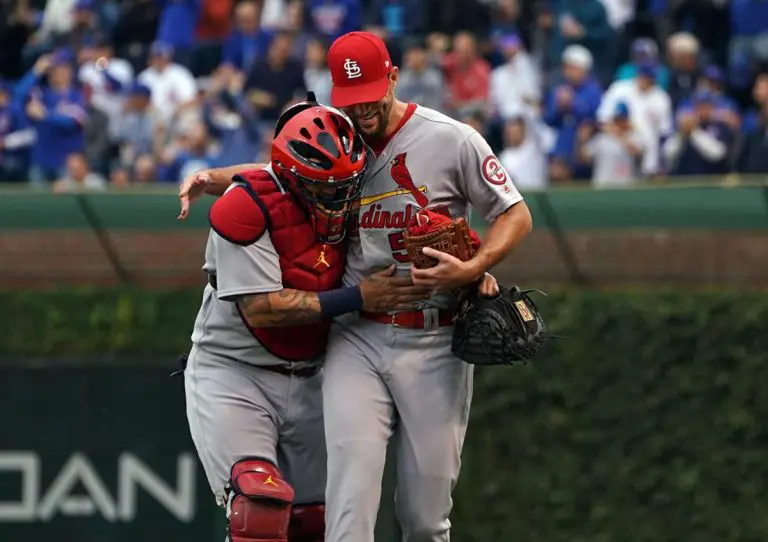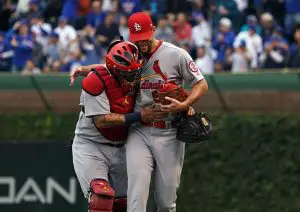 Chicago With a Great Opportunity This Weekend
The Cubs can completely demoralize St. Louis over the next four games and all but clinch the Central with two or three more wins against the Cardinals (Milwaukee also 4.5 GB). Chicago would like to see some balance to accomplish that success though as Willson Contreras had all four of the teams RBI in Friday's win.
A 12 MPH wind blowing in from left is another reason Saturday's earlier game of the double header is projected as being so low scoring. Contreras had a home run Friday night and the long ball has been a big part of Chicago's offense lately as they've hit 14 in the past 7 days. Ian Happ has four of those and has hit 6-11 (.545) with two HR vs. Wainwright. Happ is questionable Saturday after leaving Thursday's game against Pittsburgh after taking a foul ball to the eye.
Adzolay is the big unknown for the Cubs in game one. His sample size of 5.0 IP and 2 hits allowed vs. these Cardinals is nice but he had a 7.30 ERA in two starts last season.
September 5th Cardinals at Cubs Betting Pick
This meeting is a toss-up in every sense of the term but 69% of the public like the Cardinals as the 7th most popular wager of the day. St. Louis does have the more proven pitcher in this game, but the Cardinals are just 6-8 on the road this year while Chicago is 13-8 at Wrigley. St. Louis will stack their lineup to win the opener behind Wainwright but the Cubs have great depth.
Chicago doesn't need left field and the 12 MPH wind to score runs either with Kyle Schwarber, Anthony Rizzo, and Jason Heyward among their strong left handed bats.
Free Pick: Cubs -110
Free Pick: Over 6