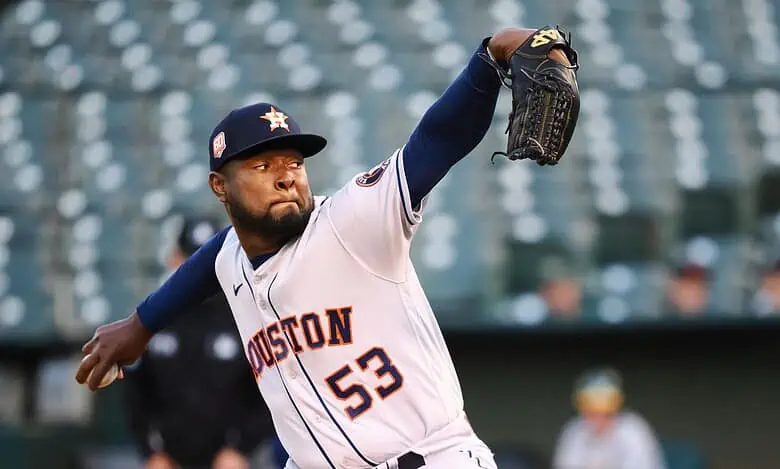 AL West rivals are meeting up in the American League Championship Series (ALCS), and Game 3 is set for Wednesday night. The Texas Rangers come into Game 3 with a 2-0 series lead, and they are also going to be hosting the next three games.
Houston rallied to win the AL West Division title this season and then were able to get past the Minnesota Twins in the ALDS. The Astros dropped two straight games at home to begin this series, and they need to rally in a hurry.
Texas has yet to lose a game so far in the playoffs, as they have gone a perfect 7-0 to begin their postseason run. The Rangers struggled down the stretch and blew a lead in the division race, but they have been able to bounce back in a hurry.
The Rangers are the moneyline betting favorites at -130 over the Astros in Game 3 of the ALCS.
Astros Searching For Consistency
The Houston Astros have scored just four total runs through the two games in this series, and they have to start swinging the bats better. Yordan Alvarez belted two home runs in Game 2 of the series, but he didn't do much of anything on offense in the series opener.
It's going to take a big performance on offense to win this game by, Houston, but it still might not be enough. Houston is going with Cristian Javier on the mound in this game, and he is someone who doesn't have a ton of big-game experience.
Javier has gone 1-0 with a 0.00 ERA so far in the playoffs, and the Astros need another dominant performance from him in this matchup.
Rangers Rolling on Offense
The Texas Rangers have been pounding the baseball so far in the MLB Playoffs, and that has allowed them to cruise to a number of wins. Texas is getting off to fast starts in most games as well, and they should be able to continue that at home.
Adolis Garcia and Corey Seager are the biggest bats in the lineup for Texas, and Seager has barely been making outs this postseason. Texas won't need to score a ton of points in this game, though, as they are set to send Max Scherzer to the mound.
Scherzer will be making his first start in over a month after he was put on the injured list at the end of the regular season. Texas will likely keep him on a short leash, but that bullpen has been dominant against the Astros as well.
Texas Takes 3-0 Lead
Houston is in some serious trouble in this series as they are now set to face a Hall of Fame pitcher in Game 3. The Astros still have a lineup that is full of clutch performers, but they just aren't getting enough big hits during this playoff run.
Texas has an offense that is brimming with confidence, and they are going to get a boost from Scherzer in this game. Don't expect the Rangers to run away with a win in this game, but they are going to find a way to get the job done yet again.
Bet the Texas Rangers at -130 on the moneyline as they are going to take a commanding 3-0 series lead in the ALCS.