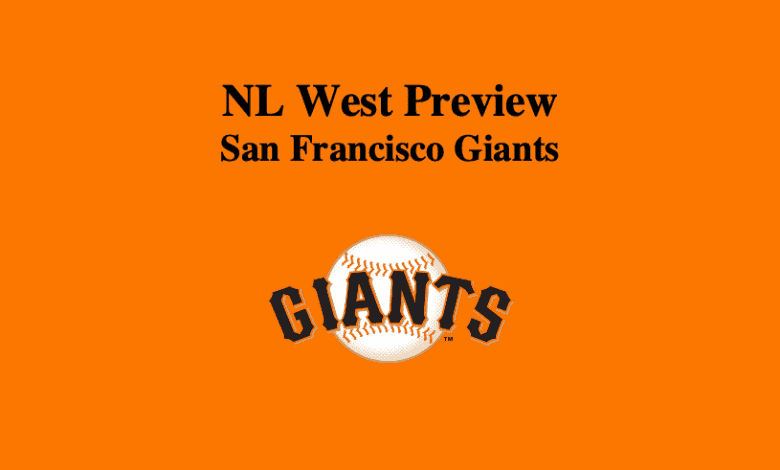 Our NL San Francisco Giants preview 2021 asks what can we really expect from this team? Last season, they can ever so close to making the postseason. They finished with a losing record of 29-31, which put them in a tie with the Milwaukee Brewers for the final wildcard spot. A tiebreaker based on each team's intra-divisional record gave the final wildcard spot to the Brewers. In way, it's was all moot anyway. San Francisco's record, when adjusted to a 162-game season, was 78-84. It marked the fourth-straight season that the team finished under .500. This is a team that has been in decline and is slowly rebuilding.
NL San Francisco Giants Preview 2021 – Pitching
In 2020, the Giants pitching staff recorded an ERA of 4.64 (8th) while opponents hit .241 against them. Their WHIP of 1.23 ranked seventh in the NL. They allowed 210 walks (8th), 69 homers (tied for fourth fewest), and struck out 488 batters (12th). San Francisco's 13 saves tied them with four other teams for sixth. They recorded 13 QS (10th), and, like two other teams, they did not have a shutout. Overall, the pitching staff performed in a mediocre to poor manner. If this team is going to be competitive, improvement in this area is needed.
San Francisco Rotation
Righty Kevin Gausman came to the Giants last season from Cincinnati. An eight-year vet, he started 12 games and recorded three wins and three losses with a 3.62 ERA and 1.11 WHIP. He uses two main pitches, a 95mph four-seam fastball and 84mph splitter. He mixes in an 85mph change that utilizes a circle change grip and an 82mph slider. He's the first man in the rotation. Johnny Cueto, who's second in the rotation, starts his 14th year in the majors and sixth with San Fran. In 12 starts last season, he was 2-3 with a 5.40 ERA and 1.37 WHIP. This could be Cueto's last season, as his abilities have diminished over the years.
With third starter Anthony DeSclafani the rotation starts to thin out quite a bit. DeSclafani, who comes to the Giants after five uneventful seasons with the Cincinnati Reds, started seven games last year. He recorded a 7.22 ERA, 1.69 WHIP, and a 1-2 record. Logan Webb is fourth in the rotation and Alex Wood fifth. Webb has great stuff but was uneven last year. Wood, who's presently dealing with lower back strain, is reported to be progressing well. Wood, who's best season was in 2017 with the Dodgers when over 27 starts he went 16-3 with 2.72 ERA and 1.06 WHIP, will be challenged to win 10 games this season.
Relief
The Giants snagged Matt Wisler from the Twins where last season he appeared in 18 games, posting a 1.07 ERA and 1.14 WHIP. He had one save, five holds, and one blown save. He could be a solid force out of the pen. Lefty Jarlin García brings solid mid-to-late-inning chops to the mound. Wandy Peralta, another lefty, has had his healthy and performance issues. We expect the Giants will go to a closer-by-committee structure. However, lefty Jake McGee, and 11-year veteran, is the designated first choice. In his career, McGree has recorded 46 saves, 133 holds, and 25 blown saves. He's got a 3.58 career ERA and 1.15 WHIP. Expect righty Tyler Rogers to also get a chance at this role.
San Francisco Giants Preview 2021 – Everyday Players
With a .263 BA (4th), the Giants certainly proved that they could hit. They also recorded an OBP of .335 (6th), slugging percentage of .451 (5th), and OPS of .785 (5th). They were seventh in homeruns with 81 and third in doubles with 107. Their 532 hits also placed third in the National League, and the team's 14 triples ranked second. The Giants drove in 290 runs (4th). However, areas where San Fran ranked poorly included stolen bases (12th), base-on-balls (10th), and strikeouts (8th). All in all, this was a pretty good offense.
San Francisco – Infield
Aging shortstop Brandon Crawford had a resurgence last year. In what was his 10th MLB season, all with SF, Crawford hit .256 with 28 RBI, eight homeruns, and 12 doubles. His OPS was .792, the best of his career. At second, Tommy La Stella comes to the Giants from the Athletics. Last season with the Angels and Oakland, he played in 55 games and hit .280 with 25 RBI and 14 doubles. He's certainly serviceable.
Our San Francisco Giants Preview 2021 observes that the corners feature two aging All-Stars, Brandon Belt at first and Evan Longoria at third. Last season, Belt recorded solid numbers. In 51 games, he hit .309 with 30 RBI, nine homers, and 13 RBI. In the other corner, Longoria played in 53 games and hit .254. He had 28 RBI with seven homeruns and 10 doubles. We are wary that Belt and Longoria, who are both aging, may have their best years behind them. Finally, catcher Buster Posey returns for his 12th MLB and Giants season. Posey, due to various family issues, sat out last season. He is back. Posey, who is 34 years old, is back. He's sound behind the plate but in 2018 and 2019 his offensive numbers suffered. Can he hit .300-plus, drive in 80 or more runs, and smack 20 homers while accumulating over 25 doubles as he did in the old days?
Outfield
In right field, Mike Yastrzemski, grandson of the fabled Red Sox Carl, continued to improve In his second MLB season, he hit .297 with 35 RBI, 10 homers, and 14 doubles over 54 games. This San Francisco Giants Preview 2021 finds that he's solid through and through. In 2020, left fielder Alex Dickerson took advantage of right-handed hurlers. He starts in that position. Mauricio Dubon went from the middle infield to center and showed enough promise to start in the deep outfield spot. In 54 games last season, he hit .274 with 19 RBI.
NL San Francisco Giants Preview 2021 – Final Word
Our NL San Francisco Giants preview 2021 notes that this team will show improvement, but that they are also in rebuilding mode. It will take a while for the Giants to once again be competitive. Gabe Kapler, late of the Phillies, was brought in to manager last season. He did a good job of using the various pieces he had to get some minor positive results. San Francisco president Farhan Zaidi starts the third year of his five-year contract. Some positive moves have been made in the farm system as well as at the MLB level. But we expect that ownership will get impatient if they don't see larger positive results sooner than later.
Summary – San Francisco Giants Preview
Record: 80-82 (Fourth-place NL West)