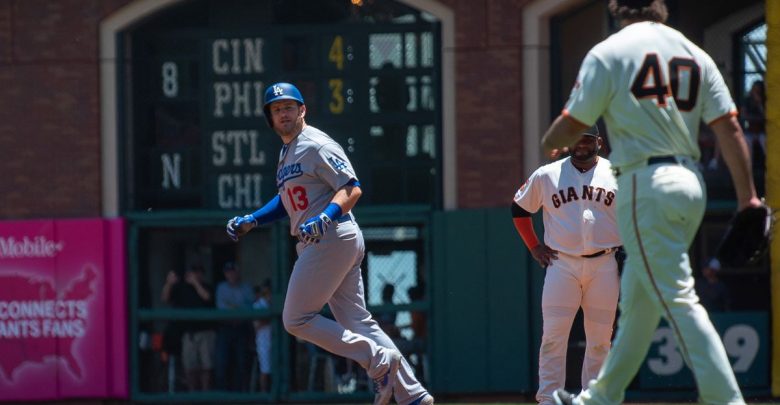 Bum vs. Max, Part II? It could be when the San Francisco Giants wrap up a four-game series with the Los Angeles Dodgers on Thursday. These two teams hooked up for a series in San Francisco about a week and a half ago that concluded with a 1-0 Dodgers victory. The lone run came off the bat of Max Muncy, who took his time watching the ball, which drew the ire of Giants pitcher Madison Bumgarner, who threw the pitch that he hit.
Now Bumgarner will be taking the mound for the finale in this series, his first time facing the Dodgers since that game. Despite a 17.5-game difference in the standings, the matchups between Los Angeles and San Francisco have been fairly even this season, with the Dodgers holding a 7-5 advantage in the previous 12 meetings after picking up wins the last two days. Bumgarner may be making his last start for the Giants against Los Angeles in this one, as he's expected to be a sought-after player in trade talks and these two teams won't meet again until September.
The moneyline for this contest has the San Francisco Giants +150 and the Los Angeles Dodgers -160. The over/under for the game is set at 7.5.
Not Getting Wins
Bumgarner isn't the ace that he used to be for the Giants, but he's pitched decently at times, despite his 3-6 record on the season. The 29-year-old lefty hasn't picked up a win since May 18 and has allowed at least three earned runs in six of his last 10 starts. But, in the most recent loss to the Dodgers, he went seven innings, giving up just four hits, including Muncy's home run, while striking out five and walking just one. On the season, Bumgarner has a 3.87 ERA, with 90 strikeouts and 20 walks.
The Giants' offense has been hot and cold this season. They came into this series having won four of five and scoring 28 runs in those five games, but they've managed just five runs in the first three games of this series. Pablo Sandoval and Brandon Belt continue to lead the Giants in home runs with just nine apiece. Centerfielder Kevin Pillar is batting .241 with eight home runs and a team-best 32 RBI on the season.
Bullpen Day
Julio Urias will get the start for the Dodgers, though he isn't expected to last long, as manager Dave Roberts is banking on his bullpen in this one to give each of his starters an extra day of rest. Urias is 3-2 on the season with a 3.05 ERA, but he hasn't pitched more than three innings since April. The bullpen had to work eight innings in Wednesday's game after starter Rich Hill departed after one inning with left forearm discomfort.
The Dodgers have one of the most dangerous hitters in baseball in Cody Bellinger, who added to his team-high total with his 24th home run on Wednesday. Bellinger also paces the Dodgers in batting average (.359), RBI (60), runs (59) and hits (93). But Los Angeles isn't just a one-man show, with Joc Pederson (19), Muncy (17) and Enrique Hernandez (11) all registering double-digit homers this season. Leftfielder Chris Taylor got into the act Wednesday night, hitting two to bring his season total to seven.
Hot Matchup
Bumgarner was able to shut down the Dodgers' bats in his last start against them, but it's hard to believe he can do it again. The Dodgers — and especially Bellinger — play much better at Dodger Stadium, as shown by the nine runs scored each of the last two nights. Los Angeles has tied its second-best start ever with its 50-25 record, and it'll add to that win total tonight. I'm taking Los Angeles -160 to close out the series.