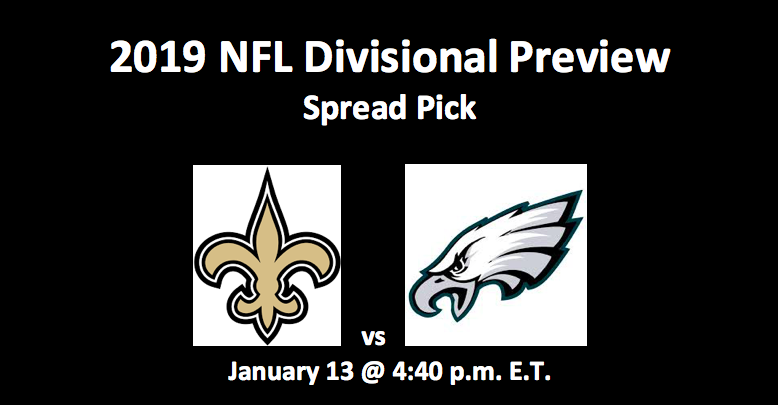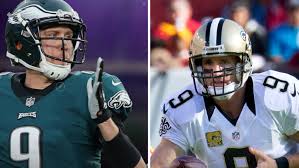 The New Orleans Saints (13-3 Overall, 6-2 Home) host the Philadelphia Eagles (9-7 Overall, 4-4 Away) on Sunday, Jan. 13 at 4:40 pm ET for their NFL Divisional Playoff game. Our Saints vs Eagles pick has New Orleans favored by anywhere from 8.0 to 9.5 points. The game will be played at the very comfortable Mercedes-Benz Superdome in New Orleans, LA. The Eagles grabbed one of the NFC wild card spots, and in the wild card game last week, beat the Bears 16-15 on a missed Chicago field goal. New Orleans won the NFC South miles ahead of the other four teams.
The Saints and Eagles met this season on Nov. 18 in New Orleans. In that game, with Carson Wentz at the helm, the Eagles lost 48-7. Wentz tossed three picks and no TD passes. Breeze had four throws for scores. Also, in that game, New Orleans rushed for 174 yards and scored twice on the ground. The Saints held Philadelphia to 84 rushing yards and one ground TD.
Offense/Defense vs Offense/Defense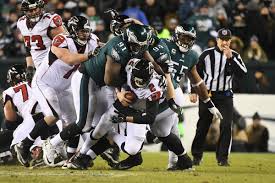 This NFL Divisional Playoff game features one of the top performing offenses in the league, the Drew Brees-run New Orleans Saints. They are averaging 31.5 PPG (3rd NFL) and 379.2 YPG (8th NFL). They come in 12th in passing yards per game (252.6) and sixth in rushing yards (126.6). The Saints are going up against Philly's seventh-ranked run defense (101.6 YPG). New Orleans is also facing the 30th-ranked pass defense (269.3 YPG).
The Eagles will have Nick Foles at the helm, as they did last season when they won the Super Bowl. Philadelphia is scoring 22.9 PPG (18th NFL) and churning out 365.3 YPG (14th NFL). Ground yards per game come in at 98.1 (28th) and passing yards are 365.3 (14th). However, with Foles at the helm, the Eagles are averaging 282.6 passing yards per game. Philly is facing the second-ranked ground D (80.2 YPG) in the NFL and the 29th-ranked air defense (268.9 YPG). However, even though the Saints are giving up air yards, Foles should be under a lot of pressure today. New Orleans has 49 sacks (5th NFL).
Edge: New Orleans
Take/Give Aways and Other Stats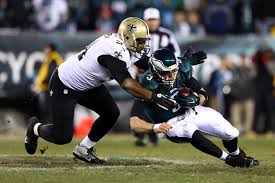 This NFL Divisional Playoff game could come down to turnovers. If it does, that's not good news for the Eagles. When it comes to take away/give away stats, New Orleans is far ahead of Philadelphia. The Saints had a total of 24 take aways (12 INTs and 12 FFR), while the Eagles took away 17 (10 INTs and 7 FFR). However, the huge difference is in give aways, as the visitors offered up 11 picks and 12 fumbles, for a total of 23 give aways. That left them with a -6 TA/GA differential. On the other hand, New Orleans offered up seven picks and nine fumbles for a total of 16, leaving them with a TA/GA differential of +8. The Saints have a major advantage here.
Edge: New Orleans
Keys to Saints vs Eagles NFL Divisional Playoff Game
Brees (81.9 QBR) vs Foles (69.5 QBR) – take Brees
New Orleans has better rush attack
Eagle receivers Ertz, Jeffery, and Agholar are top-notch
Foles is solid playmaker if game is close
If Saints dominate from start, it's over
Edge: Saints
NFL Divisional Playoff Game – Saints vs Eagles Pick
Here's how we see the Philadelphia at New Orleans NFL Divisional Playoff game. Playoff football tends to be different than regular-season play. Teams can step up and surprise you. However, there are a few forces at work here that may prohibit Philly from doing that.
The Eagles must tame the New Orleans offense. We do not think they will. This Saints offense keeps coming at you on the ground and in the air. Plus, New Orleans divisional loss to the Vikings last year on a missed tackle by the Saints' secondary has really stuck with them. They should have gone onto the NFC title game. They want that shot and want to prove they deserve it. New Orleans take no prisoners today. Our Saints vs Eagles pick is New Orleans at -8.0.
Summary Saints vs Eagles Pick – New Orleans Saints at -8.0