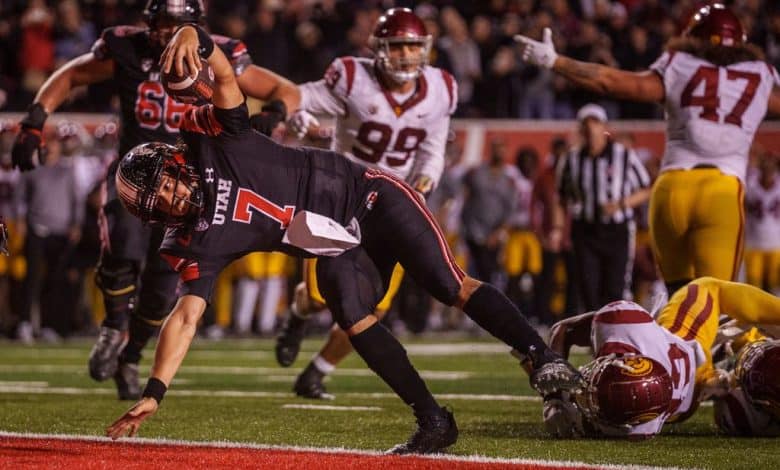 The stakes are high for the Trojans in the Utah vs USC betting matchup. Lincoln Riley has navigated his team to the #4 spot in the CFP, seemingly a lock to get into the championship four bracket if they can beat the Utes on Friday night.
Of course the Trojans' (11-1) only loss of the season came in week 7, 44-43 to these Utes in Utah. The Utes can make it a second consecutive Pac-12 Championship with a win, and they can (likely) end a conference rivals' national championship hopes in the process. USC is a -2.5 favorite for Friday's game at Allegiant Stadium in Las Vegas.
Can Utah Get the Encore?
#11 Utah (9-3) had a few rough losses this season, but not entirely unexpected ones. The Utes' resume includes a 29-26 defeat on a warm night in the season opener at Florida, falling 42-32 at then #18 UCLA, and 20-17 at #12 Oregon two weeks ago. Three road losses to decent teams, meaning the Utes have some value at a neutral site on Friday night.
Also on Utah's resume is a 1-point win over Southern California in week 7 when Utes QB Cameron Rising had the game of his life. Rising threw for 415 yards and 2 TDs in that game and added 3 more rushing TDs as well what ended up being the game-winning 2-point conversion with :48 left. That was a much better big game performance than when Rising threw 3 INTs in the loss to Oregon, so we'll see how he does under the bright lights on Friday.
Utah needed every single one of their 43 points to beat USC in the first matchup, a trend that will likely continue considering the Trojans have broken the 40-point barrier in 9 of 12 games this season and are 3rd in the nation with 44.5 ppg.
A lot on the Line for Trojans
There's a chance that USC still makes the CFP even with a loss dropping them to 11-2. Ohio State is 11-1 though and Clemson would also move to 11-2 and be a conference champion if they can beat North Carolina on Saturday in the ACC Championship.
A loss in the Utah vs USC betting matchup might not only keep the Trojans out of their first playoff appearance, it could also cost QB Caleb Williams a Heisman. Williams is the front runner with 3,712 yards to go along with 34TDs to just 3 INTs, but if he falls twice to Utah while TCU QB Max Duggan and Georgia QB Stetson Bennett lead their teams to undefeated seasons and a playoff berth Williams could lose some votes.
It makes sense then that the best approach for USC on Friday night is to get the win while Williams has a big game. Williams had 381 yards and 5 TDs in the first meeting with Utah but he had some help last weekend against Notre Dame with Austin Jones running for 154 yards.
Free Utah vs USC Betting Pick
Can Utah play the ultimate spoiler here? Over 75% of the betting public likes the Trojans here which is never a good thing. Six straight USC games have gone 'over' the total and not just because the Trojans can score at will, but also because they give up points in bunches too. No reason to think that trend doesn't continue on Friday.
Pick: Over 67.5