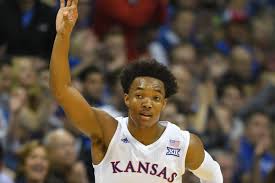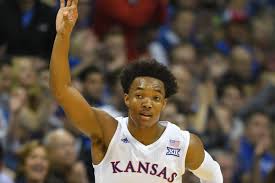 The Midwest Region offers it's Elite Eight game at 8:49 p.m. It will be played at the Sprint Center in Kansas City, Missouri. The game will determine which team represents the Midwest Region in the Final Four, which will be played next week. The game features the #3 Oregon Ducks from the PAC-12 at the #1 Kansas Jayhawks, which is a Big 12 team. Our Oregon plays Kansas 2017 Elite Eight free pick has the over/under at 157. The spread favors the Jayhawks by either 6.5 or 7.5.
Oregon came in second in the PAC-12. Arizona, which is out of March Madness having been beaten by Xavier in round three, was first. The Ducks got to the finals of the PAC- 12 Tournament by beating Arizona State 80-57 and California 73-65. They lost to Arizona in the finals 83-80. Oregon's NCAA Tournament wins included an easy 93-77 first round win over #14 Iona. In round two, they squeaked by #11 Rhode Island 75-72. In their Sweet 16 game, the Ducks beat Michigan by one point 69-68.
The Kansas Jayhawks have played like a number one seed throughout the 2017 NCAA Tournament. In round one, they had an easy 100-62 win against #16 UC Davis. They then beat #9 Michigan State in round two, beating them 90-70. The other day in their Sweet 16 game they beat the #4 Purdue Boilermakers 98-66. This is a team that is certainly on a mission and in doing so has disassembled every team they have met.
Oregon Ducks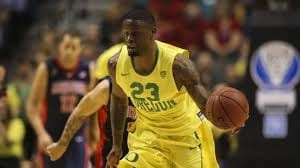 Oregon's big man Chris Boucher was lost late in the season. He was averaging 11.8 PPG and 6.1 RPG. With Boucher out, the Ducks have gone small. Their go-to player is six-foot-seven forward Dillon Brooks. He tops for the Ducks in points per game, averaging 16.4. Brooks, a solid ball-control player, can ably bring the ball up the court. Jordan Bell, also in the frontcourt, leads the team in rebounds, averaging 8.5 RPG. He's also good for 10.9 PPG. Tyler Dorsey is a gamer, averaging 14.1 PPG.
Oregon is back in the Elite Eight for the second straight year. Last year, they lost to the Big 12's Oklahoma. If they win this game, the Ducks will be in their first Final Four since the very first NCAA Tournament in 1939. That was when Oregon won their lone national championship.
Kansas Jayhawks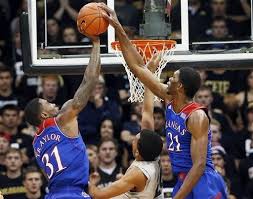 Frank Mason III leads the Kansas Jayhawks. A quality player in every way, he's averaging 20.8 points per game In the Sweet 16 game against Purdue, he scored 26 points. Mason is averaging 5.2 APG and 4.2 RPG. He can hit from outside, drive to the basket and score, or setup a quality play. He's a 47% three-point shooter. He's a tough player to shutdown.
Josh Jackson is good for 16,5 PPG and 7.2 RPG, while Landen Lucas is averaging 7.9 PPG and 8.4 RPG. Also, you can't forget Devonte' Graham and his 13.7 PPG and 4.2 APG. Sviatoslav Mykhailiuk is good for 10 PPG.
Oregon Plays Kansas 2017 Elite Eight Free Pick
Kansas has an edge in this game by the mere fact that they are at home, as the Sprint Center is less than one hour from the Kansas campus. The Jayhawks have won each of their NCAA Tournament games by an average of 30 points and averaging 96 points per game. Kansas is outscoring Oregon 84 to 79 points and out-bounding them 39 to 36. They are three percentage points better from the foul line and from the three-point arc.
Oregon plays Kansas 2017 Elite Eight free pick takes the Jayhawks at -6.5 and over 157.
Oregon Plays Kansas 2017 Elite Eight Free Pick: Kansas at -6.5 and over 157