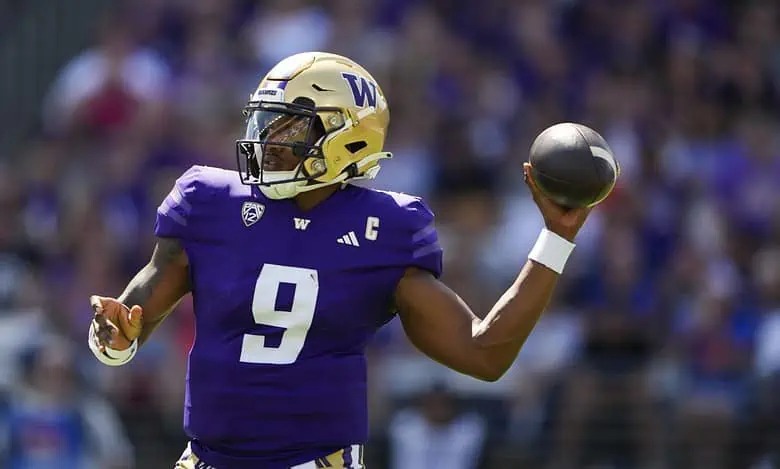 Week 7 of the college football season is full of some tremendous matchups, and that is especially true in the Pac-12 Conference this weekend. The Oregon Ducks will visit the Washington Huskies in a huge showdown of Top 10 teams, and the winner of this game will pick up a huge resume booster.
Oregon comes into this game with a perfect 5-0 record, and they have lived up to preseason expectations this season. The Ducks have blown out their first two Pac-12 Conference opponents and are coming into Saturday with some momentum.
Washington has also gone 5-0 through their first five games, and they have been climbing up the rankings in a hurry. The Huskies had to survive an upset bid by Arizona in their most recent game, but they maintained their perfect record.
The Washington Huskies are three-point betting favorites over Oregon in this matchup.
Ducks Can Really Defend
The Oregon Ducks come into this game having allowed just 255 yards per game this season, and they have actually faced some strong opponents. Oregon has allowed just 102 rushing yards per game, and that defensive line is going to be a big key in this game.
Since Oregon has been so dominant on defense this season, it has set up the offense in some great positions this year. Quarterback Bo Nix has taken advantage of some great opportunities as he has thrown for 1,459 yards and 15 touchdowns this season.
Not only have the Ducks been moving the ball on the ground, but they have also averaged 227 yards per game on the ground. Oregon just seems to have some terrific stats in every situation this season.
Huskies Want to Pass
The Washington Huskies are a team that wants to score points in a hurry, and they have the starting quarterback to get that done. The Huskies are averaging nearly 570 yards of total offense per game, and a lot of that damage has come through the air.
Quarterback Michael Penix Jr. has thrown for 1,999 yards and 16 touchdowns this season, and he has become a contender for the Heisman Trophy. Penix has battled injuries throughout his career, but he has been able to stay on the field this season.
Washington is allowing a ton of yards on defense this season, and that is something that should concern them in this matchup. The Huskies are going to have to be sound on both ends of the field to win this game.
Oregon Pulls Off Upset
Washington has gotten great play from their quarterback this season, but it has caused them to become an offensive-minded team. That's just not the way that the Huskies should be playing, and they are going to allow Oregon to have a big day in this one.
The Ducks have the ability to score points in a hurry, and they are also a terrific defensive team. Look for Oregon to take control of this game on both ends of the field, as they will pick up a big win in this one.
Bet the Oregon Ducks moneyline as they head to Washington and pick up an extremely impressive win on Saturday afternoon.