NHL Picks
Carolina Hurricanes Preview 2019 – 2020
Canes Defense Exceptionally Strong and Deep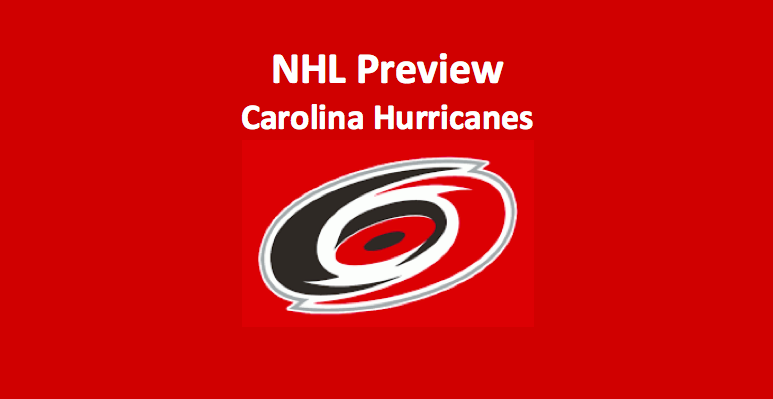 Our Carolina Hurricanes Preview 2019 – 2020 notes that the Canes snuck in the playoffs last season. This Carolina Hurricanes Preview 2019 observes that that made it as the first wildcard by finishing 46-29-7. With that record, Carolina made the playoffs for the first time since 2009. They then had a decent postseason run before being swept by the Boston Bruins in the Eastern Conference Final. Our 2019-2020 Carolina Hurricanes season preview considers where they stack up in a very tough Metropolitan Division. Can this Canes club get to the Stanley Cup Playoffs two seasons straight? It won't be easy.
Carolina Hurricanes Preview 2019 – 2020: Goaltending
The weakest part of Carolina's roster is in net. Last season, they split time between Petr Mrazek and Curtis Mcelhinny which worked out to a degree. Mcelhinney was not resigned this offseason though, so they enter the year with Mrazek as their starter. The Czech goaltender started 40 games during the 2018-2019 season. He had a .914 save percentage and a 2.39 GAA. Our Carolina Hurricanes Preview 2019 – 2020 notes that while he was solid during the regular season, he struggled in the playoffs. In his 11 postseason games, he stopped .894 percent of the shots faced. Mrazek also hasn't played more than 40 games in a season since 2017. That means there will be questions regarding if he can handle more time in net.
James Reimer comes in to backup Mrazek and replace Mcelhinney. Reimer played last season for the Florida Panthers and struggled. He finished with a 13-12-5 record. In those games, he posted a 3.09 GAA and a .900 save percentage. It is unlikely that he can adequately replace Mcelhinney. Thus, Mrazek will likely start more games than he did last year.
Carolina Forwards
The Carolina Hurricanes enter the season with one of the deeper forward groups in the league. They are led by Sebastian Aho who is coming off of a season where he scored 30 goals. He added 53 assists to lead his team in both categories. The Finnish center will likely improve upon both of those numbers this year. Aho is the surefire number one center on Carolina, although they do not lack depth at the position. Jordan Staal and Erik Haula give the Hurricanes three very solid centermen. Both missed considerable time last season due to injury, but they were solid when in the lineup. Staal played in 50 games and registered 11 goals and 17 assists. Haula was limited to 15 games as a member of the Vegas Golden Knights. He had seven points in those games and should slot in nicely as Carolina's third-line center.
The Hurricane's also have a very decent group of wingers. Teuvo Teravainen, Nino Niederreiter, and Andrei Svechnikov all return after sound years. Teravainen finished second on the team in points last season with 76. He will start the season on Aho's right side. Niederreiter was a force for the Canes after being acquired midseason. In his 36 games with Carolina, he had 14 goals and 16 assists. Svechnikov recorded 20 goals in his rookie season. He should improve upon this total during his second NHL season. Carolina also added Ryan Dzingel during the offseason. He split his time last year between Ottawa and Columbus while racking up 26 goals and 30 assists.
Hurricanes Preview – Defense
Our Carolina Hurricanes Preview 2019 – 2020 estimates that his team looks to be in the running for having the best D-corps in the NHL. They are led by Jaccob Slavin who could be the most underrated player in the league. He led the Hurricanes in time one ice while playing 23:02 per game. Slavin finished the 2018-2019 season with 31 points. He was also a rock in the playoffs. Slavin notched 11 assists over his club's 15 postseason contests. The Hurricane's also return Dougie Hamilton who projects as one of the top offensive defenseman in the league. Hamilton had 18 goals from the blueline last season along with 21 assists.
Brett Pesce finished third in the NHL with a +35 plus-minus rating. He played over 20 minutes per game and continues to refine his game at the NHL level. Pesce could start the year paired up with Jake Gardiner who was signed during the offseason. Gardiner played 62 games with Toronto last year while registering 30 points. He finished the year +19. For the time being Carolina also has Justin Faulk. Our Carolina Hurricanes Preview 2019 – 2020 notes that Faulk has a strong chance of being traded at some point due to the team's surplus of defenders. He had 11 goals and 24 assists last season while playing 22:25 minutes per game.
Carolina Hurricanes Preview 2019 – 2020: Outlook
Our Carolina Hurricanes Preview 2019 – 2020 acknowledges that the Canes had a fairly solid offseason. In the meantime, they bolstered their depth at both center and wing. Along with the potential of Sebastian Aho and Andrei Svechnikov to improve upon solid 2018-2019 seasons, their depth on defense is among the best in the NHL. The addition of Jake Gardiner makes Justin Faulk expendable. This could potentially lead to flipping him and improving their forward group even more. The Hurricanes' netminders will be their biggest uncertainty. Although the team has a good enough blueline that they should limit opponent scoring chances. Look for the Hurricanes to be in contention for a playoff spot again this year.
Carolina Hurricanes Preview 2019 – 2020: Prediction
Record: 47-26-9, 103 points
Finish: 2nd in the Metropolitan Division
NHL LINKS
Division Link
NHL 2019 Preview Link