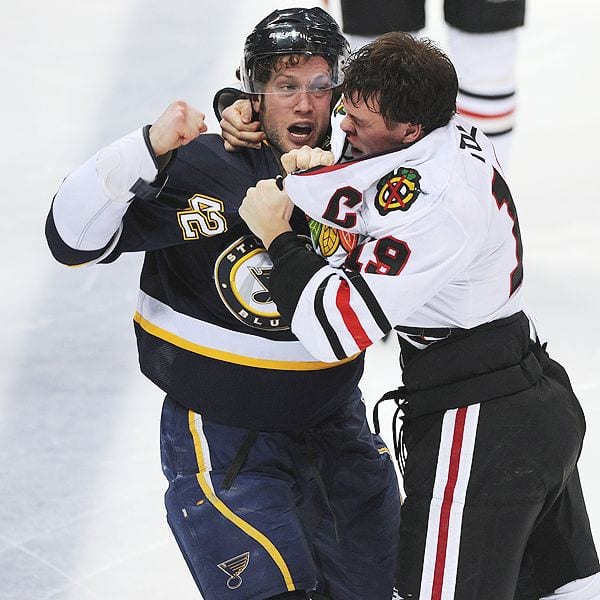 The overall oddsmaker numbers tell the real story in the 12th postseason meeting between the heated rivals Chicago Blackhawks and St. Louis Blues. For example, as expected Chicago is one of the top two favorites to win the 2015/16 Stanley Cup with odds of 13/2, behind only the Washington Capitals at 7/2. The Blackhawks are also 7/2 to win the Western Conference compared to 9/2 for the Blues. The real epitome of how this brutal matchup is going to play out though is the fact that the series prices list Chicago at -105 compared to St. Louis being actually favored at -115.
Chicago Overview
The Blackhawks definitely have postseason experience in their favor overall in the series but game one puts them in a tricky situation. For starters, ace defensemen Duncan Keith will be serving his last game of a 6-game suspension for high-sticking Minnesota's Charlie Coyle. Throw in another negative factor that goaltender Corey Crawford is playing in only his second game since March 14th after recovering from an upper body injury. Crawford showed rust in his last outing allowing 5 goals on 25 shots to Columbus. For good measure, Andrew Ladd is now a game-time decision as his wife has gone into labor over a month early. All things considered, the line has stayed relatively modest at St. Louis -130.
St. Louis Overview
The Blues know they have to get game one on their home ice. St. Louis has started to develop a little brother syndrome in losing 8 of the previous 11 playoff series' to Chicago, including a 4-2 first round defeat in 2014. This is the most intense NHL rivalry in terms of penalty minutes and fighting. If the Blues were to lose game one with all the
negative aspects working towards Chicago it might be enough to break the team for the entire series. The Blues did win 3 out of 5 regular season matchups against Chicago including the last two meetings. The teams are very evenly matched however with 3 of 5 games going into OT.
Game Overview
St. Louis is hot heading into the playoffs winning 8 of 9 before a 5-1 loss to Washington to end the season. Chicago went just 5-5 over that same span, including a 2-1 OT loss to the Blues a little less than a week ago. St. Louis should get a boost from Captain David Backes returning from injury and look for him to set the tone early. It's hard to call the first game in a series 'must-win' but that's exactly what the Blues are facing tonight – and they know it. Sometimes a team presses in a situation like that but even with Patrick Kane, Jonathan Toews, etc. there is just too much working against the Blackhawks in game one.
Pick Blues -130