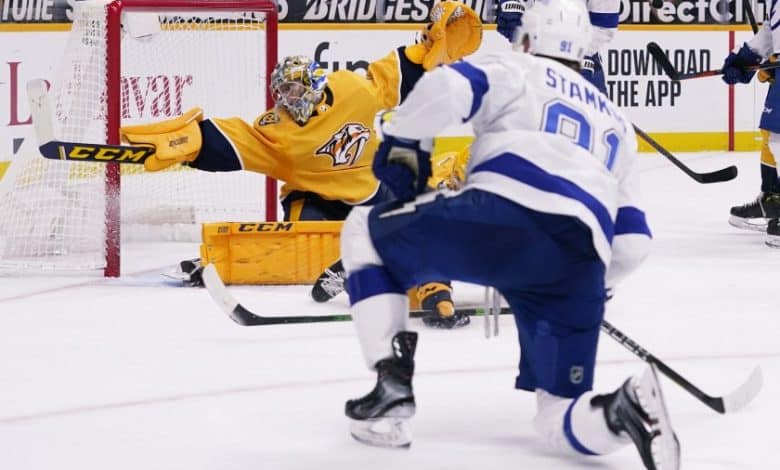 Pricing seems absolutely absurd for Saturday night's April 10th Lightning at Predators matchup. Tampa Bay is just a point back from first in the Central, but are just 5-5 over their last 10 and are still listed as -170 favorites on the road in Music City.
Nashville seems to have great value at +150, being at home where they are 11-8 on the season. The fact that the Predators have won 9 of their last 10 doesn't hurt either. Is the wrong team favored in this one, or is Nashville's 1-5 record against the Lightning this season going to catch up with them?
Lightning Struggling a Bit?
There's no need to panic from Lightning nation as the team still has a greater than 99% chance of making the postseason, but they should be a bit leery of paying -170 for a win on Saturday night. Tampa Bay is just 3-5 over their last eight games, and 3-3 over their last six despite playing Columbus and Detroit, the two worst teams in the Central.
It's really been both ends of the ice that have seen their issues for Jon Cooper's team as of late. The TB offense is 2nd in the NHL scoring 3.4 goals/game, but have posted 2 goals or less in four of the last six.
Even old reliable Andrei Vasilevskiy has seen his share of struggles as of late. Vasilevskiy has fallen to 7th in GAA and 6th in save percentage after being in the top three of those categories most of this season. Those numbers are still great (2.06, .929), but Vasilevkiy has shown the ability to be gotten to, allowing 4 goal outings in three of his last six starts.
Predators in Upset Mode?
It's almost disingenuous to consider a possible Predators win on Saturday night an upset, because there's really no reason they should be +150 on their own ice after winning 9 of their last 10. That's not saying Tampa Bay can't win this one, but the odds discrepancy is ridiculous.
Nashville deserves consideration not just because of the great odds or because they are at home, but because Juuse Saros is playing arguably the best net in hockey right now. The Predators goaltender has allowed three scores total in his last three starts, and has held 9 of the last 10 opponents to 2 goals or less. Saros now leads the NHL is save percentage (.930) and is 6th in GAA (2.19).
Nashville isn't just winning games 2-1 however. Viktor Arvidsson had a hat trick vs. Detroit on Thursday as the predators scored at least three goals for the 7th time in the last eight games.
Free April 10th Lightning at Predators Pick
Nashville was swept at home by Tampa Bay in early February by the combined score of 10-2, but they have picked up their game as of late. Saaros has forced John Hynes to make him the starter over Pekka Rinne, and the decision has paid off as of late. Tampa Bay can win any game they play, but it's insane to pay the -170 to see it.
Predators 4 – Lightning 3
Pick: Predators +150