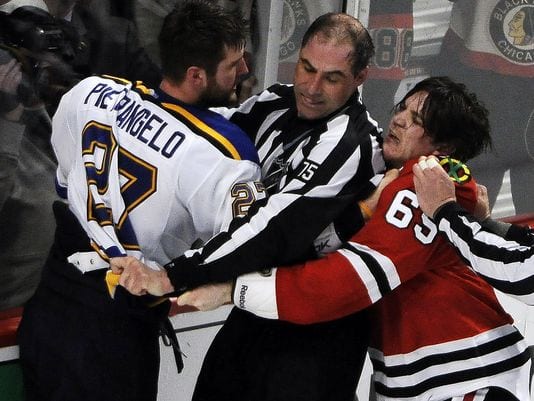 Every team wants to win at this stage in the NHL playoffs but the St. Louis Blues may find themselves in a position on Saturday night where they absolutely, 100% have to win. Granted, the Blues still hold a 3-2 lead over the Chicago Blackhawks and will be heading back to St.Louis regardless of what happens at the United Center but when a team fails at eliminating the reigning Stanley Cup Champions two games in a row it can start to give you a complex. For this NHL Pick Game 6 Blues Blackhawks 4-23, Chicago is listed at -150 on their home ice.
St.Louis Blues Overview
The Blues fought back from a 3-1 deficit in the third period Thursday night to take Chicago to 2OT. A Patrick Kane putback at 3:07 ended any chances St.Louis had to eliminate their hated rivals at home and now must try again in front of a raucous Saturday night crowd at the UC. It may have been the Blues best chance at a series win. Chicago had lost two straight on their home ice and was also without star RW Andrew Shaw, suspended by the NHL for using a slur in game 4.
The Blues can play relatively lax for the NHL Pick Game 6 Blues Blackhawks 4-23 knowing they have a game 7 at home in their back pocket. Chicago will be fired up with the return of Shaw and the invigoration that has suddenly been blasted into their playoff lives – which were seemingly over just a few days prior. The impending pressure hasn't seemed to rattle Blues players however. As St.Louis' Alex Pietrangelo put it, "It's going to be fun to win it in Chicago."
Chicago Blackhawks Overview
Not only has Chicago been in this situation before, they actually seem to thrive on it – or even prefer it. During their second Stanley Cup win Chicago was down 3-1 in the opening round before coming back to beat Detroit. A year later they lost games 1 and 2 to St.Louis before winning four straight. That same year they were down 3-1 to the Kings before forcing a game 7, which they ultimately lost in OT. In 7 seasons as Chicago head coach, Joel Quenneville is 43-14 in games 4-7 of the playoffs. They are 26-6 the last three years and 15-1 at home.
Better look at Kane's game-winner. Nasty. #Blackhawks pic.twitter.com/pifghy8w8L

— Aldo Soto (@AldoSoto21) April 22, 2016
Kane's goal was just his first of the playoffs. While Jonathan Toews is still waiting to break into the scoring column, earlier in game 5 Marian Hossa also notched his first goal of the series. Is it a sign that Chicago's offense is finally coming around and that Blues goaltender Brian Elliot is perhaps returning to human form? Are these mentally and physically drained goalies finally ready to break for the over 5 in the NHL Pick Game 6 Blues Blackhawks 4-23?
NHL Pick Game 6 Blues Blackhawks 4-23
It's seemingly only a matter of time before Chicago starts to show the cracks from the fatigue that results in playing in two Stanley Cup Finals and one Conference Finals the past three seasons. That being said, Kane looked like the fastest player on the ice in his OT goal Thursday. Plus, both teams are tired but Chicago will have the adrenaline boost of a home ice crowd and the return of Andrew Shaw – who coincidentally will be somewhat fresh. St. Louis has been the mayor of the United Center in the first two games of the series, but Chicago is battle tested in situations like this.
Pick: Chicago -150