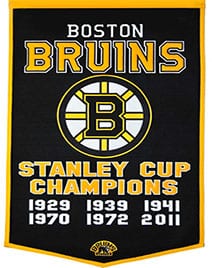 Overview
The Carolina Hurricanes visit the TD Garden in Boston Saturday when they take on the Bruins. The Bruins have won 4 of the last 5 meetings overall outscoring the Hurricanes 25-13 in the process and they have also won 10 of the last 15 meetings in Boston.
Head to Head Trends
Home team is 4-1 in the last 5 meetings.
Hurricanes are 1-5 in the last 6 meetings.
Boston Bruins (-185)
The Boston Bruins are 6th in the Atlantic Division 5 points back of the 1st place Montreal Canadians. This hasn't exactly been a good start to the season for the Bruins who have been one of the best teams in the league the past few seasons. The Bruins started out the season losing 4 of their first 6 games but after that they managed to win 8 of their next 10 games and it seemed like the Bruins were back to being one of the best teams in the league again. The thing was when you look at who they played over that 10 game stretch they were playing shitty teams for the most part so that 8 wins in 10 games wasn't really all that impressive. The Bruins average 2.7 goals per game on offense and they also allow 2.7 goals per game on defense.
Boston Bruins Trends
Bruins are 38-14 in their last 52 home games.
Bruins are 25-9 in their last 34 home games vs. a team with a road winning % of less than .400.
Carolina Hurricanes (+165)
The Carolina Hurricanes are 7th in the Metropolitan Division 10 points back of the 1st place Pittsburgh Penguins. The Hurricanes had an absolutely horrible start to the season losing their first 8 games. They did rebound nicely after that though winning 5 of their next 6 games before losing their last game to the Jets. The Hurricanes are averaging 2.4 goals per game on offense and 3.1 goals per game on defense so they can use a bit of work in both ends. The Canes have really struggled on the road this season with just 1 win through their first 8 games in large part due to a defense that's allowing close to 4 goals per game.
Carolina Hurricanes Trends
Hurricanes are 1-7 in their last 8 road games.
Hurricanes are 17-40 in their last 57 Saturday games.
Conclusion
Even though the Bruins haven't really been playing at that well this season I still like them over the Hurricanes in the one. The Hurricanes are one of the worst teams in the league especially on the road and after the Bruins got their ass kicked in the last two games by the hated Maple Leafs and Canadians they'll probably be a little angry today and take it out on the Hurricanes.
Free Pick: Boston Bruins -185