NFL Picks
NFL Pick: Seattle Seahawks at Minnesota Vikings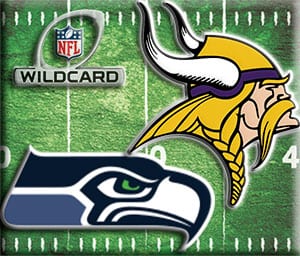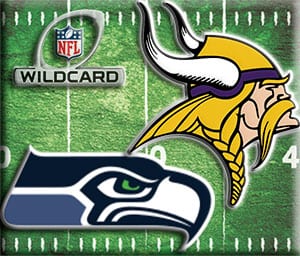 The Seattle Seahawks head back to Minnesota for the second time this year to battle Adrian Peterson and the Vikings. Peterson could be getting ready to lead the purple people eaters to a wild playoff run, but Seattle's stout run defense may have something to say about it. Let's breakdown the game from all angles and see who you should be betting on this weekend:
Matchup History
Minnesota and Seattle clash for the second time this year and in the same setting, as the Seahawks return to the scene of the crime of their nasty 38-7 win earlier this year. Minnesota hadn't fared much better against the 'Hawks before that, as the Seahawks have won three straight and have claimed four of the last six contests. With the teams as currently constructed, the Seahawks have been dominant, dropping 30 or more points on the Vikes in each of the last three meetings, while allowing Minnesota to no more than 20 points in each game. Minnesota comes into the game with a strong 6-2 home record, but will understandably be the underdog on their own turf.
Seahawks Preview (-5)
Russell Wilson went into full blown torch mode to close out there year and the Seahawks got back to being nasty on defense down the stretch. They overcame a slow and ugly start to the year, going 8-2 down the stretch, including a complete dismantling of an elite Cardinals team in Arizona to end the year. Seattle is really clicking on both sides of the ball and even should be getting Marshawn Lynch back this weekend. All of that is bad news for the Vikings, who couldn't even compete with Seattle just five weeks ago.
Marshawn Lynch has been ruled out for Seahawks' Wild Card game against the Vikings Sunday. pic.twitter.com/Zoxqn2BvcI

— SportsCenter (@SportsCenter) January 9, 2016
Vikings Preview (+5)
It's tough to buy the Vikings in this game judgbing by the beating Seattle handed them in early December, but let's not forget this is still a very solid 11-5 squad. Minnesota has leaned hard on a stout season from Adrian Peterson and a strong, balanced defense to claim the NFC North title and coast into the playoffs via a three-game winning streak. It's entirely possible the Vikings are better than when they got blown out by Seattle, while we can't discount home field advantage in post-season play, nor can we down-play the revenge aspect of this meeting. That being said, the Vikings have not gotten much out of second-year quarterback Teddy Bridgewater and he very well may need to be perfect for Minnesota to have a chance in this one.
The NFL moneyline odds at the BetOnline site is at -205 for the Seattle Seahawks and with spread the Vikings are now getting +4 points.
The Pick
It's Seattle, all the way. It's possible Minnesota comes out with the fire of a thousand men and stifles Russell Wilson and co. They're at home, they have a pretty good defense and Adrian Peterson has shown in the past he can be matchup proof at times. Except Teddy Bridgewater instills none of the faith, the Seahawks completely shut Peterson down last time and they had no trouble with that Minnesota defense.
The x-factor could be the weather in this one, which is supposed to be absolutely brutal. That's one thing to consider, as is the fact that the favorite has been perfect against the spread in the last four meetings. Seattle is also a seasoned playoff team that has gone 5-2 ATS in their last seven January games.
I'm not sold on this being a huge blowout again, but everything bends Seattle's way. Not only is their defense as nasty as ever, but Beast Mode is returning just in time for another deep playoff run. The Seahawks look like legit Super Bowl threats again and of course they'd be the Wild Card team to make the run this year. It only makes sense. What doesn't make sense is the Vikings suddenly turning into a balanced offense and taking down a team that embarrassed them only weeks ago at this same site.
I'll take Seattle in a somewhat competitive game, but I still like them to cover.