NFL Picks
NFL Pick: Washington Redskins at Philadelphia Eagles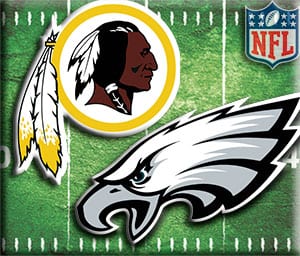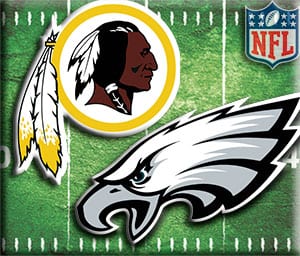 Few games carry more weight than a week 16 clash between the Philadelphia Eagles and Washington Redskins. The NFC East is very much on the line, as the 7-7 Redskins enter the City of Brotherly Love trying to fend off the pesky 6-8 Eagles, who still have hopes of taking back the crown for the second time in three years.
Matchup History
An extremely storied history between two division rivals is about to get a lot more interesting. Before we get to that, though, we should take a second to honor a whopping 161 games played between these two NFC East foes, with the Redskins owning an 83-73-5 advantage. The series has been well fought in terms of wins and losses, but also in actual competitiveness lately. In their last 10 contests, these two teams have been separated by eight points or less six times, with the last three matchups being decided by a field goal. Washington won this year's prior meeting, 23-20, and has claimed each of the last two games. If recent history suggests anything, the Redskins hold the mildest of edges and we can probably expect a close game.
The NFL moneyline odds at the BetDSI sportsbook is at -150 for the Eagles and with spread the Redskins are getting +3 points.
Redskins Preview (+3)
The Redskins are a mild underdog going into this one, which is slightly odd considering they've won two straight games overall, have won the last two in this series and hold the better record on the year. Of course, they have not been a great unit on the road this year (just 1-5 away from home), so that will need to change suddenly if they are to beat the Eagles and claim the NFC East title. All we know for sure is that Kirk Cousins is on fire at the moment and he's already topped Philly once this season. That could be enough to roll with the Redskins in week 16.
Eagles Preview (-3)
The Eagles could easily have caved after a three-game losing streak in the middle of the year, but they've bounced back and even at 6-8, are very much in the race to win the NFC East crown. They need to win out, though, and that means holding down the fort at home against a Redskins team they've lost to in each of their last two tries. Both games have been close and down to the wire, though, and Philly has done well at home against the Redskins – not having lost at home since 2012. These two teams matchup well against each other and I think it comes down simply to execution. Can Chip Kelly's crazy moves pay off with a division title and unlikely playoff run? Or will they crash and burn with a third straight loss to the 'Skins?
The Pick
This game might be more about Washington's inability to close out games on the road than who is actually better. The reality is this is a huge game for both sides, these games have been insanely close and the Eagles cannot want to go out in front of their home crowd. They can keep that from happening by taking care of business, but it's worth noting that're just average (3-4) on their home field in 2015.
This is a game where extra data definitely can come in handy, so perhaps we should look to Washington's weak 2-6 ATS record in their last eight home games. It doesn't help the Eagles much more, though, as they're just 1-4 ATS in their last five games against the NFC.
I think the big key is where this game is and the fact that these games have been tight. That has me liking the Eagles straight up, but given how these games go, I'm thinking we get a push.