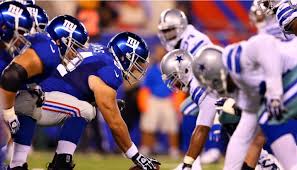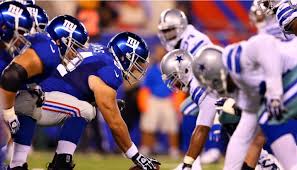 Our NFL free pick for Sunday night week 14 has the Dallas Cowboys playing the New York Giants. We've crunched the numbers and done the work and will publish the full pick later. Dallas is at -4.0.
Dallas (11-1) has not lost a game since it the Giants beat them in week one. Last week, they beat the Vikings 17-15. The Giants (8-4) lost to Pittsburgh last week 24-14. Prior to that they had rolled off six straight wins.
Dallas is averaging 27.8 PPG. The Giants are averaging 20.4 PPG. Both are holding teams to about 19 PPG. On defense the Giants bring a better pass rush and more active secondary. Both are fairly effective in causing fumbles.
It's Dak Prescott vs. Eli Manning. Also it's RB Ezekiel Elliot vs. WR Odell Beckham Jr. It's more or less, the Dallas ground attack versus the New York aerial show. It's also rookie stars versus veteran stars.
We're taking the Giants at +4.0. Kickoff is 8:25 Sunday night in NY. It will be cold but there should be no issues with snow or rain.