NFL Picks
NFL Pick: San Francisco 49ers at Seattle Seahawks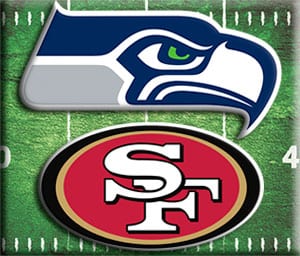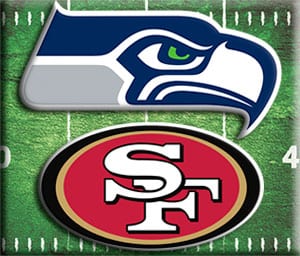 There might not be a nastier modern day rivalry than the San Francisco 49ers versus the Seattle Seahawks. The two NFC West brutes have hated each other for years and have dished out some intense defensive-fueled battles that make residents of those vintage Steelers/Ravens clashes wince. It's not a matchup for the faint of heart and that could be even more so the case this week when a desperate Seahawks team tries to get back to .500.
Matchup History
Seattle has obviously had the upper hand in more recent memory, as Russell Wilson's crew has claimed four games in a row, including a convincing 20-3 win in San Francisco earlier this year. These meetings are usually low-scoring and really no fun for anyone, but the overall series is rather tight, with the Seahawks leading, 19-15. San Francisco has specifically found success hard to come by in Seattle, however, where they haven't won since 2011.
49ers Preview (+10)
Talk about a fall from grace. The Niners parted ways with head coach Jim Harbaugh last year and soon after watched the likes of Frank Gore, Justin Smith, Patrick Willis, Aldon Smith, Michael Crabtree and Chris Borland all leave for one reason or another. None of that helped, while the rapid regression of quarterback Colin Kaepernick led to his benching and a recent shoulder injury even ended his 2015 season for good. The Niners also traded away disgruntled tight end Vernon Davis two weeks ago and no longer look like the team that made the Super Bowl just three seasons ago. Blaine Gabbert took over the offense two weeks ago and actually wasn't bad in a home win against the Falcons, but he has quite the task ahead of him as he tries to help the 49ers turn their season around at CenturyLink Stadium.
Seahawks Preview (-10)
Seahawks called run percentage: NFL Rank 2015 38.7% 15th 2014 45.5% 4th 2013 46.2% 2nd 2012 49.1% 1st

— NFL on ESPN (@ESPNNFL) November 22, 2015
The Seahawks have just not been themselves this year. Marshawn Lynch has been banged up, Kam Chancellor sat out the first two games as a holdout and Russell Wilson has at least in a sense been exposed. Jimmy Graham has been a mild bust, as well, while the only thing the Seahawks have to hang their hat on is a still fairly stingy defense. Even that isn't completely the same, though, and that was never more clear than last week, when the Legion of Boom got flat out abused by Carson Palmer in a home loss to the Cardinals. As bad as things have looked, it still feels like the 49ers don't stand a chance. Seattle still plays some of their best football in front of their home crowd and Blaine Gabbert is not Carson Palmer. Seattle is definitely down, but they're not quite out just yet.
The Pick
On the NFL Moneyline odds at Bookmaker.eu the Seattle Seahawks are at -1100 and with the point spread the San Fran 49ers are getting +14 points.


San Francisco is just 4-11 ATS in their last 15 games and a rough 0-5 ATS in their last five meetings with the Seahawks. A fun look at Seattle's results when favored by double digits at home reveals a nice 11-1 run, straight up and a solid 7-5 run ATS, as well.
That's all even before we factor in the opponent. Given that the 49ers are down so many bodies and are starting replacement level guys at quarterback and running back, it feels pretty obvious that the 20-3 loss earlier this year is just a starting point for this game. I liked what I saw out of Gabbert two weeks ago, but he wasn't on the road against a pissed off Seahawks team.
Everything leads to Seattle winning and covering (-14)!