NFL Picks
NFL Pick: Arizona Cardinals at Carolina Panthers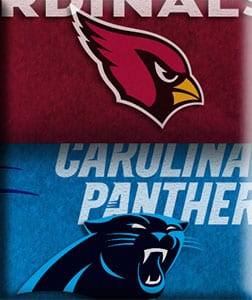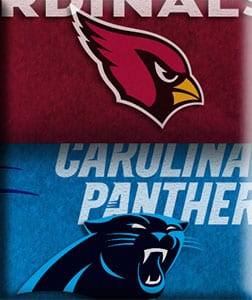 The NFC Championship caps Sunday night's NFL games, in a late night battle between the Arizona Cardinals and Carolina Panthers. It's easily the more difficult conference title game to figure out of the two, with both Arizona and Carolina looking like true Super Bowl threats. The Panthers play host as the favorite after nearly running the table en route to a 15-1 record, but could have a stiff challenge in the balanced Cardinals, who have looked like a true title threat since the beginning of last year.
Matchup History
There is surprisingly not a very rich history here, as the Cards and Panthers have clashed just 14 times in history, with Carolina holding the 9-5 series advantage. Ironically enough, the two faced off last year in the playoffs, but it wasn't exactly a fair match with the Carson Palmer-less Cardinals falling on the road, 27-16. Arizona had taken care of business in the previous two battles, while the two sides have split the last six meetings right down the middle with three wins a piece. Sunday's battle marks the third meeting in post-season play, however, with something having to break with the playoff series tied, 1-1.
Cardinals Preview (+3)
Arizona has truly been fantastic all season, as they overcame a few injuries and rode a potent offense the entire way en route to a strong 12-4 finish and the NFC West title. Much of Arizona's success can be attributed to a very strong and balanced defense, but they may not be here without the MVP-level play of quarterback Carson Palmer. Palmer wasn't perfect last week in a home win over the Green Bay Packers and may have been slowed by a finger issue, but he still did enough to advance and get his first playoff win in his career. With a stud rookie running back and three elite receiving options at his disposal, there is no doubt he gives Arizona a chance to win offensively in any game. Palmer will need to be better than he was a week ago, however, as this time he's on the road against a far better defense in the Panthers. Arizona's defense could be put to the test, too, as defensive back Tyrann Mathieu is done for the year and won't be able to help slow down star Panthers tight end, Greg Olsen.
Cam Newton (6'5" 245 lbs) is bigger than the Cardinals average starting defender (6'2" 243 lbs)

— trey wingo (@wingoz) January 24, 2016
Panthers Preview (-3)
This has been a magical season for Cam Newton and co., as Carolina's franchise quarterback helped off-set the loss of #1 wide receiver Kelvin Benjamin and has enjoyed a career year en route to an unlikely 15-1 record. The Panthers were so balanced and clutch in 2015 that a 16-0 run was very much in reach, although the other side points out numerous close games and a "lucky" feel to some of their wins. Regardless, few teams were as good as Carolina late in games, while they proved to have an uncanny knack for making the right call and converting when they absolutely had to. A lot of that is on Newton, who was not always flawless but seemed to make the right decision at the right time the majority of the time. Carolina still is a bit under-manned in the passing game and will also be down pass rusher Jared Allen on defense, but otherwise is healthy and ready to rock at home against the Cardinals. The big key could be putting the game away if they hold a lead late in this one, as a week ago they nearly blew a 31-0 halftime lead against Seattle.
The NFL Moneyline odds at WagerWeb the Carolina Panthers are at -165 and with the point spread the Cardinals are getting +3 points.
The Pick
It's quite rare when two teams of destiny square off, but that's exactly what we have in this year's NFC title game. Carson Palmer has never been this far in the playoffs and the pairing of him and Larry Fitzgerald has Arizona fans feeling like this truly is their year. You could say the same of Newton and the Panthers, though, as they've never gotten to this point with this regime and will also be shooting for their second Super Bowl trip ever. The good news is that one of these teams will have a shot at claiming their first Lombardi Trophy in two weeks, however, but something definitely has to break on Sunday before we find out who that could be.
Arizona has definitely been a problem for teams on the road this year, as they've gone a blistering 7-1 away from home, as well as a ridiculous 4-1 ATS in their last five road trips. That combats a 4-0 ATS mark for the home team in the last four meetings in this series, while the Panthers are the only team in the entire league to be perfect (8-0) at home this year.
This should be a tight and possibly even a surprisingly somewhat high-scoring game, but Carolina feels like the true team of destiny here. This is Cam Newton's time and I think he pushes the Panthers to the Super Bowl and covers here.