NFL Picks
NFL Pick: New York Jets at Dallas Cowboys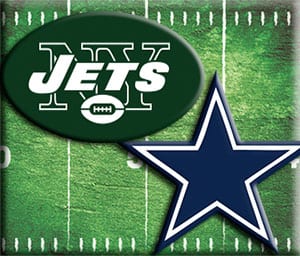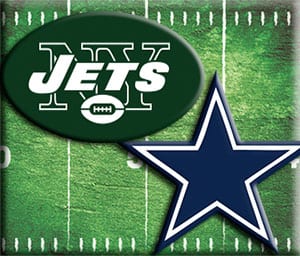 If anyone wasn't sure how bad the NFC East is this year, perhaps the fact that the Dallas Cowboys can still take first place should illustrate it perfectly. Dallas has won exactly one game all year without Tony Romo, yet they could still potentially win their division by winning out. The New York Jets are a little more in control of their playoff fate, but nonetheless, fans have a fun playoff-type atmosphere on Saturday night.
Matchup History
New York and Dallas have not faced off much at all, with just 10 total meetings giving the 'Boys a 7-3 advantage in history. It's a brief and erratic history, too, since these two haven't clashed since 2011 and have faced just three times since the year 2000 was a thing. These teams don't look anything like they did four years ago, so there's no reason to try to rely on their last meeting (a 27-24 Jets win) or past results in general. That being said, the Jets had 21+ points in all three of their wins over the Cowboys, while they are just 0-5 in games where they couldn't put over 20 points on the board.
Jets Preview (-3)
New York has established themselves as a very good and balanced team heading into week 15. They've especially turned it on lately with a nice three-game winning streak to put them in the driver's seat for an AFC wild card spot. They can't steal the AFC East from the Pats thanks to getting swept by them this year, but if they can finish strong they'll at least be in the playoffs. With Ryan Fitzpatrick having a career year and Chris Ivory offering balanced via the ground, the Jets look primed for a playoff run. Now they just have to up their 3-3 road record and take care of business in Big D this weekend.
Cowboys Preview (+3)
Dallas has been a total failure this year, but a lot of their struggles stem from two things: letting DeMarco Murray walk in free agency and injuries rocking several positions. Tony Romo is obviously the big dark cloud hanging over this team, as the Cowboys were 3-1 with him as the starter and just 1-8 with him on the sidelines. The only real hope for the Cowboys is to run the ball and keep opposing offenses off the field, but that has been a struggle for them all year. Darren McFadden won't be a likely candidate to erupt against a very good Jets run defense, either. Because of that, Dallas is the obvious underdog with their season quickly slipping away.
The Pick
If the Cowboys were a playoff team from top to bottom, something tells me we would know by now. A 4-9 team is probably not just a quarterback away from being a legit contender and it's really tough to have much faith in Matt Cassel. New York is the better team no matter how you look at this, so the only real hiccup is the fact that Dallas does have something to fight for and they're at home. They've only won once in Jerry World in 2015, though, so that's not tripping me (or the Jets) up in week 15.
The stats support the Jets getting the win, too. They've been dominant against the spread in December in their last 1 games (9-1-1) and have also performed well on the road in their last eight games (5-2-1 ATS). Dallas could fool some people with a strong 6-1 ATS mark in their last seven games, but we saw last week in a 28-7 loss to the Packers that the wheels are starting to come off.
The New York Jets are a strong 8-5 and can taste the playoffs. A trip to Dallas shouldn't slow them down. I'll take the Jets straight up and to cover.