NFL Picks
NFL Pick: Kansas City Chiefs at New England Patriots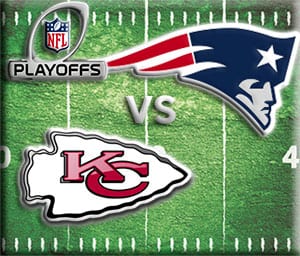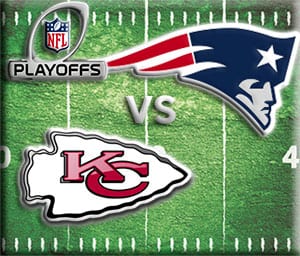 The Kansas City Chiefs enter Foxboro to take on the New England Patriots this weekend, as they shoot for a 12th straight win, as well as a trip to the AFC title game. Tom Brady and co. may have something to say about that, however, as a healthy Pats offense has been fairly unstoppable and New England is still vying for a shot at repeating as Super Bowl champs.
Matchup History
This is a funny matchup because it was Kansas City that destroyed New England in week four of last year in a game that catapulted an angry Patriots team to a vicious run that culminated in the franchise's fourth Lombardi trophy. It would be ironic for the Chiefs to turn around over a year later and be the reason why the Pats can't defend their championship. As wild as that would seem at first, history wouldn't deem it so crazy, as KC holds a 17-13-3 edge in 33 meetings. It's worth pointing out that New England has owned the matchup for most of Brady's tenure, however, taking five of the last seven meetings. This will, of course, be the first meeting between the two sides in post-season play.
Chiefs Preview (+5)
Kansas City hasn't been in the AFC title game since Joe Montana donned the red and white, so it's going to be a special situation if they find a way to get an insane 12th straight win this weekend. Doing it on the road against a very good Patriots squad would make it all the more impressive, and suddenly we'd have to look at the Chiefs as legit title threats. Even if they're not, their hot run has been fantastic and it's been largely thanks to an elite defense. That same defense is the main reason why the Chiefs slapped Brady and the Pats around the last time they faced a year ago, so if they can put pressure on Brady consistently, it's certainly possible for them to stage the upset. The other key will be KC's offense staying balanced and unpredictable, and with an experienced game manager like Alex Smith, that also feels possible.
What I'm told on #Patriots TE Rob Gronkowski: He did not receive any knee injections. He's been getting treatment & getting ready to play.

— Ian Rapoport (@RapSheet) January 14, 2016
Patriots Preview (-5)
The Pats have been total beasts in the AFC, as they obviously won it all last year and this weekend will be eyeing a fifth straight trip to the AFC Championship game. That's quite an achievement, but New England still has to answer three key questions: are they healthy enough, can they effectively run the ball and is their defense good enough? Rob Gronkowski and Julian Edelman enter potentially at less than 100%, Steven Jackson is suddenly their running back of choice and a once elite defense has been hit or miss for much of the year. On the surface, these are the Super Bowl champs, they're at home and they're getting healthy at just the right time.
The NFL moneyline odds at the GTBets sportsbook is at -235 for the Patriots and with spread the KC Chiefs are getting +5 points.
The Pick
This game truly comes down to one thing: whether or not you believe in the Chiefs. Nope, still not even that simple. I do tend to buy their defense being as good as we think it is, and I do think their offense has grown to be more creative and versatile. You don't go on an 11-game run by accident, while crushing the Texans 30-0 last week was beyond impressive. This team is on a clear mission and even though the Pats feel like a team that could come out and steam roll them, they don't feel like a team that will be slapped around.
The against the spread numbers support that notion, as Kansas City is a staggering 5-0 ATS in their last five road contests. New England is also 4-1-2 ATS over their last seven home games, so there might be enough there to show Kansas City has a chance to stay in this one.
I think Kansas City is legit enough to keep this game very close and I see them beating the spread. Tom Brady is at home and has been on a mission all year, though, so I see the Pats as the straight up pick.