NFL Picks
Denver Broncos vs. Buffalo Bills Free Pick – MNF NFL Week 10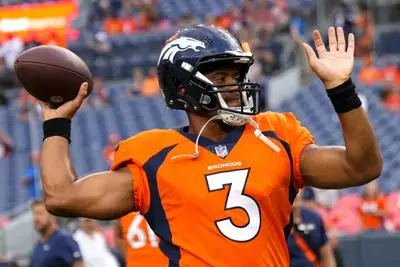 Week 10 of the NFL season is filled with some great matchups, and that extends all the way to the game on Monday Night Football. It will be the  Denver Broncos visiting the Buffalo Bills for a big matchup between AFC teams. 
Denver is coming into this game with a record of 3-5, but they are a team that is trending in the right direction. The Broncos have won two straight games, including an upset win over the Kansas City Chiefs before their bye.
The Bills continue to search for consistency this season as they have gone just 5-4 through their first nine games. Buffalo suffered a 24-18 loss to the Cincinnati Bengals in Week 9, and they need to bounce back in a hurry. 
Buffalo is a seven-point betting favorite over Denver on Monday Night Football in Week 10. 
Denver Needs Some Defense
Denver comes into this game searching for answers on defense as they are allowing over 28 points per game this season. The Broncos are allowing over 154 rushing yards per game, and that's going to create some major issues in this game. 
Look for the Broncos to try to be aggressive on the defensive line in this game, as they try to get pressure on Josh Allen. Denver needs to do whatever they can to give the offense a chance to have some success in this matchup. 
Quarterback Russell Wilson has gotten better as the year has gone on as he has thrown 16 touchdowns to just four interceptions. Denver will need to find some balance on offense as Wilson will be pressured in this game. 
Allen Doing it All For Bills
The Buffalo Bills have a weapon in quarterback Josh Allen, and he is going to have to play great in this game on Monday night. Allen has thrown for 2,423 yards and 18 touchdowns this season, but he has also tossed nine interceptions. 
Buffalo needs to find some more playmakers outside of wide receiver Stefon Diggs, as he will get an extra defender in this game. Diggs does lead the way with 834 yards and seven touchdowns this season. 
The Bills are allowing less than 18 points per game this season, and they are always coming after opponents. Buffalo will try to set the tone on defense and then allow Allen and the offense to take over. 
Bills Blowout the Broncos
Denver should come into this game with some momentum, but that bye week came at the worst possible time for this team. The Broncos are 3-5 for a reason, and they aren't going to be able to do much scoring in this game. 
Even though the Buffalo Bills have not been consistent this season, they are still one of the best teams in  the NFL this season. Buffalo should be able to have a ton of success on offense in this one, and they will simply run away from the Broncos.
Bet the Buffalo Bills -7.0 on Monday Night Football as this is going to be a double-digit win for the home team.