NFL Picks
NFL Pick: New England Patriots at Denver Broncos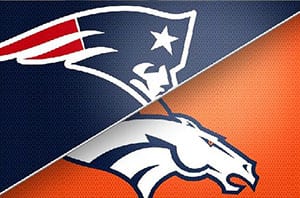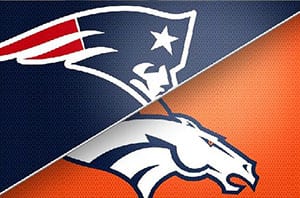 The storied rivalry of Tom Brady and Peyton Manning likely comes to an end on Sunday, as the two are set to face for the final time with the New England Patriots head to Denver to take on the Broncos. A Patriots win would give the Pats back to back trips to the Super Bowl and a shot for Brady to become the first quarterback to get five rings. A Denver win would make it four trips to the big game for Manning, and would give him a chance to go out on top. Only one story-line can be fulfilled, however. Let's break down Sunday's showdown and see which would makes the most sense.
Matchup History
Tom Brady and Peyton Manning have specifically faced off 16 times in history, with Brady leading the way with an 11-5 mark (2-2 in playoffs). Three of those four playoff battles actually went down in this very AFC title game, with Manning winning twice to advance to the Super Bowl. The series has been a lot different when you look at the Patriots vs. Broncos, but it's still been a competitive one in 50 meetings, with Denver holding a 29-21 lead. The Broncos won an overtime thriller earlier this season when Brock Osweiler was under center, while the Pats won easily the year before. New England has also won five of the last seven meetings, but the Broncos have claimed two of the last three. The home team has won each of the last six meetings, as well.
.@CarMax Keys to the Starting Lineups: #NEvsDEN bigger than Brady vs. Manning XVII: https://t.co/DiwM1X2a8p pic.twitter.com/v6UFAPZpVM

— New England Patriots (@Patriots) January 24, 2016
Patriots Preview (-3)
New England has looked to be on a mission all year, specifically in reference to Tom Brady, who definitely had a chip on his shoulder after Deflategate seemed to rob his fourth Super Bowl of some of its luster. Injuries derailed a 10-0 start temporarily, but now that the Pats are healthy, they could easily once again be the favorite to win it all. The Patriots have seen their running game take a major hit with big losses in LeGarrette Blount and Dion Lewis, while free agency losses sapped their defense considerably, as well. The defense is still solid and the passing game can usually make up for the lack of a great power run game, but it's worth wondering if New England has lost too much to overcome a quality team on the road.
Broncos Preview (+3)
Denver is a very interesting team, as Peyton Manning looked done right out of the gates in week one, yet the Broncos did just enough to get off to a 7-0 start and hold on to a 12-4 record. That somehow got them the AFC West crown and the #1 overall seed in the entire conference, and here we are with an aged and regressed Manning back in the saddle with a shot at a Super Bowl. It really is a but crazy, but it's still tough to feel great about a Broncos offense that cannot compete at a high level through the air. It wasn't all Manning's fault last week, but the fact that the Broncos couldn't take advantage of a bad Steelers pass defense at home in a big playoff game was definitely eyebrow raising. It will be quite interesting to see if Manning improves this week and can be any better against a much superior defense.
The NFL Moneyline odds at BetOnline.ag the New England Patriots are at -160 and with the point spread the Broncos are getting +3 points.
The Pick
One big thing going into this game is the playoff success for both of these quarterbacks. Brady is vying for his seventh Super Bowl appearance ever and this specific game is his 10th trip to the AFC title game. He and the Pats have enjoyed amazing playoff success, while Manning has routinely been a bit of a disappointment in the bigger games he's played. He does have that 2-1 edge in this AFC Championship setting over Brady and the home team as won the last six meetings, but it doesn't feel quite right to side with the Broncos.
Some extra data to help out: Denver has not been great against the spread in the playoffs, going just 1-5-1 in their last seven tries. The Pats haven't been good against the spread on the road, though, going just 1-5 in their last six contests. Really, none of this tells us anything. All we know for sure is that Brady runs the better offense and the Broncos probably have the better defense.
That being said, I think Manning will make one or two mistakes to get the Broncos in enough trouble that he can't get them out of. I'll take New England to win this one and cover, as well.