Our Sunday afternoon NFL week seven free pick offers New England at Pittsburgh for a 4:25 p.m. game at Heinz Field. The Pats (5-1) come to Pittsburgh (4-2) as seven-point favorites. This is the third game of the 2016 season for Patriot QB Tom Brady. In his first two games back from a four-game suspension, Brady led New England to two wins. The first win was against Cleveland 33-13 and the second was against Cincinnati 35-17.
Pittsburgh is coming off a hard luck 30-16 loss to the Dolphins. The Steelers will be without QB Ben Roethlisberger (meniscus) and RB DeAngelo Williams (knee) are both out. After getting thrashed by the Eagles 34-3 on September 25, the Steelers beat Kansas City 43-14 and the Jets 31-13.
New England Offense vs. Steelers Defense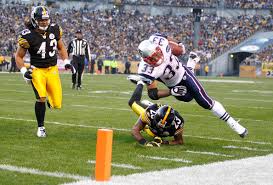 Tom Brady (76 COMP%, 6 TDs, 0 INT, 4 Sacks) has been playing great football since he returned two weeks ago. However, two of his favorite receivers, Matelius Bennett and Julian Edelman, are questionable for today's game. More bad news, Rob Gronkowski is also questionable. RB LaGarrette Blount (119 ATT, 439 YDs, 3.7 AVG, 6 TDs), who is also injured, will play.
The Steeler D is allowing an average of 20.5 PPG. Bad news for Pittsburgh, DE Cameron Heyward ( 3 Sacks, 1 TFL, 4 PD) is out. LB Vince Williams (36 TCKL, 2 Sacks, 4 TFL), who is listed as questionable, will likely play. He's greatly needed. The Steelers have 8 sacks, 18 TFL, 3 INTs, and 5 FF. They have done well in passes defended with 31
Pittsburgh O vs. Patriots D
The Pittsburgh Steelers are loaded with offensive talent. However, both their starting QB and featured RB are out. Landry Jones will start at quarterback. Expect little passing and look for RB Le'Veon Bell, who is averaging 5.5 YPA, to get the ball a lot. The Steelers will still have one of the best receivers in the game, Antonio Brown, on the field. Brown has caught five touchdown passes.
The New England team is allowing just 15.0 PPG. For the Pats, DL Jabaal Sheard (3.5 Sacks, 2 TFL, 1 PD) and LB Jaime Collins (1 Sack, 1 TFL, 3 PD, 2 INTs, 1 FF) will need to step up and shutdown the Pittsburgh offense. The Patriot defense has forced seven fumbles, defended 27 passes, and caused 15 TFL. Their red zone defense is very stingy.
.
NFL Week Seven Free Pick Offers New England at Pittsburgh
Our NFL week seven free pick offers New England at Pittsburgh. We're taking the Pats at -7.0 due to Steeler injuries and Brady's presence. Expect a low-scoring game.
NFL Week Seven Free Pick Offers New England at Pittsburgh: New England at -7.0